AdventureSmith Explorations - vacations and travel
Baja: Where Desert Meets The Sea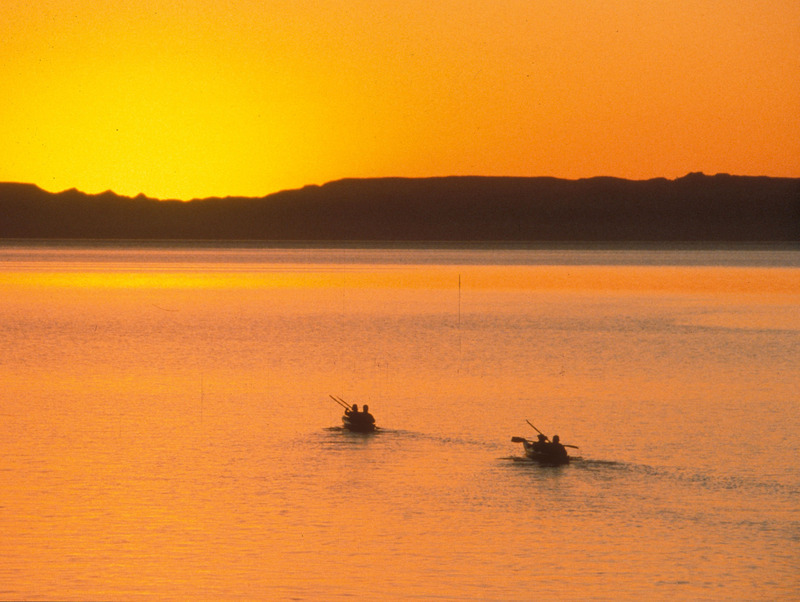 Los angeles
Boats, Barges & Small Ship Cruises trips

Come explore Baja this spring during the lush months of April, May, June and early July. This is an ideal time for families and all to sail among these islands. Conditions are excellent - consistently calm and warm waters make for ideal swimming, snorkeling and scuba diving. Our intimate ships, the Sea Bird, Sea Lion and Sea Voyager, accommodate 60 - 68 guests. They are fully equipped with Zodiacs, kayaks and a convenient swimming platform on the stern, we'll emphasize time in the water! But time on land will be wonderful too: air temperatures are warm but not oppressively hot and spring rains bring forth colorful cactus blossoms.

With over 20 years' experience in this region, we'll show you the best that Baja has to offer. See whales up close from the deck of our ship - best bets are fin, sperm and Bryde's, but other possibilities include blue and orca. Hike miles of uninhabited beaches and desert. Observe myriad seabirds. Kayak in pristine waters, scuba dive among reef fish and enjoy the serenity of a sunset beach barbecue.

The Sea of Cortez harbors over fifty remote islands, many with plants and animals that have evolved into distinct endemic species. Some in the scientific world refer to this region as "Mexico's Galapagos." This unique journey includes the seldom-visited Midriff Islands and is designed with no set itinerary, adding a stimulating sense of adventure to each day. Come join our spring season in Baja!
Locations visited/nearby
Baja , , Desert , Cruise , cruises , small ship , , Baja California , Cortez , Sea of Cortez , Guaymas , Sea Lion , Sea Bird , California, United States, Islas San Esteban, San Pedro Martir, Canal De Ballenas, Isla Angel De La Guarda, Isla Rasa, Isla San Marcos, Isla Santa Catalina, Islas Los Islotes, Espiritu Santo, North America, Sea Of Cortez
0 testimonials about this trip.
Reviewer:

R. and D. Ivanova

Galapagos Motor Yacht Eric/Letty/Flamingo Cruise

Thank you for the most incredible experience! We just came back from our trip to the Galapagos. We were on the Eric - a terrific yacht and an even greater team. The islands are beyond belief, but I wanted to tell you how perfect the entire trip was. Everything went incredibly smoothly from our arrival (late) in Quito where our guide was waiting for us despite the late hour, to all transfers, luggage and ticket arrangements - everything. Our guides were fabulous, as was the entire crew, including the Captain. AdventureSmith Explorations did a terrific job!

5
Comments from Facebook
Itinerary
Day 1 - Los Angeles/Loreto/Embark
Depart Los Angeles and fly to Loreto, Baja California, Mexico and embark your vessel.

Accommodations: M/V Sea Bird
Included Meals: dinner
Days 2-7 - Exploring the Sea of Cortez
This expedition is designed to take advantage of the best wildlife and exploring opportunities in the area. We will keep ourselves open to the possibilities. Our routing will include the islands listed below, although the order may vary:


Islas San Esteban and San Pedro Martir In the morning land on Isla San Esteban for a walk up a desert wash, to search for desert birds and the endemic pinto chuckwalla a fat, harmless desert lizard. In the afternoon visit Isla San Pedro Martir, a 1,000-foot-high guano-covered island that is home to thousands of seabirds. At this time of year blue-footed boobies, red-billed tropic birds, pelicans and frigate birds are all found here. A Zodiac cruise gives us close views of the birds and throngs of sea lions along the shoreline, and kayaks allow for personal explorations.

Canal de Ballenas and Isla Angel de la Guarda In Canal de Ballenas it may be possible to see many species of whales and dolphins. Fin, sperm, and orca whales, bottlenose and common dolphin are among the species found in these waters. Later we land on Isla Angel de la Guarda for hikes among elephant trees and cardon cactus, and another opportunity for kayaking along a remote island shoreline.

Isla Rasa In the spring one of the great wildlife spectacles of the Sea of Cortez is in full swing at Isla Rasa the nesting of thousands of Heermann's gulls and elegant and royal terns. This population of seabirds has been closely studied for many years, and we will go ashore to meet the researchers and unobtrusively observe the nesting, feeding and territorial behavior of these three species.

Isla San Marcos At Isla San Marcos there is a beautiful cove for swimming, snorkeling, scuba diving and kayaking, and a broad arroyo leading into the interior, with intriguing desert plants and good opportunities for bird watching. In the afternoon we are again in rich whale waters, near the mouth of Bahia Concepcion where we stand a good chance of sighting several species of whales, particularly fin or sperm.

Isla Santa Catalina This morning we'll search for whales in the waters south of Isla Carmen, an area that has proven to be one of the best for finding blue whales, and often bottlenose and common dolphins. In the afternoon we visit Isla Santa Catalina, famous for its giant barrel cactus and rattleless rattlesnake. The protected bay of our anchorage is also an excellent site for snorkeling. With a full afternoon here there is time for swimming, scuba diving, snorkeling, hiking and kayaking.

Islas Los Islotes and Espiritu Santo At Isla Los Islotes, snorkelers have one of life's great opportunities swimming with graceful, curious sea lions. With a deeply indented shoreline and dramatically eroded cliff faces, Isla Espiritu Santo is perhaps the most beautiful island in the Sea of Cortez. We have a leisurely afternoon for swimming, scuba diving, snorkeling, kayaking, and in the evening a beach barbecue under the desert sky.

Accommodations: M/V Sea Bird
Included Meals: breakfast, lunch and dinner
Day 8 - Loreto/Disembark Ship/Return U.S.
This morning after breakfast we disembark in Loreto for flights back to the U.S.

Accommodations: n/a
Included Meals: breakfast

More information from AdventureSmith Explorations: