Cape Lux Travels - vacations and travel
A Feats For The Senses – Vietnam & Cambodia With Author Kim Fay 26 April – 9 May'13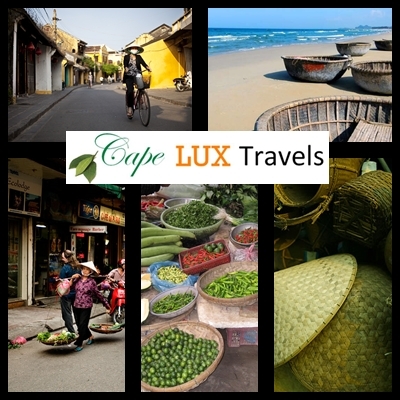 from $4,255* per person
14 Days
April, May
Luxury accommodations

Exertion level: 1

Operator:

Cape Lux Travels

12 people max
Vietnam, hanoi
Culinary & Wine Travel trips
A Feast for the Senses
Discover the flavors of Vietnam & Cambodia
on a connoisseurs' food tour with Kim Fay, and Cape Lux Travels,
in association with Luxury Travel Vietnam

26 April to 9 May 2013
About Kim Fay….
"Born in Seattle and raised throughout Washington State, she lived in Vietnam for four years and still travel to Southeast Asia frequently. A former independent bookseller, she is the author of The Map of Lost Memories and Communion: A Culinary Journey Through Vietnam, winner of the World Gourmand Cookbook Awards' Best Asian Cuisine Book in the United States. I am also the creator/editor of the To Asia With Love guidebook series. I now live in Los Angeles.
Kim has just completed/published her third book..
Communion – A culinary Journey Through Vietnam
To Vietnam with Love – A Travel Guide for the Connoisseur
and now.. her first Novel…. The Map of Lost Memories
Locations visited/nearby
Cambodia, Vietnam
Comments from Facebook
Itinerary
The food of Vietnam is one of the world's most original, diverse and healthy cuisines, characterized by a complex blend of textures and flavours. With rice as its satisfying foundation, fish sauce as its unifying accent and fresh produce playing a role in nearly every dish, it is unique among Asian cuisine. Even more fascinating is how it varies as you travel through the country's northern, central and southern regions, revealing the diversity of the country's culinary and cultural influences.
Please join us as we explore the culinary beauty of Vietnam and the ancient temples of Cambodia, with guided excursions and plenty of free moments to make discoveries of your own. Kim and Jean will be on hand at all times and will also provide an insider's guide to make sure every moment of this journey is a memorable one.
This Tour starts in Hanoi, Vietnam and ends in Siem Reap, Cambodia.
26April – 9May2-13 A feast for the senses Food Tour Kim Fay
Interested?… put your name down on our waiting list.. TODAY!
jeanw@thecapeclub.com
About Jean Wethmar & Cape Lux Travels, in assn with Luxury Travel Vietnam
About Jean Wethmar: Born in South Africa, Jean immigrated to Australia eleven years ago and currently lives in Brisbane, where the golf clubs are swinging and the birds are singing! She is a concierge par excellence, and her Cape Lux Travels provides fully escorted, small group Special Interest Tours. She formed an association with Luxury Travel Co Ltd., Vietnam's first 100% privately owned, luxury tour operator and full-service travel agency. They provides an all-inclusive fully escorted Concierge Travel Service for the high-end traveler, who wants to experience the luxurious hidden charms of Southeast Asia.
Together they put the 'Timeless charms' back into Vietnam.
You'll be in very safe hands!
More information from Cape Lux Travels: