Advanced Adventures Pvt. Ltd - vacations and travel
Classic Everest Base Camp Trek 14 Days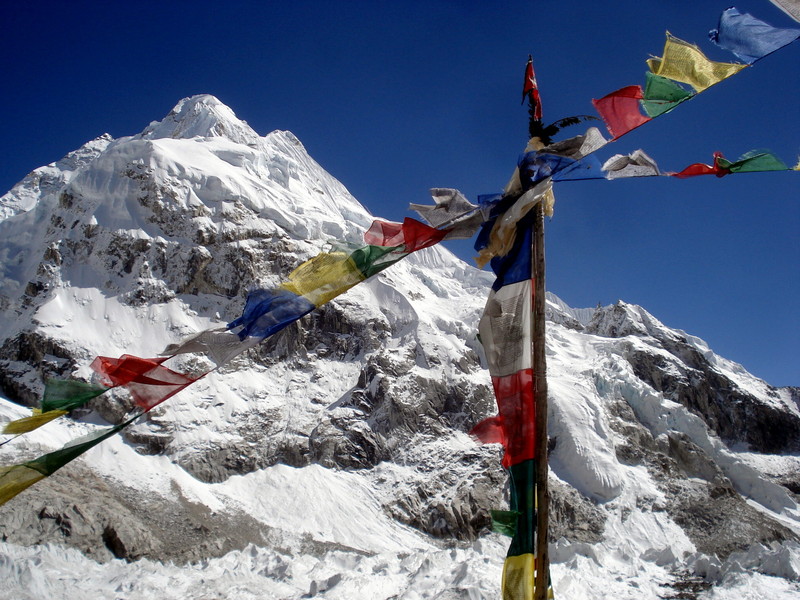 from $1,300* per person
14 Days
March-May, September-November
Comfort accommodations

Exertion level: 6

Operator:

Advanced Adventures Pvt. Ltd

20 people max
Nepal
Active & Adventure trips
The Everest Base Camp Trek which treks along the classic Everest Base Camp trail serves many cultural and natural delight of the Everest region.
To have the more interesting flavor in Everest Region, this Everest Base camp is the sublime destination for all traveler.Advance Adventure has another trekking option for busiest travelers. Everest Panorama Trek- 12 Days will be a great choice for all the travelers. Moreover, the busiest traveler can have the same amenities as others trek while doing this trek. The hikers having fewer altitude experiences and having physically sound health can have booked this trek. However, in the case of novice traveler, we suggest you, Gokyo Valley Trek, if you have average health. As we have the multiple options, we can offer demanding and challenging trek with full adventure for more experienced hikers for this adventure lovers Everest Base Camp Trek via Gokyo Lakes -18 Days would be an ample choice. Therefore, to grab the stunning beauty of Amadablam and Sagarmatha National Park where you can see rare plants and animal, this trek will be the dreamland of your life.
Locations visited/nearby
Nepal
0 testimonials about this trip.
Reviewer:

Ruy A

located in

Nepal

Chet prasad bhatta is an excellent boss .he is marvelous in the advanced adventure trip .I needed in april 2015 just before the earthquake a rescue of helicopter as I felt bad with altitude and he imediately rescue me at 4000 m.you must choose this grateful company in himalaia .the guides and sherpas are very helpful and give all attention to the trekkers .thank very much bhatta and Ram the guide . My best regards Ruy Antonello Lavigne

5

Reviewer:

tracylee87

It was an incredible journey ! My partner and I had the best time .I would recommend Advanced Adventures all the way, Mr Chet Bhatta was awesome in everything , he was onto our Emails within minutes each time we had a question before hand , incredibly helpful and made everything easy . Our guide Iswor was fluent in English and made our trek to EBC ! He was extreamly motivated and he's exactly who you need , and he had such caring nature . And not to mention our porter Sujan , such a happy person and very polite . We fell in love with Nepal the people the mountains and we will be back to tick some more off our bucket list . Endless adventure there ! It was our first trip to Nepal and our first trek as well but we had no issues at all . The care factor with these guys was imaculate , and that's what you want . Yes , it was hard but that's why your there , to achieve that goal you want so bad and push yourself to the limit , one foot Infront of the other , and when you've done it the feeling you can't explain . We will be back to climb some mountains for sure ! Thank you so much Namaste all the way from Perth

5
Comments from Facebook
Itinerary
Trip Highlights
Affordable Budget with idiosyncratic way
Climbing Kalapatthar at elevation of 5,555 m
Everest Base Camp and walking on the Khumbu glacier
Scenic mountain flight with hilarious mode Lukla and you will have again flight from Lukla
Exploring basic lifestyle of Sherpa culture and ritual tradition of mountain people in the heart of Himalaya
Researchable observation of Tengboche Monastery
Flabbergasting views of Himalaya including Mt. Everest, Lhotse, Mt. Thamserku, Mt. Amadablam and other many snowy peaks will glance on single peep.
Detailed Itinerary
Arrival day in Kathmandu
Altitude: 1400m B/B
On arrival to Kathmandu; we will greet you at the airport and transfer you to the traveler's recommended Hotel Blue horizon or similar standard hotel. Later we meet and take you to our head office, brief you on the upcoming Everest Base camp Trek with us and introduce your trekking guide to Everest Base Camp. Evening, we host welcome dinner at one of the finest local restaurant in Kathmandu with music and ethnic dance. Overnight at Kathmandu Hotel.
Day 02:
Fly to Lukla (35 mins flight) and trek to Phakding 3-3.5 hrs trek
Altitude: Lukla- 2800m, Phakding-2650 B/L/D
We drive to airport early in the morning to take our flight to Lukla. The scenic 35 minutes flight to Lukla caters the panorama of the peaks of Langtang, Rolwaling and Annapurna Himalayan Ranges. Landing at Tenzing Hillary Airport in Lukla is a thrilling adventure. Instantly, after making the final arrangement for the Everest Base Camp Trek, we kick off. Trekking 200m downhill to Thado Koshi River, we cross the suspension bridge over it. The view of Mt. Kusum Kangru looming dramatically to the East is wonderful view from the bridge. Beyond the bridge the trek begins to gain altitude gradually to Ghat. Ghat is a Buddhist Village with wonderful Black Mani walls engraved with prayers in white. The final push from Ghat through scattered viallges and yak herder's camps brings us to Phakding. The first day of Everest Base Camp Trek ends at Phakding.
Explore remaining time around this local village. Overnight at Mt. Lodge.
Day 03:
Trek to Namche Bazaar 6-7 hrs trek
Altitude: 3440m B/L/D
The Everest Base Camp Trek today crosses suspension bridges over Dudh Koshi River five times. The first bridge we cross comes after five minutes of walk from our hotel in Phakding. Crossing it we trek through the forested trail on the left bank of the river for 35 minutes to Taktak. Exiting out of Taktak we get to see the magnificent view of Mt. Thameserku 6608m from a viewpoint. Almost thirty minutes of gentle walk from the viewpoint brings us to Banker. We cross the second bridge over Dudh Koshi River while making our way out of Banker. Trekking on the right bank of the river on the stony trail that goes uphill and down like the waves in the ocean, we arrive to Monjo. Walking through the typical Sherpa Village, we arrive to the Entrance of Sagarmatha National Park. Trek downhill for twenty minutes on the stony trail to the river, cross the third bridge and arrive to Jorsale, where we stop for the lunch.
Post lunch, we cross the fourth bridge and trek along the right bank of the river for forty minutes to arrive at Larja Doban. At Larja Doban we sight the confluence of Dudh Koshi and Bhote Koshi River. There are two elevated bridges at Larja Doban. We cross the higher one and begin the uphill climb on the stony trail towards Namche. Almost after 1 and half hour of trek we arrive to Top Danda. Savoring the first view of Everest from Top Danda, we trek uphill for the next ninety minutes through pine forest to Namche.
Day 04:
Namche Bazaar- Rest and Acclimatize
Altitude: 3440m B/L/D
Rest day during trek means to hike to higher elevation and trek down back for proper acclimatization. Today we will walk up to the Everest view Hotel, which lies at the altitude of 3880m (440m higher than Namche). 2.5 hours of uphill hike on the stony trails of open hill brings us to Everest View Hotel. Savor the views of Thameserku, Kusum Kangru, Kantega, Everest, Lhotse and Ama Dablam among others from the site. Trekking down back to Namche on the same trail is easy 1.5 hrs walk.
Rest of the time you may just explore Namche Bazaar, visit its Sherpa museum- a great place to learn Sherpa culture and history of mountaineering and if this happens to be Saturday, you would have a wonderful local market (Hatt Bazaar) at Namche Bazaar. It is interesting and a wonderful experience to understand how the locals exchange their goods or buy the necessary stuffs from the market itself. Namche Bazaar, itself is a tourist shopping hub with all the required trekking and mountaineering clothing and equipment. O/N at Namche.
Day 05:
Trek to Tengboche 6 hrs trek
Altitude: 3867m B/L/D
We begin the trek with the uphill walk to emerge out of Namche. Thirty minute walk along the twisted trail savoring the views of Everest, we arrive to Tenzing Norgay Memorial Stupa. Almost two hours of walk on the open hillside from the stupa brings us to Kyangjuma. The view of Dudh Koshi River Valley from Kyangjuma is exceptional. 300m downhill trek through the pine forest from Kayngjuma brings us to Phungitenga, where we have our lunch. Post lunch we cross the bridge over Dudh Koshi River and begin the uphill climb to Tengboche. The first one and half hour uphill walk to Tengboche is tougher along the stony trails whereas, the next one hour is a pleasant and gradula climb through the beautiful forest of pine and rhododendron. Tengboche, one of the most beautiful places in the Himalaya, is famous for its amazing views of Ama Dablam Mountain at the backdrop of Tengboche monastery itself. The Tengboche monastery is one of the biggest Buddhist monasteries of Khumbu region, your guide will take you to see this monastery surroundings, chant with Buddhist monks, enjoy the praying ceremony. O/N at Tengboche.
Day 06:
Trek to Dingboche 6 hrs trek
Altitude: 4375m B/L/D
Breakfast at Tyangboche, then will start walking of this day. The trail descends down winding through the rhododendron forest to Devoche. Crossing a bridge over the raging Imja Khola River beyond Devoche, we hug the valley wall, and then traverse to the plains of Pangboche village which is the biggest Sherpa village of Khumbu. Here we have great chance to see the typical Sherpa people, culture and traditions. We will take a short hike to the monastery over to hill at Pangboche- probably the oldest monastery of Khumbu. Then, we walk thirty minutes through the village and hike for an hour through the open valley to Somare 4040m. Somare is the treeline border during Everest Base Camp Trek. We have our lunch at Somare and then begin the real adventure of Everest Base Camp Trek. Climbing gradually on a uphill trail through the glacial moraines and yak grazing lands for two and half hours we arrive to Dingboche.
Day 07:
Acclimatization day at Dingboche
Altitude: 4375m B/L/D
On this day you will rest before the last leg of the journey. You may explore the surrounding Chhukung and Imja valleys which are connected with the most interesting Island Peak, the high passes of Amphu Laptse and Makalu Barun National park.
If you interested, you may hike to the Chhukung Ri(5000m Approx) for the panorama of the valley or explore the Dingboche itself with its typical local peoples and their life styles.
However, we suggest you to hike up to Nagarshang Hill, which is 300m higher than Dingboche and just 2-3 hours roundtrip. From the hilltop the views of Thameserku, Kantega, Ama Dablam, Makalu, Cholatse and Isalnd Peak among others are wonderful. O/N at Dingboche.
Day 08:
Trek to Lobuche 5 hrs trek
Altitude: 4900m B/L/D
From this day onward, the trek is gradual up hill; due to the altitude it is harder and tough. However for two and half hours until reaching to Dungla, we walk mostly on the leveled trail that winds through yak herders shelters and grazing lands. At Dughla, we have short breather and enjoy a hot cup of tea or coffee. One hour of uphll climb from Dughla brings us to Dugh-La Pass 4620m, which has the memorials of famous climbers who lost their lives during Everest Expedition. The memorials here include of Scott Fisher and Babu Chiri Sherpa. From the pass the Everest Base Camp Trek now winds on the trail beside Khumbu Glacier for almost an hour to Lobuche. From Lobuche we see the best views of Mt. Lobuche, Mt. Pumari and the Nuptse. O/N at Lobuche.
Day 09:
Trek to Gorakshep & to Everest Base Camp - trek back to Gorekshep 7-8 hrs trek
Altitude: Gorakshep- 5180m, Everest Base Camp 5360m B/L/D
The first hour of the trek today is an easy walk on the leveled trail. Then we climb up for 25 minutes or so follwed by next thrity minutes of easy hike to catch the glacial moraines of Mt. Pumori all the way to Gorakshep. Though it is quite early to have lunch at Gorakshep, we will have light lunch before kicking off the adventurous walk to Everest Base Camp.
Post lunch the walk of your lifetime to Everest Base Camp begins. Two and half hours of up and down trek on the glacial moraines extended from Khumbu Icefall is an adventurous roller coaster. Going down to the glacier crossing half of it all the way to Everest Base Camp is amazing fun walking. At Everest Base witness the colorful tents of Expedition Groups if it is peak season of climbing. Take enough photographs and feel the world's highest summit from the nearest proximity possible. At the latter half of the day trek back to Gorakshep for the overnight stay.
Day 10:
Trek to Kalapathar and trek down to Pheriche 7-8 hrs trek
Altitude: Kalapattar- 5545m & Periche 4250m B/L/D
Another big day of Everest Base Camp Trek- today we climb gradually uphill on a grassland for two hours followed by twenty five minutes of walk through the black rocks to the summit of Kalapattar. Kalapattar refers to black rock in Nepali. Kalapattar is a vantage point for the closest view of Everest. We get to see the whole of Everest from Kalapattar, which is a sight worthwhile enduring an early morning hike. Enjoy 360 degree panorama of Everest and its siblings from Kalapattar.
Then, trek back on the retracing trail to your hotel, enjoy the breakfast and begin the trek downhill towards Periche. Until Dughla we tread on the retracing trail. From Dughla, we trek downhill to the flat valley of Periche. Overnight at Periche.
Day 11:
Trek back to Namche 6-7 hrs trek
Altitude: 3440m B/L/D
From Periche we will walk thirty minutes to exit out of the village. In next thirty minutes we arrive to the bridge, cross it and hike up almost 80 meters to get to Periche Pass 4350m. From the pass we slide down thirty minutes to merge back into the main trail of Everest Base Camp Trek, then retrace on the trail back to Namche. O/N at Namche.
Day 12:
Trek back to Lukla 6-7 hrs trek
Altitude: 2800m B/L/D
After the breakfast, we hike down a trail steeply descends to the Hillary Suspension Bridge and then continue walking over several local villages and most of walking is through Dudh Koshi River valley and surroundings. Upon reaching at Lukla, freshen up at your hotel and relax. Evening, you could have a party with your trekking crew as it is your celebration of successful Everest Base Camp Trek also the last night in the Everest Region. O/N at Lukla.
Day 13:
Fly back to Kathmandu
Altitude: 1400m B/B
Our flights is in the morning for Kathmandu from Lukla. After breakfast at Lukla hotel, you will check in to the airport and take your flight back to Kathmandu. Transfer to your hotel. You will have free time to relax, freshen up and rest. In the evening, we will meet you again, take you feedback of Everest Base Camp Trek and host a farewell dinner at one of the finest Nepalese restaurant in Kathmandu. O/N at Kathmandu.
Day 14:
Depart Kathmandu
Altitude: 1400m Breakfast
Today you will depart Kathmandu. Breakfast at Kathmandu hotel, then you are free for shopping at the Kathmandu. When the time to depart back comes, we will transfer you to the airport. Have a safe flight and visit Nepal time and again.
More information from Advanced Adventures Pvt. Ltd: