Surprise Tourism LLC
In business since 2018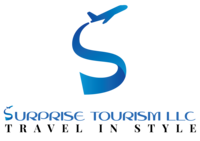 Surprise Tourism LLC, an organization built on professionalism, extensive experience and guest-centricity, Offers best travel services catering to B2B and B2C clients. Surprise Tourism was a long-sought dream of a visionary who established the company in 2018 as a specialist DMC for DUBAI and the Other Emirates, Licensed by the Department of Tourism and Commerce Marketing (DTCM).
Surprise Tourism LLC is a strong ambassador of Responsible Tourism in the Middle East. All our day to day operations are designed by keeping in mind the sustainability of each destination and responsibility towards the local people and culture. Our events, activities, tours and transportation are focused on promoting and preserving each destination's natural and cultural assets. We work in hand with the local governments and implement policies that support sustainable development and equal economic distribution among locals and build community resilience. We are adopting and trying our best to contribute the maximum towards regenerative tourism practices.
ttps://twitter.com/surprisetouris
Address
Website(s):
Leave a comment using Facebook
Prominent affiliations & awards
International Air Transport Association
Other affiliations & awards
Travel Industry Designator Service IATA Code for TIDS 96071636
Our commitment to sustainable travel
Surprise Tourism is a responsible tour operator who helps the travellers to experience authentic
cultures and explore the breathtaking landscapes of the middle east innovatively and
responsibly. We aim to enhance the holiday experience of travellers and Our innovative
approach in tour operation makes sure that the local communities are benefited from it. Our
tours and activities are designed in such a way that it reduces the negative impact of tourism
on nature and local cultural environments.
Ecological/Environmental Impact
Humans in general take our resources for granted and act like these are unlimited. We
understand that the planet should be protected and should be conserved for future generations.
We aim to reduce the use of fossil fuels and encourage our partners and suppliers to use
renewable energy. Our tour programs and operations try to provide the best support we can
give to Sustainable agriculture, fishing, and Organic farming. Encourage our team members
and customers to take steps to increase tree planting, reducing deforestation, and recycling. Our
Tours and activities are designed and executed by considering the following environmental
policies:
Sociological Impact
Our Activities and services are designed in such a way it gives our guests the chance to
learn about local customs and traditions.
Each guest is educated about the local language, traditions, and cultural requirements.
We try our best to add dining from the locally-owned restaurant or tasting a local cuisine
ate without the aid of cutlery.
Our day trips also include visiting a local camel farm with lunch to support the local
farmers. Along with each booking confirmation we send the details about local
traditions and customs to educate the guests about the destination they are visiting. A
professional and certified local guide accompanies our guest on each day trips.
Economic Impact
We at Surprise Tourism always do our best to deal with locally owned suppliers and
help to put fair remuneration or profit into the local community. And we ensure that as
maximum money as possible remains in the local economy by using local suppliers,
local food, and family-owned accommodation or homestays.
We encourage local communities to use artisan fishing, organic agriculture, natural
wine and buy the products using these to support them. Most of our tours include guided
visits to their farms which includes lunch and promotes the sale of local organic
products. Activities in rural areas are designed with a low number of participants to
avoid disturbing the daily life of local people.
We believe in fair trade principles; we always encourage our guests to pay a fair price
for the high quality and unique products and services they receive from the local
organization we deal with. The local suppliers and guides who work with us are
redistributing the income from tourism to create fair paying jobs and execute
sustainable, long-lasting solutions to the obstacles they face in their day to day life
We proudly support Rashid Centre for People of Determination. A nonprofit
foundation for social care in the UAE. This initiative helps in brining happiness to the
lives of young children and in creating smiles on their faces. With this initiative the
children of need can write, learn and work.
Best Practices
In our office, we use computers, photocopiers, printers, and other electronic devices
which are having energy-saving functions.
We encourage our team members to make use of natural light when it is available. We
try to purchase recycled cartridges where possible and Try to recycle the used papers,
cartridges whenever possible.
We store our data through electronic means and reducing the number of print outs and
hard copies of documents. We educate our team members and agents to refrain from
the unnecessary printing of emails and documents.
We try to buy toilet papers and other stationeries made from recycled materials.
We maintain the air conditioning/heating at optimal temperatures which save energy.
We make sure that the air conditioning, lights and other electronic devices are turned
off when they are not in use or during the night.
Staff members are encouraged to use less water when in office and asked not to wash
dishes under running taps. We are doing all we can in reducing the waste produced and
our impact on the environment.
3 most popular Trips (out of 3 total)
Oman and United Arab Emirates for 11 Days • from $1,845* per person

Operator: Surprise Tourism LLC

Offered Year-round: Experience luxury stay and the stunning architecture of Abu Dhabi and Dubai during your stay in these world-class Emirati cities. Explore UAE's capital Abu Dhabi, visit its historical monuments, such as the Sheikh Zayed Grand Mosque.… more

| | |
| --- | --- |
| Exertion level: | 2/7 |
| Lodging: | B&B, Boat, Cruise Ship, Hotel, Multi |
| Accommodation: | Boutique |
| Max group size: | 30 people |
| Must form your own group? | No |

United Arab Emirates for 7 Days • from $1,113* per person

Operator: Surprise Tourism LLC

Offered Year-round: A Vacation that will take you to dreamland and let you be unified with the brilliant sands of the Dubai desert. Find the loftiness of Abu Dhabi and the thrilling rides at Atlantis Aqua venture, on… more

| | |
| --- | --- |
| Exertion level: | 3/7 |
| Lodging: | Luxury Tented, Hotel, Camping, B&B, Multi |
| Accommodation: | Boutique |
| Max group size: | 30 people |
| Must form your own group? | No |

United Arab Emirates for 5 Days • from $513* per person

Operator: Surprise Tourism LLC

Offered Year-round: Exotic lifestyle, stunning architecture, lively nightlife, and a paradise for shopaholics Dubai is the best destination for couples on honeymoon. Explore the hottest attractions and experience the best of Dubai in just five days with our… more

| | |
| --- | --- |
| Exertion level: | 2/7 |
| Lodging: | Luxury Tented, Hotel, B&B, Multi |
| Accommodation: | Boutique |
| Max group size: | 30 people |
| Must form your own group? | No |
Is Surprise Tourism LLC your company? Register to get access.
You can get access to the Trips listed on TravelDragon, allowing you to add/edit your products. Register to get access if you'd like to add or edit Trips for Surprise Tourism LLC.