Classic Escapes
In business since 2003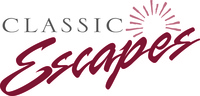 Welcome to Classic Escapes, a family owned, boutique travel company specializing in nature and cultural journeys around the world. Our team represents decades of travel experience, and our itineraries are designed based on first-hand knowledge of our destinations. As such, we take great pride and care to ensure that our "family" is the most knowledgeable and attentive consultants around.

When you travel with Classic Escapes, it's truly like you're one of our own. From the moment we begin the planning process to the time our guests return from an unforgettable journey, an everlasting bond is formed. We are there with you every step of the way, planning every detail and suggesting all the small, special touches that will make for an even more unique and memorable experience
Our mission is to provide exciting, educational and fun-filled travel experiences that nurture and directly support the diverse wildlife and cultures we visit around the world. We believe that travel is the best tool for building the mutual respect, awareness and understanding that are vital to preserving the plant for future generations.

Visit our facebook page! www.facebook.com/Classic.Escapes.Inc

If you need specific details on any of our destinations, please contact us at 800-627-1244 or email info@classicescapes.com, and a member of the Classic Escapes team will be happy to assist you.
Address
58-25 Queens Blvd.
Woodside, NY
11377 USA
Website(s):
Testimonials (3)
Reviewer:

Ron Magill

located in

Miami MetroZoo

Stacy Fiorentinos is a traveler's dream. As the Goodwill Ambassador for one of the top zoos in the country, I have had the privilege of leading groups on wildlife adventures planned and coordinated by Stacy for over a decade. She demands only the best for her clients and provides nothing less. Through her extensive experiences visiting properties and her personal relationships with the people who live and work in the exotic destinations that she services, she is able to create itineraries that are unforgettable and will inspire feelings that words alone cannot describe. Her attention to detail is second to none and her determination to ensure that you experience the trip of a lifetime is truly unparalleled. As a small child, I would constantly dream of exploring far away lands and wild places. Thanks to Stacy, I, as well as my fellow travelers, have been able to live those dreams over and over again! When taking the type of trip that Classic Escapes provides, the most important thing to have is "peace of mind." With Stacy, you will have that and so much more.

5

Reviewer:

Rick Barongi, Director,

located in

Houston Zoo

I have led over 20 trips to Africa with several different tour operators. Stacy Fiorentinos is one of the best in the business. I recommend her without reservation. She is knowledgeable, experienced, flexible and above all professional. Her knowledge of Africa and other eco-tour destinations is exceptional. I have entrusted her with some very special VIP's and have never been disappointed.

5

Reviewer:

Patti Glover

located in

LA Zoo

Stacy Fiorentinos is very detail-oriented, well-informed, and provides wonderful customer service. Stacy is extremely knowledgeable in her field, and always goes above and beyond what I request of her. This knowledge helped to make my job easier in planning and implementing numerous trips for my company. From the planning stages of a trip until the end, I knew I could always call Stacy with questions and she would provide a thorough response in a very timely manner. Her timeliness provided a sense of security for me and all the travelers in the group. It was simply a pleasure working with Stacy.

5
Leave a comment using Facebook
This operator has not posted any deals at this time.
Prominent affiliations & awards
Adventure Travel Trade Association
3 most popular Trips (out of 10 total)
Bozeman Airport ,Montana for 8 Days • from $3,150* per person

Operator: Classic Escapes

Offered July: For the next five days you will explore Yellowstone National Park, the place that inspired the world's first national parksystem. Even during the late 1800s when most of the west was undeveloped and wild, the geysers… more

| | |
| --- | --- |
| Exertion level: | 3/7 |
| Accommodation: | Luxury |
| Max group size: | 24 people |
| Must form your own group? | No |

Entebbe International Airport, Entebbe, Uganda for 13 Days • from $7,995* per person

Operator: Classic Escapes

Offered October: Discover Uganda – known as the Pearl of Africa by British explorers – a county noted for outstanding beauty anddiversity – from the ethereal Mountains of the moon to open savannahs and impenetrable forest. Uganda is… more

| | |
| --- | --- |
| Exertion level: | 3/7 |
| Accommodation: | Luxury |
| Max group size: | 24 people |
| Must form your own group? | No |

Airport, Israel near Tel Aviv, Israel for 18 Days • from $4,995* per person

Operator: Classic Escapes

Offered March: With more than 30 years experience, a Master's degree in Biblical Studies anddeep insight into his homeland's complex past, Amir Orly is the ideal guide toshow you Israel's many treasures. He serves as a guide for… more

| | |
| --- | --- |
| Exertion level: | 3/7 |
| Accommodation: | Luxury |
| Max group size: | 24 people |
| Must form your own group? | No |
Is Classic Escapes your company? Register to get access.
You can get access to the Trips listed on TravelDragon, allowing you to add/edit your products. Register to get access if you'd like to add or edit Trips for Classic Escapes.