Terra Incognita Ecotours
In business since 2004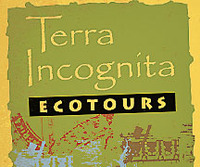 Terra Inconita Ecotours is committed to making a difference to you and to the places we visit. We draw on our legacy of adventure, experience and knowledge, our commitment is to provide travelers with opportunities to participate in ecotours, which explore the world with a sense of discovery and wonder, and to preserve our environment for future generations. As we do so, we strive to create ecotours that are as enriching and memorable as they are comfortable and fun.

We take these principles to heart, and for every person who joins one of our ecotours we make a donation to one of the leading conservation organizations working in the area. Indeed we partner with these organizations to help increase their effectiveness. Our conservation partners will send a representative to join us, to explain their work, to provide added insight, to make your experience more relevant, rewarding and unique.


Address
Terra Incognita Ecotours, Inc. 4016 West Inman Ave
Tampa, FL
33609 USA
Website(s):
Testimonials (3)
Reviewer:

Gary and Karen

located in

London

,

United Kingdom


We visited Rwanda with Ged and Terra Ingognita Ecotours in September 2010. Without doubt it was the most amazing trip of our lives. The Gorilla trekking was out of this world. It's hard to put into words what an experience this was. Every aspect of the trip was planned to perfection. The accommodation (especially the Virunga Lodge) was fantastic. Ged, our tour leader and his supporting team of drivers were great. Ged made sure every element of the trip was perfect for us. I couldn't recommend Terra Ingonita more highly...



5

Reviewer:

Merrie Wise

located in

New York

,

New York

USA



I traveled with Terra Incognita to Rwanda in June 2008...and it was the absolute adventure of a lifetime! Our tour leader, Ged, knows Rwanda so well and planned the absolute perfect trip! We had 2 amazing days with the Mountain Gorillas...a wildlife experience that just can not be beat! If you want a travel adventure that will change your life for the better book the Gorillas in the Mist trip with Terra Incognita Ecotours!


5

Reviewer:

Bob Lidston

located in

Baltimore

,

Maryland

USA


I had the privelege of visiting Borneo with TI in August, 2010. Nine strangers from around the US and Ged. I had visited Africa and the Amazon with another competent company. TI was better Not only had Ged engaged an excellent local guide, found lovely accomodations and developed a well-paced and fascinating itinerary, but he also subtlely made certain the strangers became friends and even cleaned the mud from our boots. He lives up to what he says about helping local conservation and this benefitted us with entry into a restricted primary forest and dinner with a long-time French researcher. We met up with 50 elephants in a monsoon-like storm. How he staged that,I'll never know! The bats, rats and roaches of the Gomantong Cave were a living horror movie--a unique experience not to be missed. Snorkling off a Buffett kinda island paradise, holding a Barracuda in the Sandakan fish market, and meeting friendly Malays helped turn a trip into an experience. Eager to go TI again.



5
Leave a comment using Facebook
This operator has not posted any deals at this time.
Prominent affiliations & awards
The International Ecotourism Society
Fit For Trips Member
3 most popular Trips (out of 10 total)
Dar es Salaam Airport, Dar es Salaam, Tanzania for 8 Days • from $7,495* per person

Operator: Terra Incognita Ecotours

Offered July: This trip has it all! In just ten days we will spend time in Gombe National Park watching the exact same Chimpanzees that Jane Goodall has studied for over 50 years. We will see Africa as… more

| | |
| --- | --- |
| Exertion level: | 5/7 |
| Accommodation: | Luxury |
| Max group size: | 16 people |
| Must form your own group? | No |

International Airport Authority of India, Delhi for 11 Days • from $8,249* per person

Operator: Terra Incognita Ecotours

Offered March: Corbett National Park – This park has been the inspiration and setting for numerous books - F.W. Champions celebrated photography of Tigerland. The first ever books on Indian wildlife Photography (With a Camera in Tiger-land and… more

| | |
| --- | --- |
| Exertion level: | 5/7 |
| Accommodation: | Luxury |
| Max group size: | 12 people |
| Must form your own group? | No |

Campo Grande Internacional Airport, Brazil for 9 Days • from $5,999* per person

Operator: Terra Incognita Ecotours

Offered July, August: The Pantanal is the largest inundated plain in the world and is a refuge for endangered species like the jaguar, hyacinth macaw, the giant anteater and the giant otter. The dry and wet seasons are a… 1 testimonial & more

| | |
| --- | --- |
| Exertion level: | 3/7 |
| Accommodation: | Boutique |
| Max group size: | 12 people |
| Must form your own group? | No |
Is Terra Incognita Ecotours your company? Register to get access.
You can get access to the Trips listed on TravelDragon, allowing you to add/edit your products. Register to get access if you'd like to add or edit Trips for Terra Incognita Ecotours.