French Escapade - vacations and travel
Cooking in Provence
"We really felt like family, not tourists thanks to the personal attention we all received from Jackie and Valerie who… "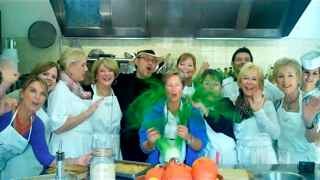 from $3,490* per person
8 Days
September
Boutique accommodations

Exertion level: 3

Operator:

French Escapade

12 people max
Avignon tgv train station
Culinary & Wine Travel trips
This exceptional 8-day tour is designed to introduce you to French cuisine as well as to French culture.

Discover Provence and its regional products and learn how to use them in cooking: olive oil, cheese, truffles, nougat, chocolate and of course local wines, including the famous Châteauneuf-du-Pape.

You will have "hands on" cooking classes with some of the best Chefs in the region, as well as visits to markets, herb gardens, vineyards, local restaurants and cultural sites.

We believe that you learn more by attending sessions taught by different chefs rather than one chef for the whole week.

The settings for your cooking program will be the restaurant or workshop of French chefs. All classes will be in English and a complimentary cooking apron will be provided (for you to keep).

Between your cooking sessions, Jackie will take you on daily trips to enjoy the wonders of Provence, the colorful markets, the hilltop villages and to taste delicious local products.
Locations visited/nearby
France, Europe
2 testimonials about this trip
Reviewer:

M Turner

located in

Mountain View

,

CA

USA

We really felt like family, not tourists thanks to the personal attention we all received from Jackie and Valerie who made us experienced the real French culture, off-the-beaten track. Though I had read quite considerably on the areas we would visit I was delighted at how novel and impressive it all was. I shall never forget it and even writing about it brings tears to my eyes.

5

Reviewer:

J. Gover

located in

Laytonville

,

CA

USA

Thanks to you, our trip to France was such a wonderful, memorable vacation. We appreciated all your hard work and planning. It really paid off, we had an experience we will never forget. It was truly a 'once in a lifetime' French Escapade! Thank you also for all the special kindness: the birthday cake, the low fat milk, the help with our TGV train ticket. You were so sweet to us. What would we have done without you? You're the best!

5
3 testimonials about the provider, French Escapade:
Reviewer:

Jill G., Laytonville

located in

Laytonville CA

USA

We had never done a tour before we traveled with you, and we will never do another tour unless it's with you. We always appreciated all the hard work you put into your tour, but now, we REALLY appreciate it, having experienced what it's like on a "non-French Escapade" tour ", now that we are on a motorcycle tour of southern Italy. Although there have been many wonderful moments on the trip so far, it has been a disappointment because you have spoiled us on the French Escapade tour! Oh, how I wish you were here with us! You attention to details, your kindness, your knowledge of the region made the trip so memorable. We will travel with you again next year."

5

Reviewer:

Jim H.and Cully B.

located in

Los Altos, CA

USA

"'Shall I tell you what I think are the two qualities of a work of art? First, it must be indescribable and second, it must be inimitable' -Renoir.
Jac and Valerie, this quote from Renoir captures our feelings very well, you created something that is beyond words and certainly can't be imitated."

5

Reviewer:

Bonnie C.

located in

Oakland, CA

USA

"From the moment we connected at the airport, I felt myself relax! Jackie and Valerie attended to every detail of making the trip safe, educational, entertaining, and country-French authentic. Yet they did it with a kind of grace and that felt like each person's needs and tastes were important, and respected. It was so refreshing to just surrender to the beauty of the place, and to their special charms and TLC. We all wanted to live there forever, or, lacking that, take them both home with us. Dream on, dream on."

5
Comments from Facebook
Special information
You need to form your own private group for this trip. It will be scheduled for a date you arrange with the provider. The itinerary here is just a sample.
Offers some solo-only/singles departures.
Offers some women-only departures.
Itinerary
Day 1: Welcome Reception
We will pick you up at the Avignon TGV train station. Upon your arrival at our guesthouse, you will have time to settle in and explore the village. In the evening, you will enjoy a welcome reception followed by a gourmet dinner.
Day 2: Olive Oil and Truffle Hunt in Gordes
Morning: From Olive Tree to Oil
A local producer of olive oil will take us on a walk through his olive fields and share with us his knowledge and passion for olives.
After the walk, he will show us the olive mill and the visit will finish with a tasting of his olive oil and tapenade (a purée of black or green olives). The history and the production of olives will have no secret for you after this enjoyable visit. You will have a chance to buy all olive products like tapenade, oil, olives but also bowls and items made out of olive wood.
Lunch in the hilltop village of Gordes
The amazing village of Gordes, listed "one of the most beautiful villages in France", sits on a rock with an incredible view on vineyards and hills.
Afternoon: Truffle Hunting and Tasting
Haven't you always dreamed of going truffle hunting? Now you have the opportunity to do so!
Discover the secret of this mysterious mushroom. The truffle is a specialty of Provence. In April, you may be able to find either the Winter black truffle or already the Spring white truffle. We will be accompanied by a Master and his dog who will teach us how to find the truffles under the oaks. Meeting a local farmer will be an unique experience.
Back at his farm, we will have time to savor some truffle on toasts served with wine from Luberon.
Day 3: Learning from "One Star Michelin Guide" Chef
Today we will go to the food market accompanied with a Professional Chef. He will share with you his tips and tricks: How to choose the fresh vegetables? Is the smell a big help? How to recognize fresh fish?
Back at the chef's workshop with your fresh products, you will learn how to prepare a three course Provencal meal: hors d'oeuvres, main dish and dessert.
You will savor your meal with the chef. It will be served with special wines selected by the sommelier.
Back home mid afternoon, you will have the choice between relaxing by the pool at our hotel or exploring St Remy de Provence.
Day 4: Ratatouille and Chateau Neuf du Pape Wine
Morning: Cooking session in a farm
Located near Mont Ventoux, the Pedagogic Farm will open its doors to us so that we can discover their biologic agriculture world: grapes, olives, lavender, cherries, herbs, forgotten vegetables and, of course, their animals. We will help the farmer pick the herbs and veggies needed for our meals and together we will prepare the typical provencal meal: ratatouille.
You will also have time to visit with all the animals in the farm.
Afternoon: Wine Tasting in Chateau Neuf du Pape
Chateau Neuf du Pape village is dedicated to its world famous wine "Châteauneuf-du-Pape" which is also part of the famous Côtes du Rhône.
We will have a guided visit in a well known winery, to learn everything about this famous wine, including a session on how to taste wine. The visit will end with the tasting of three exquisite Chateau Neuf du Pape wines.
Day 5: Provencal Market and Van Gogh in St Remy de Provence
Morning: Provencal Outdoor Market
Stroll and shop in the incredible and colorful market. It is an accessible and rewarding way to immerse yourself in the lifestyle of the area.
Fresh food and its artful display speaks for itself. But there is much more than food: colorful array of Provencal fabric, tablecloths, silk scarves, natural soaps with dozens of scents and of course lavender products.
Afternoon: In Van Gogh's footsteps in St Remy
We will visit the beautiful old monastery of St Paul Mausole in St Remy de Provence. This is where Van Gogh spent the last year of his life and painted 150 of his famous paintings. This is now a nursing home that has a permanent exhibition of paintings by the patients.
It is very emotional and fascinating to stroll through the bedroom where Van Gogh stayed during his very troubled time in 1889-90.
You will also find beautiful reproductions of some of Van Gogh's paintings.
Day 6: Cooking in St Remy de Provence and Medieval Village of les Baux de Provence
Morning: Cook your gourmet lunch
You will have a chance to cook a gourmet lunch with a chef from St Remy, using ingredients you would have chosen on the market with him in the morning.
This will be a three course meal with hors d'oeuvres, entree and dessert. We will share this lunch together, accompagnied with wine.
Afternoon: Medieval village of les Baux de Provence
After our gourmet lunch, you will have the choice to relax back at the hotel or to come with us to the beautiful village of les Baux de Provence.
Discover this amazing medieval village dominating the valley and its Château. Perched on a rocky outcrop, the site provides a unique view over the vineyards and olive fields of Provence towards the sea.
Day 7: Pastry cooking at la Mirande in Avignon
Morning: Free time in Avignon
This morning you will have leisure time in Avignon. There is so much to do.
Visit the Palace of the Popes (the size of four normal French cathedrals). This amazing and expansive structure is the highlight of Avignon.
You can also stroll in the old streets in search of antique dealers and art galleries, visit the daily covered market, or shop for Provencal materials, ceramics, pottery and other specialties of the region.
You will also have a huge choice of museums (10 in the old Avignon) including one with paintings from Cezanne, Van Gogh, Picasso, Degas, Modigliani,…
Afternoon: Cooking workshop at the 4 star Hotel La Mirande
The venue for our cooking session will take place in one of the oldest and most prestigious properties in Avignon: the 4-star hotel, La Mirande. The classroom is an impressive kitchen from the 19th century with its ancient cast-iron stove.
Le Marmiton, which is the cooking school, offers cooking classes with many of the most reknowned chefs of Provence. Under the eyes of an expert chef, you will spend 3 hours preparing the most delicious meals or desserts (depending of the chef's specialties that week).
Day 8: Departure
After our last breakfast, we'll say good-bye and drive you to Avignon train station, your heart-warming memories of a glorious week in the heart of Provence, still fresh for your journey home or wherever your travels may take you.
More information from French Escapade: