French Escapade - vacations and travel
From the Alps to Provence
"This is my second trip with Jackie and Valerie. We had such a special time in France thanks to Jac… "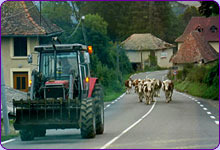 from $2,390* per person
8 Days
Year-round
Comfort accommodations

Exertion level: 3

Operator:

French Escapade

12 people max
Lyon airport, france
Culture & Nature trips
In this tour, Valerie and Jackie are offering a different way to visit the Rhone Alpes region by adding a 2-day visit of Provence off-the-beaten path.

On day trips, Jackie will escort you to encounter the diversity of the area from quaint villages in Provence to the medieval town of Annecy, the little Venice of the Alps.

This trip is designed to give you an authentic experience of French life by spending half the day with cows on a French farm, shopping on the Provencal market for potteries or table cloths, strolling one of the most ancient villages in France or relaxing by the pool in Provence.

After this unique tour, the wonderful Rhone Alpes region and the life of its inhabitants will have no secrets for you.
Locations visited/nearby
Alps , Provence, France, Europe
2 testimonials about this trip
Reviewer:

L. Yordy

located in

Fremont

,

CA

USA

This is my second trip with Jackie and Valerie. We had such a special time in France thanks to Jac and Valerie, our warm and friendly hosts. They truly made sure everyone enjoyed their trip. We traveled with a great group of new friends, and in fact we enjoyed it so much we are all going to travel together again with French Escapade (it will be my 3rd trip with them) on the new tour Jac and Valerie have designed for us.

5

Reviewer:

B Rush

located in

San Francisco

,

CA

USA

"Before French Escapade, I was never interested in going on a group tour- but then my friends decided to go, so I went. It turned out that we met great new people and had the best time! Plus, Jac's tour was everything she had promised and more- that's why I have joined Fench Escapde again on this new tour and I love it. Now I will sign up for their new trip to Belgium.

5
3 testimonials about the provider, French Escapade:
Reviewer:

Jill G., Laytonville

located in

Laytonville CA

USA

We had never done a tour before we traveled with you, and we will never do another tour unless it's with you. We always appreciated all the hard work you put into your tour, but now, we REALLY appreciate it, having experienced what it's like on a "non-French Escapade" tour ", now that we are on a motorcycle tour of southern Italy. Although there have been many wonderful moments on the trip so far, it has been a disappointment because you have spoiled us on the French Escapade tour! Oh, how I wish you were here with us! You attention to details, your kindness, your knowledge of the region made the trip so memorable. We will travel with you again next year."

5

Reviewer:

Jim H.and Cully B.

located in

Los Altos, CA

USA

"'Shall I tell you what I think are the two qualities of a work of art? First, it must be indescribable and second, it must be inimitable' -Renoir.
Jac and Valerie, this quote from Renoir captures our feelings very well, you created something that is beyond words and certainly can't be imitated."

5

Reviewer:

Bonnie C.

located in

Oakland, CA

USA

"From the moment we connected at the airport, I felt myself relax! Jackie and Valerie attended to every detail of making the trip safe, educational, entertaining, and country-French authentic. Yet they did it with a kind of grace and that felt like each person's needs and tastes were important, and respected. It was so refreshing to just surrender to the beauty of the place, and to their special charms and TLC. We all wanted to live there forever, or, lacking that, take them both home with us. Dream on, dream on."

5
Comments from Facebook
Special information
This is a custom departure, meaning this trip is offered on dates that you arrange privately with the provider. Additionally, you need to form your own private group for this trip. The itinerary and price here is just a sample. Contact the provider for detailed pricing, minimum group size, and scheduling information. For most providers, the larger the group you are traveling with, the lower the per-person cost will be.
You need to form your own private group for this trip. It will be scheduled for a date you arrange with the provider. The itinerary here is just a sample.
Offers some solo-only/singles departures.
Offers some women-only departures.
Itinerary
Day 1: Welcome Champagne Reception
We will pick you up at the Lyon airport, early in the afternoon. Upon your arrival at our fully restored 19th-century French country home, you'll relax and enjoy a champagne reception with authentic local finger foods and drinks. In the evening, you will enjoy a traditional sumptuous buffet prepared especially for you.
Day 2: Spellbing Chartreuse
We will drive you across the Chartreuse Mountains, a land of extraordinary beauty and serenity. You will visit the Chartreuse Correrie, a museum in a monastery, and then walk in the peaceful surroundings of the Chartreuse monastery where the Chartreux monks still live today.
Chartreuse Cellars and Liqueur Tasting
We will then visit the Chartreuse cellars, the longest liqueur cellar in the world, where you will learn all about the making of this world famous beverage. This is where, from a secret recipe guarded by the monks for centuries, the Chartreuse liqueur has been produced from over 130 plants. You will have the opportunity to taste over 10 different kinds of Chartreuse liqueurs.
Day 3: Annecy or 'The Little Venice of the Alps'
Annecy is the French show-piece of lakes-and-mountain beauty. The Canal crossing Annecy brings Venice to mind as you stroll along its banks. We will stroll the medieval narrow streets to admire the renaissance houses along the canal as well as the famous old prison, one of the most photographed monuments in France!
We will also have the opportunity to go to the local market in the old Annecy.
In the afternoon, we will enjoy Annecy Lake, the cleanest lake in Europe, surrounded by majestic mountains. Why not rent an electrical or paddle boat? If you prefer, there are beautiful trails by the lake.
Day 4: Visit of a Farm, Chelieu Village
Today, we will visit a farm: you will learn everything about the agriculture in France, how to make cheese
and how to milk a cow. You will even have a chance to milk the cow yourself.
In the afternoon, we will take the time to discover our village, Chelieu. You will have the choice to nap in the garden, enjoy a drink at the café or go on a gentle hike though the picturesque fields and woods surrounding the guesthouse.
Day 5 and 6: Provence
We will be heading to Provence for two days. Almost as soon as you enter Provence, you come across incessant shrilling of the cicadas, the display of colors and the pervasive scents, in particular those of the magnificent lavender fields.
We will first stop in Nyons, the olive oil capital.
It is the very first in France to have received the coveted "Appellation d'Origine Controlee AOC" label.
You will have time to shop on the market, one of the biggest markets in Drome Provencale: olives, olive oil, garlic, cheeses, tablecloths, lavender soaps and products, etc...
Nyons is also known to be the country of lavender. In season, they are plenty of lavender fields in bloom. Just breathe and follow your sense of smell.
At the end of the end of the day, we will head up to our guesthouse in Provence. Imagine a dirt road that seems to be leading you to the end of the world, where scenery worthy of a postcard awaits you We will go home early enough so that you will have time to enjoy the swimming pool.
The next day, we will visit the magnificent 16th-17th Century Grignan castle. It is the biggest Renaissance castle in the South East of France. It became very famous thanks to Mme de Sevigne, a 17th Century French writer who lived in Versailles with king Louis XIV and wrote thousand of letters to her daughter living in the Grignan castle. We will then head to one of the nicest pottery factory. Make sure you have room in your suitcase because you will not resist.
Day 7: Silk Factory and Silk Weaving Demonstration
Lyon was the silk capital. Entire families including children were asked to work 18 hours a day for minimal salaries. Today the silk weavers have disappeared, but their silk remains well known throughout the world for its unparalleled quality. This museum features the history of silk weaving, the hard working life of the silk weavers and their children, demonstration of weaving on looms from the 18th to the 20th century,…and then, of course, the chance to buy wonderful silk scarves.
Day 8: Departure
After our last breakfast together, we'll drive you to the Lyon airport in plenty of time to catch your flight home.
More information from French Escapade: