Global Volunteers - vacations and travel
Volunteer Vacation In Greece
"I believe the memories created with these children during these weeks will always be with them. When they become adults,… "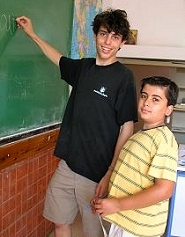 from $2,895* per person
14 Days
March-October
Comfort accommodations

Exertion level: 4

Operator:

Global Volunteers

20 people max
Iraklion international airport, greece
Volunteer Vacations trips
If you enjoy children and teens, you can be an important resource in Crete. Help promising young students learn the international language of commerce, technology, and opportunity! Or, assist with recreational programs and maintenance tasks at a friendly center for handicapped youth and adults.

During the school year, and at summer language "camps," you're needed to work with students on English pronunciation and usage. Established classroom materials and curricula guide your lessons. You need no professional teaching experience. Your knowledge of standard pronunciation, idioms, and syntax is the resource they seek. What's more, your assignment is in a beautiful seaside city on the exotic island of Crete!
Locations visited/nearby
Island of Crete , Greece , Volunteer in Greece , Volunteer Teach English , Volunteer Vacation , English , teach students , teach children , gazi county , Aegean Sea, Greece, Europe
1 testimonial about this trip
Reviewer:

Jane Nicholl

located in

WI

"I believe the memories created with these children during these weeks will always be with them. When they become adults, these gestures of friendship and fellowship will still be part of who they are and will influence the decisions they make."

5
0 testimonials about the provider, Global Volunteers:
Comments from Facebook
Special information
May accommodate certain types of disabilities. Contact the operator for more information.
Itinerary
Greece Work Projects
Global Volunteers' unique philosophy of service ensures your work projects help advance the host community's current development vision and goals. Always serving at the invitation and under the direction of host community partners, each Global Volunteers team member works alongside local people, and personally contributes to needed project financing through their service program fee. Our long-term commitment to work in partnership on sustained community development projects enables you, in just a short time, to serve as a critical link in a chain of lasting community enhancements.
Teaching In GreeceOur Creten hosts have asked for assistance teaching conversational English to young students and to serve staff and clients of a mountaintop day program for youth and adults with physical and mental disabilities.
English Teaching
You and your teammates can share lessons with children aged 4-13 in classrooms and summer camps in Gazi County. The work sites -- in Gazi city as well as nearby villages -- are located outside Iraklion, all along the Aegean Sea.
You don't have formal teaching experience? Never mind! Any native English speaker can be an important resource. The emphasis is on improving speaking skills and not on formal rules of grammar. Students work with volunteers to learn pronunciation, idioms, and syntax. Besides practice dialogues, lessons may include such fun activities as sports, arts and crafts, and theater. It's important to note that most of the younger children will have had little, if any, previous English instruction. You'll find them to be eager, and open to new ideas. Volunteers usually teach four hours a day, allowing equal time for preparation and team meetings.
Serving Youth and Adults with Special Needs
St. Spiro Center for Special Children and Adults, in the mountains south of Heraklion, welcomes volunteers to energize, stimulate and encourage day program participants. The goal of this program is to enable the students to become self sufficient, although that can be quite challenging, especially during the current recession and high unemployment in Greece. The students are taught to read and write based upon their abilities, and to work on three primary craft projects – candle making, woodworking, and leather products. The students live with their immediate or extended family and are bused to the facility daily arriving at 8:30 AM and departing at 3:00 PM, Monday through Friday. Volunteers have greatly enjoyed the opportunity to make a significant contribution at this bright and optimistic facility.
More information from Global Volunteers: