Global Volunteers - vacations and travel
Volunteer Vacation In Italy
"I feel full of love. The children have learned my lessons well, and for the past three days, they have… "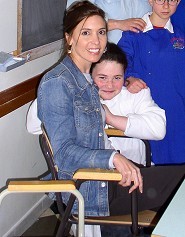 from $2,795* per person
7 Days
March-June, September, October
Comfort accommodations

Exertion level: 4

Operator:

Global Volunteers

20 people max
Brindisi, italy
Volunteer Vacations trips
As a lauded tourist destination, Italy's "heel of the boot" extends a gentle familiarity to international travelers. Whitewashed buildings, narrow streets, fresh-air markets and rocky hills jutting into the sky-blue Adriatic Sea cast a spell on all who visit.

But what many tourists miss is a meaningful human connection to the enchanting Puglia region. Teach English and experience southern Italy as L'amico preferito" ("favorite friend"). Our local education hosts will engage you in English language classrooms, where you can give your heart and gain new friends.
Locations visited/nearby
Monopoli , Manduria , Martina Franca , Ostuni , Cisternino , Carovigno , Locorotondo , Brindisi , and Francavilla Fontana , Volunteer in Italy , Italian charm , village , teach English , Adriatic Sea , Puglia , Puglia region, Italy, Europe
1 testimonial about this trip
Reviewer:

Tizza Swanson

located in

WI

"I feel full of love. The children have learned my lessons well, and for the past three days, they have been completely attentive in class. I'm very proud of them, and tell them of my feelings. I can see how much they like and respect me. A lump forms in my throat. I will surely miss their faces."

5
0 testimonials about the provider, Global Volunteers:
Comments from Facebook
Special information
May accommodate certain types of disabilities. Contact the operator for more information.
Family oriented trip.
Itinerary
Italy Work Projects
Teaching in Italy Global Volunteers' unique philosophy of service ensures your work projects help advance the host community's current development vision and goals. Always serving at the invitation and under the direction of host community partners, each Global Volunteers team member works alongside local people, and personally contributes to needed project financing through their service program fee. Our long-term commitment to work in partnership on sustained community development projects enables you, in just a short time, to serve as a critical link in a chain of lasting community enhancements.
Our Italian hosts have asked us to teach conversational English in the Puglia region to middle school and high school students under the direction of Italian English teachers. You'll use the standard curriculum texts and established lesson plans, and other times you'll have opportunities to depart from formal lessons. For example, you can serve as a resource on topics of North American culture, including discussions on history, daily lifestyle, sports, and school systems. Some volunteers also teach American songs and games, while others provide instruction such things as letter writing.
In the summer, volunteers also work with high school students, and at times adult community members, to improve their conversational English skills in an informal education atmosphere. On a typical day, volunteers create their own lesson plans, engaging small groups of students in games and diverse interactive activities.
More information from Global Volunteers: