Pure Adventures - vacations and travel
Belgium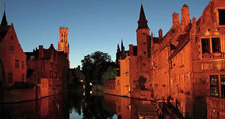 from €1,095* per person
8 Days
May-October
Boutique accommodations

Exertion level: 4

Operator:

Pure Adventures

24 people max
Bruges airport, belgium
Active & Adventure trips
Cycling Belgium - a tour of Flanders from Bruges to discover four authentic Flemish towns of northern Belgium.

This "self-guided" tour offers you the opportunity to discover the western part of North Belgium at your own pace. We welcome you in our cyclist friendly, comfortable hotel in Bruges (in Dutch: Brugge), "the Venice of the North" and one of Europe's most visited historical cities. This mainly flat 260 km long bike loop connects famous and authentic Flemish towns. Additionally we propose you to cycle two 50 km long extra bike loops: one through the scenic polder landscape and one through the more challenging Flemish Ardennes. Quiet, paved country roads, and a combination of former tow/dike paths and train beds allow you to enjoy varied landscapes in a safe way. Signposts make maps unnecessary; however we provide you with clear road descriptions and maps. Charming taverns will welcome you with a cool local beer, typical farm dishes or pancake.
Locations visited/nearby
Belgium, Europe
0 testimonials about this trip.
3 testimonials about the provider, Pure Adventures:
Reviewer:

Andy C.

'The trip was great! I lived in France for 5 years and took many great trips around Europe, but this may well have been the most memorable!'

5

Reviewer:

B. Van Hook

The trip exceeded my expectations in just about every way. It was awesome and challenging to be alone on a bike in a foreign country. I would recommend it to anyone with a sense of adventure who is in good health.

5

Reviewer:

Heidi Ray

located in

CO

USA

Costa Brava Explorer - This is a WONDERFUL tour.  Bo was amazing and helpful, as were his directions and additional information in the hand-outs of things to see and recommended stops and restaurants.  I will recommend Pure Adventures to my bicyclist friends, and will certainly return to you for our next European bicycle adventure!


5
Comments from Facebook
Special information
This is a custom departure, meaning this trip is offered on dates that you arrange privately with the provider. Additionally, you need to form your own private group for this trip. The itinerary and price here is just a sample. Contact the provider for detailed pricing, minimum group size, and scheduling information. For most providers, the larger the group you are traveling with, the lower the per-person cost will be.
You need to form your own private group for this trip. It will be scheduled for a date you arrange with the provider. The itinerary here is just a sample.
Family oriented trip.
Self-guided (includes hotels, maps, luggage transfer, etc but no guide).
Offers some solo-only/singles departures.
Itinerary
Day 1 | Arrival Day: Installation in your hotel - orientation and delivery of the rental bikes - Explanation road book, map material, bike routes info. With free time, you can visit the medieval historical city centre of Bruges: a short city walk will show you the Markt (Market square) with Belfry and Halles, Oude Burg (Burg Square) http://traveldragon.com/trips/10337-belgium/editwith Basilica of the Holy Blood and City Hall, Church of Our Lady (Notre Dame) and Cathedral. During a roundtrip by boat on the city canals (preferably at night), a horse-drawn cab or minicoach you will discover a rich architecture. Superior 3 star hotel Center Brugge, dinner on your own.
Day 2 | 52 km ride options
Maerlant Route. The countryside between Bruges, the North Sea and Dutch Zeeland is a flat polderlandscape. Dike routes, former tow-paths and bicycle tracks along the sea side will take you from charming Damme to the Belgian coast (worldly Knokke) and the small Dutch historic places Sluis and Sint-Anna ter Muiden (former outports of Bruges). Damme is also well-known thanks to the Legend of Tijl Uilenspiegel (Thyl Owlglass) - the Flemish national hero - and to the 13th century author Jacob van Maerlant, who lived in Damme and gave his name to this bike route. Return to Bruges, same hotel, dinner on your own. (B)
Day 3 | 50 km ride
This route links Bruges with the historic centre of Ghent (in Dutch: Gent). Leaving Bruges along its remparts you will join and follow the tow path of the canal Brugge-Gent and enter the historic centre of Ghent along the Coupure canal. This centre with the St Bavo Cathedral, Gravensteen (Castle of the count), Belfry Tower, Town Hall and civil gothic buildings will tell you about the rich commercial past of the city which hosts the Royal State University (28.000 students). 3 star hotel Center Gent, dinner open. (B)
Day 4 | 40 km ride
To day you'll leave the busy city of Ghent for the Scheldt River (in Dutch: Schelde) countryside. This route brings you to Oudenaarde, a town which became famous thanks to tapestry weaving activities in the Middle Ages. The Town Hall (one of the most impressive medieval town halls of Belgium), Market square, churches in Scheldt Gothic style and wall tapestries are examples of a rich historic past. You'll have the opportunity to visit the Tour of Flanders Centre (near the Market Square). Oudenaarde is the gateway to the slopes and cobble stone routes of the Spring Classic Tour of Flanders: our route will bring you to Wortegem-Petegem and Kluisbergen, typical Flemish Ardennes villages. 3 star hotel Oudenaarde with open dinner. (B)
Day 5| 46 km ride options
The Eddy Merckx-route. Starting from Kluisbergen, this route combines some highlights of the Flanders Classics such as Oude Kwaremont, Patersberg and Kluisberg. Especially strong cyclists will be happy to let themselves go. However, panoramic views and a superb peaceful nature also may be appreciated while walking beside your bike over cobblestone sections. Return to Oudenaarde, dinner open on your own. (B)
Day 6 | 73 km ride
More tow and dike paths will take you along canals and the Leie River through the towns of Kortrijk and Wervik to Ypres (in Dutch: Ieper). Since the beginning of our era this area was subject to invasions and wars by several European hordes and countries. In Wervik you can visit the National Tobacco Museum. Ypres is a rebuilt beautiful medieval town famous for cloth production and trading in the Middle Ages. You will be impressed by the Cloth Hall, Cathedral and other monuments of this Town. The Menin Gate, with the names of 54.896 British and Commonwealth soldiers, is the most important momument of this Flanders Fields' area and its numerous World War I cemetaries. 4 star hotel center Ieper, dinner included. (B,D)
Day 7 | 60 km ride
A sequence of various landscapes, Flemish countryside villages and picturesque farms will be your guide back to Bruges. Take advantage of this trip to enjoy your last local artisanal beer with a slice of farm bread with home made ham and cheese… 3 star hotel center Brugge, dinner open. (B)
Day 8 | Depart at your leisure after breakfast.
More information from Pure Adventures: