Pure Adventures - vacations and travel
Celtic Brittany Cycling & Belle Ile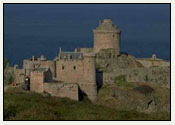 from €1,015* per person
7 Days
April-September
Boutique accommodations

Exertion level: 4

Operator:

Pure Adventures

24 people max
Lorient airport, france
Active & Adventure trips
One of France's most rugged regions, Brittany is a fascinating mix of spectacular coastline, ancient towns, magical islands and inland woods. A Celtic duchy for more than one thousand years before its annexation to France in 1532, it is a land rich in culture, tradition and history. This trip goes out to the Atlantic coast where the Bretons are intensely connected. Starting in Lorient, a larger town that was mostly rebuilt after WWII, the tour goes down the Quiberon penisula with a stop at famous Carnac, then over to the oasis of Belle Ile. Then return back to Lorient via inland routes including Auray on an inlet to the Gulf of Morbihan.

In Brittany, there is a saying that it is sunny many times per day! Yes, it can rain, but often not sustained. Bring a rain jacket, but don't miss unique and beautiful Brittany!

Locations visited/nearby
Brittany Self Guided Cycling Tour Europe France Brittany , France, France, Europe
0 testimonials about this trip.
3 testimonials about the provider, Pure Adventures:
Reviewer:

Andy C.

'The trip was great! I lived in France for 5 years and took many great trips around Europe, but this may well have been the most memorable!'

5

Reviewer:

B. Van Hook

The trip exceeded my expectations in just about every way. It was awesome and challenging to be alone on a bike in a foreign country. I would recommend it to anyone with a sense of adventure who is in good health.

5

Reviewer:

Heidi Ray

located in

CO

USA

Costa Brava Explorer - This is a WONDERFUL tour.  Bo was amazing and helpful, as were his directions and additional information in the hand-outs of things to see and recommended stops and restaurants.  I will recommend Pure Adventures to my bicyclist friends, and will certainly return to you for our next European bicycle adventure!


5
Comments from Facebook
Special information
This is a custom departure, meaning this trip is offered on dates that you arrange privately with the provider. Additionally, you need to form your own private group for this trip. The itinerary and price here is just a sample. Contact the provider for detailed pricing, minimum group size, and scheduling information. For most providers, the larger the group you are traveling with, the lower the per-person cost will be.
You need to form your own private group for this trip. It will be scheduled for a date you arrange with the provider. The itinerary here is just a sample.
Self-guided (includes hotels, maps, luggage transfer, etc but no guide).
Offers some solo-only/singles departures.
Itinerary
Day 1: Arrive in Lorient. This city has easy rail access from Paris. Stroll down the streets and take a walk to the fishermans port. Orientation at 6pm at the hotel. You will stay in a charming 2* hotel near the harbor and the beaches. Dinner on your own.
Day 2: Lorient to Carnac 49 km: To start your tour, we have included one of the most intriguing site in Brittany: Carnac, famous as the site of more than 3,000 prehistoric standing stones. The stones were hewn from local rock and erected by the pre-Celtic people of Brittany. Local tradition claims that the reason they stand in such perfectly straight lines is that they are a Roman legion turned to stone by Merlin (the magician!). You spend the night in a charming 3* hotel in Carnac. Dinner on your own. (B)
Day 3:Carnac to Quiberon, 25km. Today, you head south to Quiberon. You will discover the beautiful shore of Quiberon bay, one of Europes most beautiful bay. Take some time to visit Port Haliguen, home to more than 1,000 yachts. Many years ago, the German artist Karsten Klingbeil gave the town two statues, facing each others : the "fisherman" and the "Ondine". You spend the night in a 3* hotel in Quiberon. Dinner included. (B,D)
Day 4: Quiberon-Belle Isle-Quiberon; 42 km option: Leave the mainland and head to the beautiful island of Belle Ile. You cycle to the harbor from where you catch a ferry that will take you to Le Palais, on Belle Ile. Belle Ile is a short 45 minutes away by ferry from Quiberon and is only 10 miles long and 6 miles wide! It is the setting for a portion of The Man in the Iron Mask, an adventure novel by 19th century French writer Alexandre Dumas. The coasts are a mixture between dangerously sharp cliff edges on the southwest side, the Cote Sauvage (Wild coast), and calm placid beaches (the largest being les Grands Sables (The great sands)). Take the ferry back to Quiberon and return to same hotel. Dinner included.(B,D)
Day 5: Quiberon to Auray, 42 km. Cycle to Auray, a town with a rich history and heritage. This is where Benjamin Franklin disembarked in 1776, at the beginning of the American Revolutionary War on his way to Paris. This ancient town with its picturesque medieval harbour of Saint-Goustan features an old stone bridge (Called Pont Neuf - New Bridge). You stay in a charming hotel near the harbour. Dinner on your own. (B)
Day 6: Auray to Lorient, 45 km.You will enjoy a quiet ride back to Lorient today. Along the way, you discover the beautiful town of Hennebont. It is situated about ten miles from the mouth of the Blavet, which divides it into two parts: the Ville Close, the medieval military town, and the Ville Neuve on the left bank and the Vieille Ville on the right. The Ville Neuve developed during the 17th century and later than the Ville Close, while the Vieille Ville is older than either. Overnight in Lorient, dinner on your own. (B)
Day 7: Departure day. Return by train to Paris, or extend your discovery of Brittany with a car rental and we can arrange a visit through the region up to Normandy and back to Paris! (B)
More information from Pure Adventures: