Pure Adventures - vacations and travel
Alpes + Ventoux Self Guided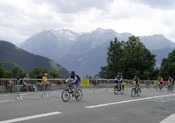 from €1,170* per person
8 Days
Year-round
Boutique accommodations

Exertion level: 4

Operator:

Pure Adventures

24 people max
Airport, france near grenoble, france
Active & Adventure trips
On this tour you can learn how the pro riders suffer and take inspiration from the amazing beauty of these spectacular mountains. Go to the top of Alpe d'Huez, touch the monument to Henri Desgranges at the summit of the Galibier, climb Les Deux Alpes, Lautaret, and others! If you are an experienced and passionate rider, then come climb where legends have passed and been made!

At Ventoux, this mythical mountain has influenced many Tours de France over the years being famous for its steep ascent, its heat, its bald and exposed peak, and simply its legend. For those who are really strong, there is the "Club des Cingles", for which we will propose a service to achieve this status. Can you conquer the 'Giant of Provence'?!

In the Alpes base 'camp' is the charming village of Le Freny-d'Oisans. This charming little mountain town is 80 km from Grenoble and 12 km from Bourg d'Oissans the attractive local capital of the Oisans mountain area. At Ventoux, base camp is a charming hotel in Bedoin at the foot of the Giant. On arrival you get a detailed briefing upon the cycling possibilities, the routes and organization of your cycling holiday. Note that space is very difficult to get at Bedoin in June and September, so we encourage advance bookings. We do have alternate hotels at Alpe d'Huez and outside Bedoin to accommodate most dates. The alternate hotels can add cost depending on rates/dates.
Locations visited/nearby
France, Europe
0 testimonials about this trip.
3 testimonials about the provider, Pure Adventures:
Reviewer:

Andy C.

'The trip was great! I lived in France for 5 years and took many great trips around Europe, but this may well have been the most memorable!'

5

Reviewer:

B. Van Hook

The trip exceeded my expectations in just about every way. It was awesome and challenging to be alone on a bike in a foreign country. I would recommend it to anyone with a sense of adventure who is in good health.

5

Reviewer:

Heidi Ray

located in

CO

USA

Costa Brava Explorer - This is a WONDERFUL tour.  Bo was amazing and helpful, as were his directions and additional information in the hand-outs of things to see and recommended stops and restaurants.  I will recommend Pure Adventures to my bicyclist friends, and will certainly return to you for our next European bicycle adventure!


5
Comments from Facebook
Special information
You need to form your own private group for this trip. It will be scheduled for a date you arrange with the provider. The itinerary here is just a sample.
Self-guided (includes hotels, maps, luggage transfer, etc but no guide).
Offers some solo-only/singles departures.
Offers some women-only departures.
Itinerary
Day 1: Arrival Day Travel from Grenoble to the hotel; regular bus service is possible for very low cost, or we can arrange a private transfer based on your arrival at the Grenoble train station. The private transfer has a supplement depending on number of persons. After hotel checkin, we do a welcome meeting and leave time for bike setup. You have an orientation of our program for the week. Excellent dinner included tonight! (D)
Day 2: Make your choice... We don't waste any time as we head out directly for warmups and some big climbs!
You may wish to ride down the valley toward Grenoble and return along a steady but gradual climb after which you can choose among Le Col de la Sarenne, Le Glandon, La Croix de Fer, the Col d' Ornon or Les Deux Alpes. Return to your same hotel and gourmet dinner tonight. (B,D)
Day 3: L'Alpe d'Huez A legendary day - This vertical climb of 1.120m (3.733 feet), 14 km (8.75 miles) long, gradients between 7.7 and 12% and 21 switchbacks is one of the most historical and heroic ones in the history of the Tour de France. Again, you can warm up with some miles in lower valleys around Bourg d'Oissans. We give you some additional ride options to put in more miles and more climbs afteward. Riding up - time yourself or arrange with the local bike shop in Bourg d'Oisans for a satelite timed ascent. Back to your hotel and gourmet dinner. (B,D)
Day 4: Le Col du Lautaret and le Col du Galibier Today you will climb the Col du (40kms – 25 miles) from Le Bourg d'Oisans, with a vertical climb of 1.400m (4.666 feet) and averageLautaret gradients of 3.8 % (max 9%) – the climb to the Galibier is 8.5 km (5.3 miles) longer with a vertical climb of 585m (1.950 feet) with an average gradient of 6.9 % (12% max). The good news is you can come down afterward if you aren't dizzy! Last night in the same hotel with gourmet meal again. (B,D)
Day 5: Departure after breakfast – 10:00 transfer to Bedoin and Mont Ventoux. Allow 4 hours travel time. After checkin in Bedoin, you can use any free time to spin or visit the village. Dinner on the terrace after a dip in the swimming pool, then rest for tomorrow! (B,D)
Day 6: Mont Ventoux Today, its best to start the attack today. You can opt for a different ride to stretch and prepare if you rather do it tomorrow. All of the rides below are at your disposal. You are free to ride them in any order you wish.
To start, we suggest to climb the Mont Ventoux via the south side from Bedoin which is the most difficult route ! Starting from Bédoin, we have a climb of 21km but we suggest you to make first a nice warm-up ride through the vineyards of the Ventoux area. And then, finaly the climb: between 2 and 6% during the first kilometers but after Saint-Estève between 9 and 10,5% until Chalet Reynard... and then there are still six kilometers to go to the peak winding up in a steep stone-desert landscape. Same hotel with typical provencale dinner tonight. (B,D)
If you will attempt the Club des Cingles, we have additional advice for your preparation. This is not advised but for the strongest of riders.
Day 7: Gorges de la Nesque, Gordes, Vineyards Take your pick, all are lovely country rides. We strongly suggest the Gorges de la Nesque, it will take you through lavender country and wind alongside deep gorges and provide wonderful views. It does come with some climbs: Combe de l'Hermitage, Col N.D. des Abeilles and back via Gorges de la Nesque (canyon). Same hotel and superb dinner outdoors (weather permitting). (B,D)
Day 8: Transfer to Avignon – Departure If you have time, you can do some more riding this morning, or you can add on some additional nights. Hotel checkout is noon, and return transfer to Avignon included. (B)
More information from Pure Adventures: