Pure Adventures - vacations and travel
Alpe d'Huez to Mont Ventoux
"Everything was so great!! I was very organized and didn't have to stress about the little stuff, just ride, ride,… "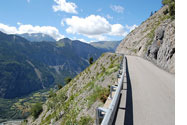 from €1,595* per person
8 Days
June
Boutique accommodations

Exertion level: 7

Operator:

Pure Adventures

12 people max
Airport, france near grenoble, france
Active & Adventure trips
This weeklong trip is a guided experience to cover the giant cols of the Alpes and then traverse the region from there south to the giant of Provence, Le Mont Ventoux! Departure dates are shown on the right, or any date can be arranged for private groups of 6 or more, subject to availability. This mini Tour de France tour covers many legends of the most prestigious cycling event in the world: Ventoux, Izoard, Galibier, Croix de Fer, and Alpe d'Huez in one trip! If you are a strong cyclist looking for some trophies, this is your ride!


Locations visited/nearby
France, Europe
1 testimonial about this trip
Reviewer:

Jessica P.

"Everything was so great!! I was very organized and didn't have to stress about the little stuff, just ride, ride, and ride some more.. Thanks on a great tour, Ill never forget it. "

5
3 testimonials about the provider, Pure Adventures:
Reviewer:

Andy C.

'The trip was great! I lived in France for 5 years and took many great trips around Europe, but this may well have been the most memorable!'

5

Reviewer:

B. Van Hook

The trip exceeded my expectations in just about every way. It was awesome and challenging to be alone on a bike in a foreign country. I would recommend it to anyone with a sense of adventure who is in good health.

5

Reviewer:

Heidi Ray

located in

CO

USA

Costa Brava Explorer - This is a WONDERFUL tour.  Bo was amazing and helpful, as were his directions and additional information in the hand-outs of things to see and recommended stops and restaurants.  I will recommend Pure Adventures to my bicyclist friends, and will certainly return to you for our next European bicycle adventure!


5
Comments from Facebook
Special information
This is a custom departure, meaning this trip is offered on dates that you arrange privately with the provider. Additionally, you need to form your own private group for this trip. The itinerary and price here is just a sample. Contact the provider for detailed pricing, minimum group size, and scheduling information. For most providers, the larger the group you are traveling with, the lower the per-person cost will be.
You need to form your own private group for this trip. It will be scheduled for a date you arrange with the provider. The itinerary here is just a sample.
Self-guided (includes hotels, maps, luggage transfer, etc but no guide).
Offers some solo-only/singles departures.
Itinerary
Day 1:Arrive in Grenoble. We will meet at the Grenoble train station and go directly to Alpe d'Huez. Depart Grenoble at 2pm. After checkin we will set up bikes, go through a welcome briefing, and with any time remaining we can visit the town or maybe do a short spin. Dinner included tonight. (D)
Day 2: Warm up ride then up Alpe d'Huez! We'll start with a nice long downhill along one of those tiny mountain roads that few people use. It is a perfect way to warm up followed by a long flat ride back to Bourg d'Oisans. We can add some climbing and then up to Les Deux Alpes by cable car and then down again to start our TT ascent on Alpe d'Huez! We'll have a picnic lunch along the way, finish back at Alpe d'Huez with some free time and then dinner. Those wanting some more miles can go over the Sarenne and down to Besse and then return.(B,L,D) Alpe d'Huez: This vertical climb of 1.120m (3.733 feet), 14 km (8.75 miles) long, gradients between 7.7 and 12% and 21 switchbacks is one of the most historical and heroic ones in the history of the Tour de France.
Day 3: Ride to St Jean en Maurienne. A big day, we are going to ride approximately half the Marmotte route, but we have a few options. We will descend by Alpe d'Huez to Bourg d'Oisans, or take a different way over the Col de la Sarenne and then down to Chambon Dam, Bourg d'Oisans, and then the long road to the Col de Croix de Fer! Following that is the long descent to St Jean en Maurienne where the Tour de France stops this year. Overnight in comfortable 2 star hotel, dinner included again tonight. (B,L,D)
Day 4: Ride to Briancon over the Galibier! We shouldn't neglect the Col du Telegraph also which starts the first climbing today from St Jean into Valloires. Then the long ride up to the Galibier, after then its all downhill - even over the Lautaret which is below the Galibier on this direction. Descend all the way to Briancon and a charming 3 star hotel. You can have dinner on your own tonight. With any extra time we can add some more miles in the Briancon area. (B,L)
Day 5: Briancon to Gap - 105 km. From Briancon we start out with a long and gradual climb to the col d'Izoard, one of the most famous and high climbs of cycling lore; after we have a long descent to Guillestre and then rolling countryside to Embrun and the picturesque lake we ride alongside before arriving at Gap. Dinner included tonight. (B,L,D)
Day 6: Another long day to Bedoin! No great cols to clear today just a long and rolling ride through the countryside coming down from higher elevations to the warmth of the Provence/Vaucluse plain and forests. The scent of lavender and the site of vineyards come up around the Mont Ventoux and we arrive at a very comfortable hotel at the foot of Ventoux. Take a swim in the pool and think about the Giant of tomorrow! Gastronomic dinner included. (B,L,D)
Day 7: Mont Ventoux! This is our one day to conquer the Ventoux, and so we'll hit the hard route straight up from Bedoin. 21 km of climbing, from 2-6% at first, and then consistently above 7% and up to 12% before you clear the trees and cover the bald peak to the summit! We'll have lunch on the way down and then continue via Sault, lavender country, and return via the famous and picturesque Gorges de la Nesque! A great finish to an amazing week of cycling! (B,L,D)
Day 8: Departure Day. We will leave at 10:00 for Avignon train station. End of services. (B)
More information from Pure Adventures: