Pure Adventures - vacations and travel
Normandy & Brittany Combo Biking Tour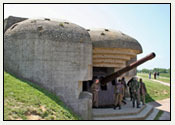 from €1,219* per person
8 Days
May-September
Boutique accommodations

Exertion level: 4

Operator:

Pure Adventures

24 people max
Train station near saint-malo, france
Active & Adventure trips
In Normandy, an "artist's paradise," wonderful coastline, woodlands and countryside combine to make a fabulous bicycle vacation. Of course, Normandy is also well known for the WWII landing beaches used by the Allied armies. There is much to see and remember here of that time. This region of France is also renowned for its dairy products, and the gastronomical delights won't disappoint. In addition to its cider and Calvados, Normandy produces the famous Camembert cheese. You're certain to enjoy this countryside as you bicycle through the green pastures and seaside towns, discovering the history that has made this area so famous.
Locations visited/nearby
France, Europe
0 testimonials about this trip.
3 testimonials about the provider, Pure Adventures:
Reviewer:

Andy C.

'The trip was great! I lived in France for 5 years and took many great trips around Europe, but this may well have been the most memorable!'

5

Reviewer:

B. Van Hook

The trip exceeded my expectations in just about every way. It was awesome and challenging to be alone on a bike in a foreign country. I would recommend it to anyone with a sense of adventure who is in good health.

5

Reviewer:

Heidi Ray

located in

CO

USA

Costa Brava Explorer - This is a WONDERFUL tour.  Bo was amazing and helpful, as were his directions and additional information in the hand-outs of things to see and recommended stops and restaurants.  I will recommend Pure Adventures to my bicyclist friends, and will certainly return to you for our next European bicycle adventure!


5
Comments from Facebook
Special information
This is a custom departure, meaning this trip is offered on dates that you arrange privately with the provider. Additionally, you need to form your own private group for this trip. The itinerary and price here is just a sample. Contact the provider for detailed pricing, minimum group size, and scheduling information. For most providers, the larger the group you are traveling with, the lower the per-person cost will be.
You need to form your own private group for this trip. It will be scheduled for a date you arrange with the provider. The itinerary here is just a sample.
Self-guided (includes hotels, maps, luggage transfer, etc but no guide).
Offers some solo-only/singles departures.
Itinerary
Day 1: Arrive in Saint Malo.
The town is easily accessible from Paris by TGV. You stay in a beautiful 3* hotel in the center of Saint Malo. Orientation at 6pm and dinner on your own.
To visit in Saint Malo: The walled city (La Ville Intra-Muros); The chateau of Saint-Malo with The Solidor tower of Saint-Servan.
Day 2: 52 km St Malo to Mont St Michel
Cycle from Saint Malo in the direction of Cancale where you reach the coast after Cancale and can see all the oyster farms that make Cancale famous. You ride through the fisherman village of St Benoit des Ondes, as well as the Mont Dol, from where there is a beautiful view. On a clear day from here you can also start to see the Mont St Michel - Unesco World Heritage site and architectural marvel. (More info) Upon reaching this historical site, you have a 4 star hotel waiting to take you in. Leave time to explore the Mont and walk its tiny streets! Dinner on your own. (B)
Day 3: Ride along Coast to Granville: 61 km
A good part of this ride is coastal with a trip around the Bay of Mont St Michel to Avranches where there are several worthwhile stops in this town that dates to the Roman era. Continue on the coast to Granville and a nice 3 star hotel overlooking the beach. Dinner on your own. (B)
Day 4: Granville to St Lo - 62 km.
The tour turns inland today to cut across Normandy to reach the beaches of D-Day. You will stop today at St Lo. Along the way you will pass the town of Coutances where you must stop to visit the Cathedral of Coutances, which is visible for many kilometers as it stands 80 meters (295 ft). At St Lo you have a very charming 3 star chateau hotel with dinner on your own. In St Lo you will find a virtually newly rebuilt city. The town near totally destroyed during the Battle of Normandy as St Lo lies on an important crossroads and was a regional German stronghold. The city is however rich in history and war has been part of the long history of St Lo. (B)
Day 5:St Lo to St Mere Eglise/St Marie du Mont: 59km.
This ride is mostly a flat to rolling ride coming up to the coast of Normandy where the D-Day landings took place. St Mere Eglise is an old settlement dating to the 12th century but is most famous for its role in the allied invasion of Normandy. Paratroopers famously landed here and fought some decisive battles that made this town the first, or among the first liberated. The movie The Longest Day depicts many events in St Mere Eglise. Your hotel is nearby in the town of St Marie du Mont; dinner included tonight. (B,D)
Day 6: Loop ride day: 65km +/-
A loop tour from your hotel will first focus on the Utah Beach landings close to your hotel, then move north toward the point on the coast at St Vaast. Return inland or by the same route; you can ride more or less today or take more time to visit in St Mere Eglise. Same hotel and dinner again tonight. (B,D)
Day 7:Ride Bayeaux via Point du Hoc: 70km
A slightly long route, you need to leave early to leave time for the important stops today. We suggest you cycle all the way to Point du Hoc, immortalized in The Longest Day, and then leave more time for the most famous WWII sites in the area: Colleville-sur-Mer and Omaha beach. In Colleville take some time to visit the US Military cemetery, (172.5 acres). Continue to Bayeux and your excellent 3 star hotel, dinner open tonight. (B)
Day 8: Departure after breakfast, at your leisure. (B)
More information from Pure Adventures: