Pure Adventures - vacations and travel
Vineyards and Lavender of Provence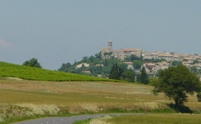 from €1,250* per person
8 Days
April-November
Boutique accommodations

Exertion level: 4

Operator:

Pure Adventures

24 people max
Avignon tgv chemin du confluent, 84000 avignon, france
Active & Adventure trips
A biking tour full of taste and flavors! Discover the wines of Provence, from the Rhone Valley to the Haut-Vaucluse area to the Drome and back to Ventoux area. Taste the grand wine of Chateauneuf du Pape, Gigondas, chocolates, and lavender flavored honey. Gourmet stages combine with astonishing visits along the Castle and Abbey route like Rochegude and Grignan; Roman art in Vaison la Romaine; the Dentelles de Montmirail, the fields of lavender at the foot of the Mont Ventoux, and more.

Place of departure is Avignon from where you have a superb location to visit the sites of the historical center of Avignon. The tour loops out from there into the charming countryside with a finish in the Provençal village of Bedoin at the foot of Mont Ventoux. After we transfer you back to Avignon. Your itineraries are studied with care and patience ; they avoid the traffic and look up the highlights.

Last but not least, enjoy the select hotels and restaurants where you' ll be accommodated in charming lodging - we give you a choice of comfort, and typical country charm such as the unique manor house in Grignan, a 16th century mansion in Vaison la Romaine and a typical Provençal hotel in Bedoin at the foot of Mont Ventoux.
Locations visited/nearby
France, Europe
0 testimonials about this trip.
3 testimonials about the provider, Pure Adventures:
Reviewer:

Andy C.

'The trip was great! I lived in France for 5 years and took many great trips around Europe, but this may well have been the most memorable!'

5

Reviewer:

B. Van Hook

The trip exceeded my expectations in just about every way. It was awesome and challenging to be alone on a bike in a foreign country. I would recommend it to anyone with a sense of adventure who is in good health.

5

Reviewer:

Heidi Ray

located in

CO

USA

Costa Brava Explorer - This is a WONDERFUL tour.  Bo was amazing and helpful, as were his directions and additional information in the hand-outs of things to see and recommended stops and restaurants.  I will recommend Pure Adventures to my bicyclist friends, and will certainly return to you for our next European bicycle adventure!


5
Comments from Facebook
Special information
This is a custom departure, meaning this trip is offered on dates that you arrange privately with the provider. Additionally, you need to form your own private group for this trip. The itinerary and price here is just a sample. Contact the provider for detailed pricing, minimum group size, and scheduling information. For most providers, the larger the group you are traveling with, the lower the per-person cost will be.
You need to form your own private group for this trip. It will be scheduled for a date you arrange with the provider. The itinerary here is just a sample.
Self-guided (includes hotels, maps, luggage transfer, etc but no guide).
Offers some solo-only/singles departures.
Itinerary
DAY 1: Arrival in Avignon. You can visit Avignon today and take in its many sites. Your excellent 4 star hotel is located in the center of Avignon, within a short walk of all the sites in Avignon. We will provide and orientation with bike delivery and set up to get you all ready to ride out the next day. Dinner on your own in Avignon, we will include some excellent suggestions.
Day 2: From Avignon to Chateauneuf du Pape (30 km): Today, you ride through the vineyards of the renowned appellation "Cotes du Rhone" de Chateauneuf-du-Pape and if you like, stop to visit and taste in one of the cellars of the village. On your way, you can stop at the village Roquemaure, where you can see the remains of the 12th century medieval castle, where Pop Clement V died in 1314. Night and dinner at a charming, deluxe chateau hotel in Chateauneuf du Pape. (B,D)
Day 3: From Chateauneuf to Rochegude & St Paul les 3 Chateaux (31-47km): On this itinerary you will pass Serignan du Comtat, an important medieval village (origins go back to 6C BC) in the history of the Counts of Toulouse and the domain of Diane de Poitiers. Continue on to Rochegude in the Drome department and lavender country and then on into the town of St Paul les 3 Chateaux where you can walk through its old cobbled streets and visit the historical church. Deluxe 4 star hotel at the walls of the old center. (B)
Day 4: From St Paul to Grignan (31km): Todays ride will bring you to the village of Clansayes before Grignan. In Clansayes, you will find the Templar knights tower, which offers a beautiful panoramic view of the area. Also on your itinerary are the villages of Colonzelle and La Baume de Transit, with remains from a medieval castle. In Grignan, you stay below its famous chateaux in a very comfortable 3 star chateau/manor house. (B)
Day 5: Grignan loop tour or day off (41km): : If you choose to ride, you will travel to the lavender areas around Grignan to La Garde dAdhemar. This village is a classical provencal village with exceptional beauty. La Garde dAdhemar has preserved its medieval structure and ramparts and was originally colonized during the Roman era by veterans of the Roman legions in the 1st century. Return to Grignan. If you stay in Grignan, you can explore this beautiful 16-17C chateau and learn the story of Madame de Sevigne. (B)
Day 6: Ride from Grignan to Vaison la Romaine (47km). Vaison, a town of art, has a rich cultural heritage. It was built up in the middle ages and modern times but the town owes its fame to the ancieant Roman foundations and its ruins. "La Romaine" was added in 1924! Stay in an historic 15th century mansion in the center of town. (B,D)
Day 7: Ride from Vaison to Bedoin; 2 options:
Option 1: the easier ride, it passes through the wine villages of Gigondas, Vacqueras, and Beaumes de Venise to finish in Bedoin (38km).
Option 2 crosses the Dentelles de Montmirail involving some climbs (40km). A variant of option 2 is to ride Mont Ventoux, famous Tour de France climb fondly known as the Giant of Provence! This will add 25 km and at least 1-2 hours of climbing up to 1909 meters (approx 6000 ft). Tonight you stay at the edge of the village of Bedoin in a very charming inn. The scent of lavender is in the air during June and July in this countryside! (B,D)
Day 8: Departure. Breakfast is included and possibly some time to visit Bedoin before leaving back to Avignon. We will transfer you back to Avignon TGV station at 9:30am; allow 1 hour travel time before a train departure.
More information from Pure Adventures: