Pure Adventures - vacations and travel
Italy - Umbria Cycling Tour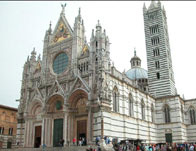 from €1,365* per person
7 Days
March-June, September-November
Boutique accommodations

Exertion level: 4

Operator:

Pure Adventures

24 people max
Castiglione dei pepoli, italy
Active & Adventure trips
Umbria is one of the less famous neighbors of Tuscany, but though it is less know it doesn't lack for beautiful sights and countryside! Many important cities and sites such as Assisi, Castiglione, Perugia, and Orvieto are among them on this tour. Climate and lifestyle is similar however, and this makes it very charming and somewhat off the beaten trail of Tuscany. You start in Castiglione and finish in Orivieto where upon completion you can easily go north to Florence and beyond or south to Rome. You can enjoy very charming 3/4 star accommodations and devour your choice of divine mediterranean cuisine. This is also hilly terrain and makes this tour somewhat challenging!
Locations visited/nearby
Umbria Cycling - 6 Nights Europe Italy Umbria , Italy, Italy, Europe
0 testimonials about this trip.
3 testimonials about the provider, Pure Adventures:
Reviewer:

Andy C.

'The trip was great! I lived in France for 5 years and took many great trips around Europe, but this may well have been the most memorable!'

5

Reviewer:

B. Van Hook

The trip exceeded my expectations in just about every way. It was awesome and challenging to be alone on a bike in a foreign country. I would recommend it to anyone with a sense of adventure who is in good health.

5

Reviewer:

Heidi Ray

located in

CO

USA

Costa Brava Explorer - This is a WONDERFUL tour.  Bo was amazing and helpful, as were his directions and additional information in the hand-outs of things to see and recommended stops and restaurants.  I will recommend Pure Adventures to my bicyclist friends, and will certainly return to you for our next European bicycle adventure!


5
Comments from Facebook
Special information
This is a custom departure, meaning this trip is offered on dates that you arrange privately with the provider. Additionally, you need to form your own private group for this trip. The itinerary and price here is just a sample. Contact the provider for detailed pricing, minimum group size, and scheduling information. For most providers, the larger the group you are traveling with, the lower the per-person cost will be.
You need to form your own private group for this trip. It will be scheduled for a date you arrange with the provider. The itinerary here is just a sample.
Self-guided (includes hotels, maps, luggage transfer, etc but no guide).
Offers some solo-only/singles departures.
Itinerary
Day 1 | Arrival Day - Castiglione/Lake Trasimeno
We'll meet you at hotel miralago (you will arrive by the train to Chiusi-Chianciano station, a major stop on all the Rome-Florence lines). After the orientation and delivery of bikes you're free to explore this delightful hill town, which gazes down on tranquil Lake Trasimeno's fishing boats and beaches. Castiglione boasts a 16th-century Town Hall and a ruined medieval castle. Dinner on your own.
Day 2 | Ride Day - to Perugia
Your first tour skirts this very large lake, winding past cornflower fields and isolated farmhouses, then into a series of gently rolling hills studded with minuscule towns that you'll want to stop and visit. Your destination is Perugia, one of Italy's most fascinating medieval cities. Take the strangely out-of-place escalator up to the ruined castle, pay a visit to the National Gallery to see many of local hero Perugino's works, stroll the quiet lanes and back alleys, pop into a few silent churches. After sundown, this university city livens up considerably, first with the traditional passeggiata (evening stroll) and then with music and fun at many local night clubs and bars. Level: Moderate with steep climb at the end. Distance: 45 km with steep climb up to Perugia. (Breakfast included - B)
Day 3 | Ride Day - to Assisi and Spello
Today is an easy day, expressly designed to give you plenty of time to visit Assisi. You begin with a nice downhill ride into Torgiano, followed by a short climb up to the hometown of Saint Francis, perched on an outcrop overlooking the valley, gleaming soft pink against the dark-green backdrop of wild Mount Subasio. You'll want to explore the city's revered and very beautiful churches, its romantic castle and impossibly narrow streets. visit Saint Mary of the Angels, one of the largest Christian basilicas in Umbria. Last stop is Spello and arrive in Bevagna a picturesque hamlet with one of the most authentic Romanesque town squares in Italy. It is also home to some of Pinturicchio's most glorious frescoes. Lodging in Bevagna and dinner on your own. Level: Moderate. Distance: 60 km with short option 30km. (B)
Day 4 | Ride Day - to Montefalco and Trevi
Today is dedicated to the quintessential Umbrian delicacy: the medieval hill town. After bidding farewell to Assisi, you're off to visit "The Balcony of Umbria," Montefalco. Extremely tiny, it sits on a hilltop placed so strategically that splendid views are available at the end of every street. Along the way, you breeze past a few isolated rural churches and through a couple of towns too small to even make it onto the map Level: Moderate to challenging! Return to lodging in Bevagna. Distance: 50 km. (B)
Day 5 | Ride Day - to Todi
Back roads are the main roads today, as you wend your way over hill and dale, past the tail end of mountain streams, silent forests and wild mushroom stands. You'll see fewer people today, hear fewer 20th-century sounds and see fewer modern sights than any other day. At the end of this unique excursion you'll take the customary uphill incline leading into Todi, whose proximity is heralded by the wonderful Santa Maria della Consolazione, a magnificent Renaissance church set amidst shrubs and treetops on the outskirts of town. Todi still has almost all of its medieval walls, and its pristine charm has made it a favorite country home of wealthy Romans and artists, as well as a host of artisans who have enlivened its streets with their shops. Dinner on your own. Level: Moderate to strenuous. Distance: 45 km. (B)
Day 6 | Ride Day - to Orvieto
Yet another - perhaps the most glorious - church awaits you at the end of this day, your reward for mastering some pretty steep inclines. Along the way you'll pass several ruined castles which provide a perfect backdrop for a picnic, perhaps based on local salamis, cheeses and breads purchased in the morning. By late afternoon you'll see Orvieto, looming ahead on its strange plateau, crowned by the cathedral of Santa Maria, considered by one and all to be among the very finest churches in all of Europe. Dinner on your own. Level: Strenuous Distance: 46 km. (B)
Day 7 | Departure Day
Departure after breakfast, at your leisure. If you want to go on to Florence or Rome, we can arrange transportation and hotels. Trains, car rentals can be arranged as well additional stays throughout Italy. Orvieto is on the Rome-Milan train line and offers easy return to Rome or Florence. (B)
More information from Pure Adventures: