AdventureSmith Explorations - vacations and travel
Costa Rica Connoisseur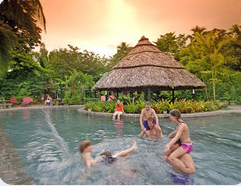 from $2,700* per person
9 Days
March, April, June-August, October-December
Boutique accommodations

Exertion level: 2

Operator:

AdventureSmith Explorations

24 people max
San jose airport, alajuela, costa rica
Culture & Nature trips
The Costa Rica Connoisseur, our premier itinerary in Costa Rica, is now known as the Quest for Pura Vida. Based on Richard Bangs award wining documentary, the Quest for Pura Vida expedition combines the cloud forests of Monteverde and the active Arenal Volcano with the verdant lowland tropical forests of Tortuguero to highlight Costa Rica's diversity of nature and culture. The Costa Rica Quest is a vacation to Costa Rica and a personal journey to find your own Pura Vida (Pure Life).

With your naturalist guide and a small group of like minded travelers, explore the Monteverde Cloud Forest Reserve, home to numerous endemic flora and fauna including the Resplendent quetzal. The picture perfect cone and active lava flows of the Arenal Volcano provide the rare opportunity to view and learn about this geological wonder. Tortuguero National Park encompasses one of the largest protected rain forests in the country, made easily accessible by a series of slow moving rivers, streams and canals. (From June through October Tortuguero is home to thousands of nesting Green sea turtles). At every turn, there are chances to view wildlife such as monkeys, tapirs, caimans, iguanas, and countless bird species while learning about the complex relationships connecting these environments. Accommodations for the Quest for Pura Vida include boutique hotels and wilderness lodges.

Locations visited/nearby
Adventure , Travel , Family , Eco Tour , Wilderness , International , Vacation , Beach , Tropical , Destination , Tour , Rain forest , Cloud forest , Costa Rica , Central America , Caribbean , Bird watching , Jungle , Hiking , Kayaking , San Jose , Arenal , Arenal Volcano , Monteverde , Tortuguero , National Park , Poas Volcano , Small groups, Costa Rica, Central America
0 testimonials about this trip.
Reviewer:

R. and D. Ivanova

Galapagos Motor Yacht Eric/Letty/Flamingo Cruise

Thank you for the most incredible experience! We just came back from our trip to the Galapagos. We were on the Eric - a terrific yacht and an even greater team. The islands are beyond belief, but I wanted to tell you how perfect the entire trip was. Everything went incredibly smoothly from our arrival (late) in Quito where our guide was waiting for us despite the late hour, to all transfers, luggage and ticket arrangements - everything. Our guides were fabulous, as was the entire crew, including the Captain. AdventureSmith Explorations did a terrific job!

5
Comments from Facebook
Itinerary
Day 1 - Arrive San Jose
Your quest begins upon arrival at San José Costa Rica's Juan Santamaría International Airport. After passing through Immigration you will be met by our local representative of AdventureSmith and transfered to your hotel in San José.
Accommodations: Hotel Presidente
Included Meals: n/a
Day 2 - San Jose / Monteverde
After a welcome orientation breakfast with your naturalist guide, enjoy a scenic drive to Monteverde. Drive along the Pan-American Highway into the Tilaran Highlands. A bumpy winding road takes you to cloud forests of Monteverde. Monteverde means 'Green Mountain' and is an appropriate name for these forest-cloaked slopes. Check in to your hotel, visit the Ecological Farm and perhaps take a stroll in the hotel gardens before dinner.
Accommodations: Monteverde Lodge
Included Meals: breakfast, lunch and dinner
Day 3 - Monteverde Cloud Forest
Set out on foot with your guide through one of the most outstanding wildlife sanctuaries in the new world tropics, the Monteverde Cloud Forest Reserve. The perpetually misty forests of the Reserve, founded in 1972, encompass eight distinct ecological zones and protect more than 100 species of mammals, 400 species of birds and 1,500 species of plants. Temperature and humidity vary greatly over short distances producing an incredible variety of forest types with little elevation change. Majestically tall trees adorned with orchids, bromeliads ferns and vines, dwarf man and other inhabitants of the cloud forest. White-faced and Howler monkeys are frequently sighted. Birds are some of the forest's biggest attractions. Try to spot the Black guan, Emerald toucanet, the Three-wattled bellbird, and the elusive Resplendent quetzal. Return mid-day to the hotel for lunch and siesta. This afternoon visit the Butterfly Garden where forty species of butterfly are raised and displayed in netted flyways that recreate four distinct habitats. Be sure to bring your camera to capture the vivid colors of the Blue morpho and other butterflies.
Accommodations: Monteverde Lodge
Included Meals: breakfast, lunch and dinner
Day 4 - Arenal Volcano
Morning drive from Monteverde, skirting around Lake Arenal. At the far end of the lake you will likely glimpse the postcard perfect cone of the Arenal Volcano long before reach it. The scenic route takes you to the base of the Arenal Volcano. On July 29, 1968 the mile high cone awakened from its 400 year slumber with a fateful earthquake. Since that time it has been one of the most active volcanoes in the world, with constant lava flows and eruptions. On virtually any day (weather permitting) you can see smoking cinder blocks tumbling down it steep slopes, and at night watch a fiery cascade of orange lava spewing from the crater. Arrive at your hotel in time for an afternoon rest. In the evening view the volcanic activity.
Accommodations: Arenal Manoa
Included Meals: breakfast, lunch and dinner
Day 5 - Arenal National Park
Explore the lava flows and volcanic features of Arenal National Park on a short guided walk. The walk transitions between rich jungle and lifeless volcanic flows as you explore the base of the volcano and learn the geologic processes that shape this living giant. Those not interested in walking may choose the Penas Blancas River Float Trip (at additional cost). Board a raft for a scenic two-hour float down the river experiencing complete solitude and searching for rain forest wildlife such as monkeys, iguanas and toucans.
Accommodations: Arenal Manoa
Included Meals: breakfast, lunch and dinner
Day 6 - Arenal to Tortuguero
From Arenal drive down the Caribbean slope to the Cano Blanco dock where you'll meet a covered boat for the 1 1/2-hour river transfer to Tortuguero on the shores of the Caribbean. The river journey will take two to four hours, depending on stops to view wildlife along the way. Arrive at the lodge where the afternoon is free to explore the area or relax by the pool.
Accommodations: Tortuga Lodge
Included Meals: breakfast, lunch and dinner
Days 7 - Tortuguero National Park
Spend today exploring the wildlife rich lowland rain forests of Tortuguero. Uniquely accessible via a system of slow moving rivers, creeks and canals the rain forests of Tortuguero are home to an astounding array of wildlife including three species of monkey, sloth, anteaters, kinkajous, caimans, basilisk lizards and over 300 species of birds including the Roseate spoonbill, Royal tern, Anhinga, kingfishers and toucan. Each day boat excursions led by a local naturalist guide explore various regions of Tortuguero National Park. Early morning naturalist guided birding walks are also available, searching for many of the 300 species found in the oceanic, riparian and rain forest habitats. Visit the rural village of Tortuguero (population 500) and the Caribbean Conservation Corporation museum to learn about the Atlantic Green sea turtle and the conservation efforts to protect the turtle and its habitat.
From June though October a miracle of nature occurs in Tortuguero when thousands of endangered Green Sea turtles come to nest on Tortuguero Beach. During this season guided night walks will be led (at additional cost) along the beach to witness 300 pound females emerge from the sea to lay and bury her eggs. Later in the season, guests can view the hundreds of baby turtles hatch and scurry to the safety of the seas.
Accommodations: Tortuga Lodge
Included Meals: breakfast, lunch and dinner
Day 8 - Tortuguero to San Jose
Early morning flight from Tortuguero to San Jose. A leisurely shopping tour is included. Hunt for famous Costa Rican coffee and numerous local handicrafts such as carved wood and leather items, ceramics and jewelry. Optional tours such as white water rafting on the Reventazon or Pacuare rivers, a stroll through the La Paz Waterfall Gardens, or a tour of a local coffee farm are available at extra cost. Lunch today is on your own. Return to your hotel in San Jose where the rest of the day free. This evening enjoy a delicious farewell dinner while toasting your experiences in Costa Rica.
Accommodations: Hotel Presidente
Included Meals: breakfast, lunch and dinner
Day 9 - Departure
Your Costa Rica Quest for Pura Vida ends with a transfer to the International Airport approximately two and a half hours before your flight's scheduled departure time or begin your trip extension to the rain forests of Corcovado National Park, the Pacific beaches of Manuel Antonio, or the dry tropical forests of the Guanacaste Peninsula.
Accommodations: n/a
Included Meals: n/a
More information from AdventureSmith Explorations: