AdventureSmith Explorations - vacations and travel
Baja: Among the Great Whales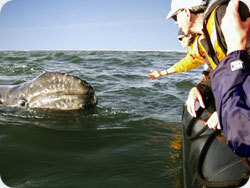 Mexico
Boats, Barges & Small Ship Cruises trips
Each winter gray whales migrate south from their arctic feeding grounds to breed and rear their young in Baja California's sheltered lagoons, making it one of North America's premier whale watching sites. The sheer number of gray whales makes Baja one of the largest migrations of any mammal, covering 10,000 miles.

Seeing the whales in their natural habitat is one of the great delights of this voyage. During our days in the breeding lagoons of Bahia Magdalena, we venture among them in Zodiac landing craft. This gives us a water-level perspective for whale watching that is a rare privilege in the natural world. And it positions us perfectly for the increasingly common friendly encounters with these mammals that we've shared with our guests.

The 62-guest Sea Lion/ Sea Bird offers the best in active small ship cruise exploration of the Sea of Cortez. Our Baja cruise also offers naturalist-guided walks on uninhabited desert islands, swimming, snorkeling, and kayaking excursions. The itinerary remains flexible to make the most of wildlife sightings.

Whales, dolphins, sea lions, birds such as blue-footed boobies and frigatebirds, huge cardon cacti, mangroves and sand dunes are among the wonders you'll experience on the Among the Great Whales Baja cruise.

Locations visited/nearby
Mexico
0 testimonials about this trip.
Reviewer:

R. and D. Ivanova

Galapagos Motor Yacht Eric/Letty/Flamingo Cruise

Thank you for the most incredible experience! We just came back from our trip to the Galapagos. We were on the Eric - a terrific yacht and an even greater team. The islands are beyond belief, but I wanted to tell you how perfect the entire trip was. Everything went incredibly smoothly from our arrival (late) in Quito where our guide was waiting for us despite the late hour, to all transfers, luggage and ticket arrangements - everything. Our guides were fabulous, as was the entire crew, including the Captain. AdventureSmith Explorations did a terrific job!

5
Comments from Facebook
Itinerary
Day 1 - Arrive in La Paz/San Carlos/Embark Ship
Arrive in La Paz, Mexico where you are met by our local representative for transfer to the ship. Begin your Baja small ship cruise.
Accommodations: Sea Bird
Included Meals: dinner
Days 2-4 - Bahia Magdalena
Bahia Magdalena is one of the main breeding and calving areas for the California gray whale. Each winter, the whales make the longest migration of any mammal, south from their Arctic feeding grounds to breed and raise their calves in these sheltered waters. During our days in this otherworldly place, we'll have the opportunity to not only observe these enormous yet gentle animals from the ship, but also at water level from our Zodiacs. Because of our experience and knowledge of Baja's waters, we have enjoyed consistent success in achieving "friendly encounters" with gray mother and calf pairs. While we would never presume to predict Nature's behavior, it is highly likely to have the privilege of an up-close and personal sighting.
Our whale watching takes place in an exceptional context: Bahia Magdalena is on the Pacific side of Baja, a vast wilderness of sculpted sand dunes, mangrove channels and protected waters. On its western side lies Isla Magdalena or Magdalena Island, a narrow, 60-mile long island comprised of enormous dunes. Although we have seen dunes and beaches before, the particular way these sweeping desert sands meet the shoreline is unforgettable.
Dense mangrove swamps are another, enticing environment. Take our kayaks and Zodiacs through the winding canals to discover the riches within. Bird watching in the mangroves can be excellent - magnificent frigate birds, pelicans, cormorants, terns and great blue herons, ibis, whimbrels and willets are among the species we might see. On mud flats, we'll often see migrating species at rest. Our practiced and observant naturalists will make sure we won't miss any of these world travelers, that can cover up to 8,000 miles of coastline during their migrations. It's not unusual to see forty species of birds in just one day along these fertile shorelines where they refuel for their destinations ahead.
Accommodations: Sea Bird
Included Meals: breakfast, lunch and dinner
Day 5 - Cabo San Lucas and Gorda Banks
Today, cruise past the spectacular Friars Rocks at Land's End into Cabo San Lucas to explore this popular resort town. Since Mexico declared this area a tourist development zone in 1973, the sleepy fishing village has become a major tourist destination with all the facilities needed to service thousands of visitors every year. It is doubtful that John Steinbeck, who visited the area in 1940, writing so eloquently in The Log from the Sea of Cortez, would even recognize the town today. We spend the morning sampling the many shops featuring Mexican handicrafts and taking in the atmosphere of this popular resort.
The afternoon is spent at the Gorda Banks sea mount, a gathering place for whales and dolphins. Humpback whales are often sighted here at this time of the year. Their variety of behaviors is of great interest as we watch them tail lobbing, flipper slapping and breaching. While the sight of a whale is always filled with wonder, you won't have to wonder too long since our marine biologists are always available to inform and enlighten you with their knowledge and their experience. Not only do they know where best to look for wildlife, their passion and respect for the area is infectious - whether you ask a question or two or spend entire afternoons or evenings in their company.
Accommodations: Sea Bird
Included Meals: breakfast, lunch and dinner
Day 6 - Isla Los Islotes and Espiritu Santo
With deeply indented shorelines and dramatically eroded cliff faces, Islas Los Islotes and Espiritu Santo are two of the most beautiful islands in the Sea of Cortez, lying near the entrance to Bahia de La Paz. Although considered two islands, they are more like one - separated by a narrow channel. Enjoy them to the fullest with a leisurely afternoon of swimming and snorkeling. Once you put on your mask and flippers and start breathing through your snorkel (we will not only provide the equipment, but as much guidance as you need to succeed), you will be able to experience a thrill not soon forgotten: swimming with the curious and friendly sea lions. The best way to observe the impressive geological past of these islands is from a kayak. Easily seen just a few yards from the shore are tons of compacted volcanic ash covered with solidified lava floods. Brown pelicans, gulls, wandering tattlers, great blue herons and boobies are all part of the landscape. The islands offer excellent possibilities for long walks or lazy beachcombing. And we may end the day with a beach barbecue.
Accommodations: Sea Bird
Included Meals: breakfast, lunch and dinner
Day 7 - Exploring the Sea of Cortez
Today is a day with the luxury of no specific plan. We may spend the morning whale watching in the waters around Isla Danzante, an area that has proven to be one of the best for finding blue whales, bottlenose dolphins and common dolphins. The Sea of Cortez is incredibly rich in nutrients, making it home to a huge variety of fish, many of them tropical. Below the surface, lie (or swim) king angelfish, surgeonfish, butterfly fish, damselfish and the beautifully colored parrotfish. When diving or snorkeling in the clear waters of our anchorage, observe the fish swimming and flitting along the reef as they come and go in huge waves of brilliant color. During the day there will be time to explore one of the many lovely, uninhabited islands such as Isla San Jose or Isla Santa Catalina, famous for the 12-foot wavy barrel cactus and other desert plants that grow along the canyon. Whether walking, kayaking or watching from the Bridge, you'll observe the great diversity of bird life - ladder-backed woodpeckers, Costa's hummingbirds, Gila woodpeckers and verdin. At night, the constellations in the clear sky are entertainment enough.
Accommodations: Sea Bird
Included Meals: breakfast, lunch and dinner
Day 8 - La Paz/Disembak/Los Angeles
Conclude your Baja small ship cruise in La Paz. Disembark after breakfast in La Paz and drive to the airport for your flight home.
Accommodations: n/a
Included Meals: breakfast
More information from AdventureSmith Explorations: