European Waterways - vacations and travel
La Belle Epoque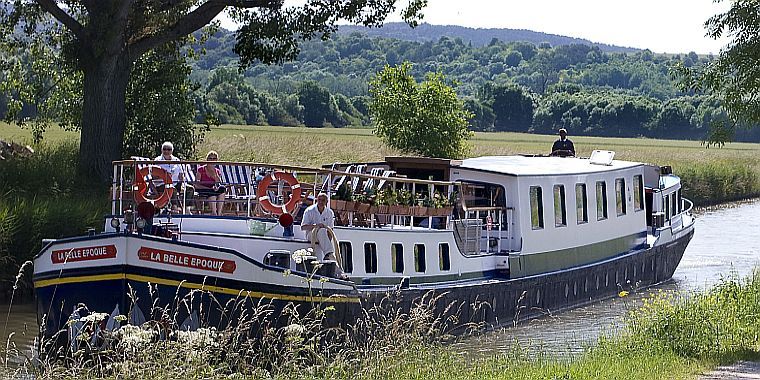 from €3,790* per person
7 Days
April-October
Luxury accommodations

Exertion level: 2

Operator:

European Waterways

12 people max
Montbard tgv station
Boats, Barges & Small Ship Cruises trips
The 12 passenger La Belle Epoque is a state of the art luxury hotel barge and sistership to L'Impressionniste in our European fleet. La Belle Epoque has been designed with both elegance and passenger comfort in mind. She offers a sun-deck, spa pool, 12 bikes and an always open inclusive bar. These together with other luxury facilities create a vessel perfect for a relaxing, luxurious cruise.

The entire interior is air conditioned including the wood panelled saloon, dining room and spacious cabins. We offer a choice of twin or double beds and all cabins have marble en-suite facilities. A single cabin is also available. The Captain leads a crew of five, comprising Master Chef, Tour guide, and two Housekeepers.

Below you can find some of the highlights of the cruises we are currently offering on La Belle Epoque, along with some examples of the cuisine and fine wines the master chef will present you with on board. You can view the current itineraries and maps by clicking "La Belle Epoque Cruises" on the menu on the right where you will also find links to the photo gallery, deck plan and cruise rates.
Locations visited/nearby
Canal du Nivernais between Auxerre and Clamecy, France, Europe
Comments from Facebook
Special information
May accommodate certain types of disabilities. Contact the operator for more information.
Family oriented trip.
Itinerary
Sunday, Day 1 Tanlay
Guests are met at the designated meeting point and transferred to the barge moored in Tanlay. A full crew Welcome Aboard with champagne and canapés. After time to settle into your cabin you are invited to join us for a first dinner on board and introduction to Burgundy's excellent cuisine.
Monday, Day 2 Tanlay to Lezinne
Wake to the aromas of ground coffee and French patisseries, enjoy a leisurely breakfast and morning cruise to Lezinne with time to cycle or walk the tow paths into the picturesque 16th Century village of Saint Vinemer. After lunch there is a choice of visits. In fine weather safe swimming at Lac de Marcenay with lakeside beach or the local indoor municipal pool, or walk across to the 16th century Renaissance-style Chateau de Tanlay, nestling serenely within this picturesque village, which also boasts a challenging 9 hole golf course Dinner on board.
Tuesday, Day 3 Lezinne to Ancy le Franc
This morning we can visit Le Parc Adventure Acrobatix with Kayaking and tree climbing available, before returning to the barge and enjoy a cruise down to Ancy le Franc with plenty of opportunity to wander or cycle as the vessel ascend through the locks cruise. Before dinner, wander or cycle around the village and across to the 16th century Renaissance Chateau d'Ancy le Franc or enjoy a game of boules. Dinner on board. (Tree climbing is not included and should be paid on the day directly to the provider).
Wednesday, Day 4 Ancy le Franc to Ravieres
All day visit to either Loisirs en Morvan Parc Adventure for Quad Biking and kayaking or the Amphitrite Centre with outside play pools for all ages with lunch in a local auberge or picnic lunch out. Return to the barge for on board. (Quad biking is not included and should be paid on the day directly to the provider).
Thursday, Day 5 Ravieres to Montbard
This morning we drive for 30 minutes to the Grottes d'Arcy sur Cure with its network of underground caves and lakes formed from limestone with prehistoric Paleolithic cave paintings. Lunch on board and then in the afternoon we can go to the summit of Mt Auxois and we look at Alesia, the last battle site between the Gaulles and Romans that took place in 52 BC. Dinner on board.
Friday, Day 6 Montbard to Venarey les Laumes
Morning cruise through woodlands and rolling fields with great towpath biking and walking opportunities past the tiny canal side villages of Lezinnes, Argentenay and Saint Vinnemer. This afternoon visit Parc L'Auxois and enjoy this wonderful animal zoo and science learning centre. Return to the barge for Captain's Farewell Dinner on board.
Saturday, Day 7 Venarey les Laumes
Disembark after breakfast and transfer to the designated drop off point.
More information from European Waterways: