Asia Adventures and Study Tours - vacations and travel
South East China - Treasures and Traditions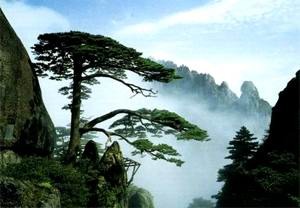 Airport south road, shanghai, china
Culture & Nature trips
The unique beauty of Mount Huangshan has been celebrated by poets and painters since the days of Confucius. UNESCO has also recognized the magnificence of the peaks by putting them on their list of world heritage sites. From the summit at dawn you can marvel at the surrounding peaks, floating like islands in a sea of clouds slowly flooded with light as the sun creeps over the horizon. No less mystical than Mount Huangshan are the many small villages that lay at the foot of the mountain, with architecture and carvings over 700 years old. The villages of Nanping and Hongcun date back to the Ming and Qing Dynasties (16th-19th centuries) and are said to be among the best of their kind in China. Hongcun was a location used in the filming of the movie Crouching Tiger, Hidden Dragon. To this date, special permits are still required to enter some of these villages.

Afterwards, we will travel further south to Fujian Province and Yongding County, where we?l explore the magnificent multi-storey circular fortresses of the Hakka Minority, known as "earth buildings" and home to hundreds of people (usually all with the same family name). These earth buildings are the largest and most striking examples of early architecture in China.

Our trip ends with a train ride to Hong Kong where you have the opportunity for any last-minute shopping in this vibrant and dynamic city.

This is a unique journey through Southeastern and Southern China taking in the splendors of a region that has seen few tourists.
Locations visited/nearby
Shanghai , Huangshan , Fujian Province , Hakka Culture , Roundhouses , South East China , Xiamen , Hong Kong, China, Asia
Comments from Facebook
Special information
This is a custom departure, meaning this trip is offered on dates that you arrange privately with the provider. Additionally, you need to form your own private group for this trip. The itinerary and price here is just a sample. Contact the provider for detailed pricing, minimum group size, and scheduling information. For most providers, the larger the group you are traveling with, the lower the per-person cost will be.
Itinerary
Day 1, Arrive Shanghai
Upon arrival in Shanghai in the afternoon, transfer to hotel and rest.
Welcome reception and dinner.
D Central Hotel
Day 2, Shanghai
After breakfast, we shall start our day by visiting the Shanghai Museum. Built in 1994, this stunning building designed to recall the shape of an ancient Chinese ding vessel, is the home of one of China's most impressive collections of art. The major galleries focus on Ancient Chinese Bronzes, Chinese Sculpture, Ceramics (Zande Lou Gallery) and Chinese Calligraphy. Chinese painting, seals, jade, Ming and Qing furniture, coins and ethnic art are also displayed.
Afternoon visit the old "China Town", the Jade Buddha Temple and Children's Palace. Evening dinner will be arranged at the colonial "French Quarter" area.
B/L/D Central Hotel
Day 3, Shanghai/Mt. Huangshan
Morning walking tour through the legendary Bund.
Transfer to the airport and fly to Huangshan. Upon arrival, transfer to the famous Xihai (West Sea) Hotel.
Mt. Huangshan, or the Yellow Mountain, is a marvel:
Within an area of 154 square kilometres there is a crowd of peaks, 72 of which have names indicating the shapes they resemble. Lotus, Brightness Apex and Celestial Capital are the three major ones, all rising above 1,800 metres.
The mountain is a body of granite, often with vertical joints. Erosion and fracture contributed to shape the rocks into huge columns, giving rise to lofty peaks and deep ravines. When it is cloudy the pinnacles loom in the mist as if they were illusionary, while in the sunshine they unfold in all their majesty and splendor.
B/L/D Xihai (West Sea) Hotel
Day 4, Mt. Huangshan
Enjoy some walking and trekking around the scenic spots and visit a number of local art studios.
Sunset tour before dinner.
B/L/D Xihai (West Sea) Hotel
Day 5, Mt. Huangshan/Tunxi
Morning sunrise tour.
Late morning check out and take the cable car back down the mountain. Arrive at the ancient town of Tunxi for lunch. Check in at the Huangshan International Hotel for two nights. Tour around Tunxi in the afternoon. Early evening return to the hotel.
B/L/D Huangshan International Hotel or Huangshan Golf Resort
Day 6, Tunxi/Shexian/Tunxi
Full day visiting the former residence of Cheng Dawei, Xuguo Stone Arch, the ancient town of Shexian and the Forest of Steles at Xin'an. Lunch enroute.
B/L/D Huangshan International Hotel or Huangshan Golf Resort
Day 7, Tunxi/Fuzhou
Transfer to the airport and fly to Fuzhou, capital of Fujian Province.
Upon arrival, transfer to hotel.
Fuzhou is a famous ancient city in Chinese history. Mount Gu is a well-known scenic spot and summer resort. Interesting sites include West Lake, Linzexu Ancestral Hall and Longjiang Bridge built in Song Dynasty. The local traditional specialties are Mt. Shou stone carving, woodcuting, jasmine tea and snow oranges.
B/L/D West Lake Hotel
Day 8, Fuzhou/Xiamen
A short flight will take you to Xiamen, Fujian's beautiful seaside city. Today visit the town of Jimei. As one of the major scenic spots in Xiamen, Jimei enjoys a long-term fame for its tourist attractions including the Turtle Garden, Returnees Garden and the former residence of Mr. Tan Kah-Kee.
B/L/D Holiday Inn Xiamen
Day 9, Xiamen/Gulangyu Island/Xiamen
Full day visit to Gulangyu Island.
Gulangyu, separated from the mainland by the 500-metre-wide Egret River, with an area of 177 square kilometres, enjoys a laudatory title "Garden on the Sea." The original name of the islet was Yuan Zhou Zi. In the Ming Dynasty it was renamed Gulang, meaning ''drum waves", because the holes in the southwestern reefs hit by the waves will make sounds like the drum.
The Dragon Head Hill, Hoisting Flag Hill and Hen Hill stand in a line in the islet. Overlapping peaks foil the blue water, white clouds, green trees and bright flowers.
The air on the island is fresh. The entire place is free from any sorts of vehicles and is particularly quiet. All these render an atmosphere as of a fairyland.
Return to Xiamen in the afternoon.
B/L/D Holiday Inn Xiamen
Day 10, Xiamen/Yongding
Drive to Yongding to visit Hakka villages and traditional Hakka-style adobe dwellings.
Overnight in one of the adobe dwellings made into a hotel.
B/L/D Hakka Adobe House
Day 11, Yongding
Spend the day visiting surrounding villages and learn about the Hakka history.
B/L/D Hakka Adobe House
Day 12, Yongding/Xiamen/Guangzhou/Panyu
Return to Xiamen and fly to Guangzhou. Transfer to hotel in Panyu County to overnight. City sightseeing.
B/L/D Panyu Hotel
Day 13, Panyu/Heyuan
Drive to Heyuan to visit some historical Hakka Villages, learn about the local Hakka traditions and architectural styles, which differ from Hakka villages in Fujian province. Overnight in Heyuan.
B/L/D TBA
Day 14, Heyuan/Guangzhou
Return to Guangzhou, remainder of the day at leisure.
B/L/D White Swan Hotel
Day 15, Guangzhou/Hong Kong
We transfer to the train station for a 2-hour train ride to Hong Kong. Upon arrival, transfer to downtown hotel for two nights.
B Kimberley Hotel or equivalent
Day 16, Hong Kong
Take a half-day coach tour around Hong Kong. The tour includes a stop at the fabled Victoria Peak which overlooks the city's famous skyline and the romantic South China Sea.
On a clear day, The Peak provides one of Hong Kong's most memorable sights. Enjoy the scenic coastal beauty of Deep Water Bay and Repulse Bay. The stop at the Aberdeen Typhoon Shelter is fascinating with a close-up look at the local fisherfolk and their boat community. The nearby world famous floating restaurants are glamorous amidst all of the fishing boats. Stanley Market, at the south end of Hong Kong Island is great for bargain-hunting or for a charming seaside escapade.
B Kimberley Hotel or equivalent
Day 17, Hong Kong/home city
Transfer to the airport and fly back home.
B
More information from Asia Adventures and Study Tours: