Asia Adventures and Study Tours - vacations and travel
Spirit of Nepal - A Journey Through the Royal Kingdom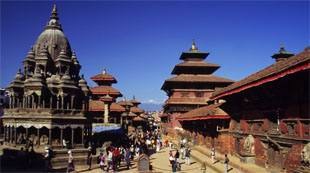 Kathmandu airport, nepal
Culture & Nature trips
Draped along the highest points of the Himalayas, the Kingdom of Nepal is a land of eternal fascination and amazing extremes. It is the home of the world's highest mountains, historic cities, and forested plains where the lordly tigers and the great one-horned rhinoceros wander at ease.

For forty years it has been a rewarding destination for travellers, scholars, climbers and researchers. The Kathmandu Valley is endowed with seven World Heritage Sites containing countless architectural monuments, a living legend where images of Buddhist, Hindu and Muslim gods are reminders of past dynasties. We will visit these ancient towns in the Kathmandu Valley, unchanged since the 17th century.
This tiny Himalayan kingdom has eight of the world's highest peaks, including Mount Everest. We travel to Pokhara, nestled in a valley below the Annapurna Massif, for spectacular panoramic views of these majestic mountains.

The flatlands of the Terai in southern Nepal are covered with some of the wildest jungles in Asia. This is a paradise for game viewing with rare and endangered species of animals and exotic birds. Experience a jungle safari on elephant back to observe these wonderful creatures up close deep inside Royal Chitwan National Park.

The Nepali people are among the warmest and friendliest in the world. Their cultural traditions reflect deep spiritual values and an abiding love of nature. Join us on an amazing journey to the "Abode of the Gods" where deities mingle with mortals.
Locations visited/nearby
Kathmandu Valley , Mount Everest , Annapurna Range , Chitwan National Park , Temples, Nepal, Asia
Comments from Facebook
Special information
This is a custom departure, meaning this trip is offered on dates that you arrange privately with the provider. Additionally, you need to form your own private group for this trip. The itinerary and price here is just a sample. Contact the provider for detailed pricing, minimum group size, and scheduling information. For most providers, the larger the group you are traveling with, the lower the per-person cost will be.
Itinerary
Day 1, Tue. Arrive Kathmandu
Arrive Kathmandu and transfer to hotel. Welcome dinner.
D Hotel Yak and Yeti
Day 2, Wed. Kathmandu
Follow the ancient route of pilgrims as we visit Swayambhunath Stupa and Pashupatinath Temple. Explore ancient Durbar Square with its hand-crafted wooden buildings, dominated by the impressive Taleju Temple. In the evening, a Nepalese dance performance and authentic Nepalese dinner.
B/L/D Hotel Yak and Yeti
Day 3, Thu. Kathmandu/Patan/Dhulikhel
Morning flight over the majestic Himalayas to view Mount Everest. Visit Patan, "the town with a thousand golden roofs". Patan's Durbar Square is filled with ancient shrines, temples and palaces, each with their own exquisite carvings. Continue on to Dhulikhel.
B/L/D Himalayan Shangri-la Resort
Day 4, Fri. Dhulikhel
Located at an elevation of 5,000 feet, Dhulikhel is a small hillside town where you will have your first panoramic view of the snow-capped Himalayan peaks. Light trekking in the area visiting nearby villages.
B/L/D Himalayan Shangri-la Resort
Day 5, Sat. Dhulikhel/Muguling
Today enjoy the scenic drive to Muguling. Optional river rafting.
B/L/D Riverside Spring Resort
Day 6, Sun. Muguling/Chitwan National Park
Drive to Chitwan National Park. Your jungle lodge is located in the midst of Nepal's wild game sanctuary affording a unique opportunity to observe wildlife up close.
B/L/D Gaida Wildlife Jungle Lodge
Day 7, Mon. Chitwan National Park
The jungle lodge's naturalists will lead you on treks in 4-wheel drive vehicles and
on elephant back to view the park's rare one-horned rhinoceros, sloth bears, crocodiles and the Royal Bengal tiger.
B/L/D Gaida Wildlife Jungle Lodge
Day 8, Tue. Chitwan/Pokhara
Drive to Pokhara, nestled in a valley beneath the Annapurna Massif. Walking tour to view the spectacular Himalayan peaks up close.
B/L/D Shangri La Village Resort
Day 9, Wed. Pokhara/Naudanda/Pokhara
Drive to Naudanda with a stunning view of the Annapurna Range. On the return visit a Tibetan village, Binda Bashini Temple and Seti Gorge. Afternoon boat-ride on Phewa Lake visiting David's Falls.
B/L/D Shangri La Village Resort
Day 10, Thu. Pokhara/Nagarkot
Fly back to Kathmandu and drive to Nagarkot, at an elevation of over 7,000 feet with breathtaking views of the middle and eastern Himalayas.
B/L/D Country Villa Resort
Day 11, Fri. Nagarkot/Bhaktapur
Drive to Bhaktapur. Designated by UNESCO as a World Heritage Site, Bhaktapur has been known as Nepal's cultural capital. Its town centre remains virtually unchanged since the 17th century with unusual medieval architecture. Visit a Tangka master for a seminar on Tangka painting, "the most unique form of ancient symbolic religious sermons, through art, in existence". Remainder of the day at leisure and enjoy the fascinating atmosphere.
B/L/D local guesthouse
Day 12, Sat. Bhaktapur/Kathmandu
Return to Kathmandu and transfer to hotel.
Farewell dinner.
B/L/D Hotel Yak and Yeti
Day 13, Sun. Depart Kathmandu
Transfer to the airport and depart for home city.
B
More information from Asia Adventures and Study Tours: