Ciclismo Classico - vacations and travel
Croatia: Istria Peninsula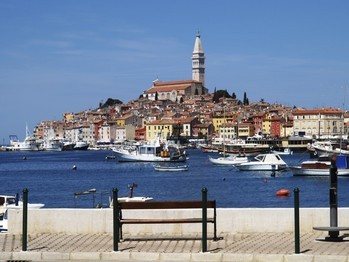 from $4,095* per person
8 Days
May, June, August, September
Boutique accommodations

Exertion level: 4

Operator:

Ciclismo Classico

24 people max
Trieste, italy
Active & Adventure trips
Arrive and depart from nearby, historic Trieste, Italy
Sail to the unspoiled Brijuni National Park- once the vacation spot for aristocrats from centuries past
Cover peaceful roads linking historic hilltop villages and picturesque seaside towns
Explore the legendary towns of Porec, Motovun, and Pula
Learn about Croatia's blossoming wine industry and taste the latest vintages
Admire the beauty of Istria's coastline on our boat transfer

Italy's neighbor to the East, Croatia, offers idyllic cycling through a medieval landscape of castles and vineyards, all with a beautiful view of the Adriatic Sea. Bright blue waters line a coast littered with architectural wonders, against a backdrop of deep green, truffle-filled forests. The terrain on this peninsula's coast is perfect for the cyclist who wants to combine slightly rolling and hilly terrain with images of Croatia's history and unspoiled beauty.
Locations visited/nearby
bike tour croatia , croatia vacation , istria, Croatia, Europe
0 testimonials about this trip.
3 testimonials about the provider, Ciclismo Classico:
Reviewer:

Harvey S.

located in

San Diego

,

CA

"We never would have found such wonderful places off the beaten path on our own."

5

Reviewer:

Nancy A.

located in

Chicago

,

IL

"Leave the real world behind, cycle through Italy and refuel your soul."

5

Reviewer:

Bill M.

located in

San Jose

,

CA

"As with a first taste of any fine wine, your Assaggio Toscana has whetted my appetite for much more of your beautiful country. I'll cherish the memories of our dinners at the Fattoria, our climbs up those beautiful hills and most of all the small personal details along the way." Never has the word 'Classico' been more appropriate!"

5
Comments from Facebook
Special information
May accommodate certain types of disabilities. Contact the operator for more information.
Itinerary
Day 1 – Trieste, Italy
Our tour begins in Trieste, Italy's gateway to Eastern Europe. We meet at 1pm in the lobby of our hotel for greetings, bike fitting and a warm-up ride.
Day 2—3 – Motovun, Croatia
Today we leave Italy, and cross through Slovenia to enter Croatia. We'll get our first taste of Croatian culture in the typical town of Motovun. Located in the green heart of the Istria region, we'll explore Motovun's cobblestone streets, and bright red roofs will stir images of Tuscany. On Day 3 we'll pedal to beautiful Groznjan, stopping to sample some of the finest Istrian white wines. Along our path, enjoy our views of the thick green forests which have inspired Croatian folklores of monsters and giants.
Day 4—5 – Rovinj
Today we'll journey to flatter land, and the warm shores of the "Istrian Riviera". As we bike southward along the coast, take in the rich blues and vibrant greens of our surroundings! We'll head into the Venetian peninsula city of Rovinj, famous for its majestic bell tower, and the narrow cobblestone streets which are reserved for pedestrians only.
Day 6 – The Capitol: Pula
Pedal further south to Pula, the largest city in Istria and home to a Roman amphitheater and majestic Venetian castle. Having viewed its breathtaking sites, relax on the beach and enjoy Pula's spectacular seafood restaurants!
Day 7 – Brijuni Island National Park
After a ride down the coast, we'll catch a ferry ride to the Brijuni Islands. Surrounded by crystal clear waters, the lush parks are filled with rare trees and exotic animals.
Day 8 – Zdravo! (Goodbye!)
We provide a return transfer to Trieste, Italy. Saying goodbye to the tour does not have to be the end of your trip! You may choose to spend some more time exploring Croatia or other Adriatic islands. We are happy to help you plan any further excursions!
More information from Ciclismo Classico: