The Dude Ranchers' Association - vacations and travel
McGinnis Meadows Cattle & Guest Ranch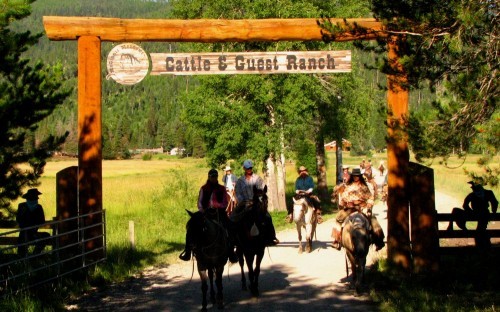 Glacier park international, kalispell, mt, united states
Active & Adventure trips
Come RIDE with us!
McGinnis Meadows Cattle & Guest Ranch is an authentic working cattle ranch located in the northwest corner of Montana.
Our main emphasis is our horse and cattle program. You'll experience horses that are comfortable working cattle, or just leisurely heading out and exploring country.

Beginner riders to experienced leave here with more knowledge about horses, horsemanship, and cattle, than they've experienced anywhere else.
With approximately 15 guests per week, we can better know you, work with you individually, and tailor each day to you. It's exciting for us to see how much you progress in the week.


McGinnis Meadows Ranch is made up of people who love this way of life. You will find "more" here, from the care put into our lodging and meals, to the care of our horses, fine custom tack, and excellent facilities. "More" in the sincerity of our staff as well as the owners, Shayne & Jo-Anne Jackson, and "more" in what you find in yourself, and what you can do.

You will experience a well-rounded horseback riding program centered on what these horses can do with cattle, and will leave here a better rider wanting "more."
Some tell us this is heaven, "No, it's just paradise."
Locations visited/nearby
Libby , Northwestern Montana , Bitterroot Valley , Glacier National Park Missoula, Montana, United States
Comments from Facebook
Special information
May accommodate certain types of disabilities. Contact the operator for more information.
Family oriented trip.
Itinerary
Ranch Dining
The cheeriest cooks in the West'll greet you every morning and evening. Every meal is prepared with pride, and the refrigerator is always open to you. If you're hungry here it's your own fault! You'll enjoy fresh breads, salads, fruits, and vegetables. We pack our lunches for a new lunch spot every day. Special diet? Just let the cooks know and they'll accommodate you. We offer wine at dinner and other beverages, but if you have a favorite wine, pop or beer, we recommend picking some up on the way out to the ranch.
Ranch Activities
Riding horses and working cattle is what McGinnis Meadows is all about. You'll experience full days in the saddle, or we can tailor the day to fit you. We'll teach you how we've taught our horses and from there you can head out and DRIVE CATTLE on 75,000 acres of summer range, continue furthering your horsemanship skills, ride and explore new country, and work steers sorting, cutting, and ranch penning. Just relaxing is always an option too.
1st class Fly Fishing outfitter nearby.
Ranch Lodging
Quality and comfort is very important to us. Decorated in a Western motif you'll see care for detail in every room. Cabins and rooms in our lodge have a queen-sized bed with denim down comforters and Pendleton wool blankets, fluffy robes, slippers, water bottles for your rides, and plush towels for bath and hot tub use. Lodge rooms have separate private baths. Cabins have propane fireplaces, sitting area, full bathroom, and private deck. Cabins sleep up to 4 or 6, rooms up to 2 people.
More information from The Dude Ranchers' Association: