Doorways Ltd - vacations and travel
Torre Fantini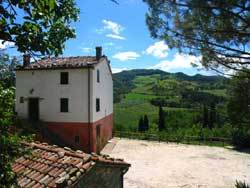 from $708* per person
15 Days
Year-round
Boutique accommodations

5 bedrooms, 5 bathrooms
Operator:

Doorways Ltd

Comfortably sleeps 10
Rest & Rejuvenation trips
Torre Fantini is set on a hilltop amid the rolling green landscape on the edge of the Foresti Casentinesi national park, on the border between Emilia-Romagna and Tuscany. In fact, this property was once a part of Tuscany!
This ancient farm tower belongs to the family of the same name, who live nearby in Palazzo Fantini, just one kilometer away. The magical garden surrounding their 17th century palazzo belongs to the association of Great Italian Gardens and is open to the public for tours; in the summer, concerts and plays often take place in the courtyard. The village of Tredozio, a ten-minute walk from the tower, is peaceful and quiet, yet also offers a number of inviting restaurants, including a Michelin one-star restaurant, the Mulino di San Michele, located in an old mill.
Emilia-Romagna is imbued with the spirit of fine living and boasts many exceptional Renaissance palaces and a particularly rich culinary heritage. Lasagna, tortellini, Parmesan cheese and balsamic vinegar are just a few of many delicious regional innovations. Faenza, with its world-famous ceramics museum and production house, is 30 kilometers away, and the splendid medieval fortress of Brisighella is half as far. Visit Ravenna (50 km) to see the world's finest Byzantine mosaics outside of Istanbul, and from here it's just minutes to the Adriatic coast. The distinguished city of Bologna (75 km) offers a delightful urban experience, and the Tuscan capital of Florence is accessible by train for an easy day trip.
This charming little vintner's tower has been restored in traditional style, with terrace views over a lovely stretch of countryside. Interiors are attractively furnished in a refined rustic style. There are four charming guests rooms as well as one suite with a kitchenette and living room with sofa bed. Each bedroom has its own en suite bathroom with shower, as well as satellite TV and a refrigerator. The bedrooms can be rented together or separately, making Torre Fantini a wonderful choice for large groups, or just for one couple.
Laundry service is available, as well as telephone and wireless ISDN Internet access. Guests are served a fresh breakfast each morning in Torre Fantini's communal dining room, or you can arrange to have breakfast delivered to your bedroom.
A swimming pool (7 x 4 meters) is shared, and a public tennis court and trekking path are located just three hundred meters from the residence. Bicycle tours and hiking tours are available nearby, as well as a language school.
A wonderful three-day cooking class is available for 2-6 guests and can be booked alone (if you are staying in another villa) or with accommodations at Torre Fantini. Held in the splendid kitchen of Palazzo Fantini, the classes are led by the owner-chef of the Mulino di San Michele. Prepare and then enjoy a delicious meal together, with all of the ingredients of an unforgettable gourmet holiday.
Locations visited/nearby
Foresti Casentinesi national park , Faenza , Brisighella , Ravenna , Adriatic coast , Bologna , Florence
Comments from Facebook
Special information
May accommodate certain types of disabilities. Contact the operator for more information.
Itinerary
Day 1: Saturday

Benvenuti! Welcome to your Italian home! Unpack, unwind, and get settled. Meet your housekeeper, Giuliana, and explore Tredozio. Visit the butcher shop, bakery, and fruit & vegetable shop. Stop in at Bar 2000 for a coffee, hot chocolate or cold drink. Shops are open Saturday from 4:30-7 pm. One alimentary is also always open on Sunday morning. Dinner at Agriturismo Ridiano (on the right as you came into town from the north).
Day 2: Sunday

Drive over the mountain to Portico di Romagna. Stroll around this charming town to see the distinctive 14th century stone bridge, Ponte della Maestà and the house of Beatrice Portinari (Dante's beloved). Have midday Sunday dinner, Italian-style, at Al Vecchio Convento (book ahead). In autumn be sure to order truffles! Here you will also find an Italian Language school for those interested in a two-week stay.
Day 3: Monday

Wine tasting in Modigliana at the Wine Estate Cantine Castelluccio by prior arrangement. Pick up some wine for the week there. Drive to Brisighella. Stroll around the old town, visit the tourist office and the Via degli Asini. Lunch at la Grotta. Drive on toward Faenza stop at Villa Emaldi (arrange in advance) to see the workshop in of the Contessa Antonietta Emaldi and see or buy one of a kind, beautiful hand-painted maioliche (majolica) ceramics. Interested people may book a two-hour class in hand-painting ceramics. (Do it early in the week to receive the finished piece at the end of the week.) On to see the old town of Faenza, stopping at the Museum of Ceramics. On your way back into Tredozio stop at the famous boot and shoe factory, Fratelli Fabbri, boot maker for Prince Phillip, Robert Redford, Penelope Cruz, Dolce & Gabbana, Ralph Lauren & Fendi. Be measured, choose your style and pelt and order your custom boots or shoes to be picked up on Friday (or mailed to you). Dinner at Mulino S. Michele in Tredozio with reservations.
Day 4: Tuesday

Ravenna: Enjoy the beautiful Byzantine mosaics of its churches and wander its lovely streets. Relax at a café on the Piazza del Popolo and take in the Tomba di Dante where the famous poet is buried. Five miles away is the beautiful basilica of Sant' Apollinare in Classe. Spend the afternoon on the beach at Lido di Ravenna, or stop in the fishing village of Cervia for drinks on the harbor.
Day 5: Wednesday

Take a cooking class set in the beautiful Palazzo Fantini. Guests will learn how to prepare some typical dishes of the area, like the famous "Sfoglia" - home made pasta, Tortelli, or Bartolaccio. Guests will be also able to cook and taste the food they have personally prepared. Afternoon visit the private gardens and museum of the Palazzo Fantini. Dinner at Trattoria da Henry.
Day 6: Thursday

Bologna is the city of arcades (I Portici of Bologna). Bologna is a great city to visit on a rainy or hot day, with over 37 kilometers of covered arcades. Start at the tourist office to pick up a city map. Visit art-filled churches and palazzi and learn the reasons for the city's various nicknames. Explore "Bologna the Learned," home of the oldest university in Europe. Climb the Torre degli Asinelli, one of Bologna's two leaning towers, to see one reason the city is also called "Bologna the Red." Stop for lunch to experience "Bologna the Rich or Fat." After lunch, stroll the Strada Maggiore to visit upscale shops or museums, Jewish Ghetto, the open-air shops on via Drapperie and the designer clothing shops in Galleria Cavour. Have a coffee at Zanarini under famous arches of Il Pavaglione between Piazza Maggiore and Piazza Cavour.

Day 7: Friday

After breakfast, pack a lunch and hike in the National Park just south of Tredozio, the Parco Nazionale delle Foreste Casentinesi. Park at S. Benedetto in Alpe and follow the trail signs to Acquacheta waterfall (falls immortalized by Dante in the Inferno).
Day 8: Saturday

Florence by rail from Marradi. There is a train around 9 in the morning from Marradi. If you prefer, drive over the mountain into Florence.
Day 9: Sunday

Relax by the pool.
Day 10: Monday

Urbino by car 2 hours (155 km) to see this wonderful hilltown with its Piero della Francesca paintings.
Day 11: Tuesday

San Piero in Bagno is a small, nice town with a very famous restaurant – La Locanda del Gambero Rosso. From Tredozio 57 km over the Appenine Mountains. Make a reservation in advance and stop there for lunch. Return on the E 45 and stop in Sarsina, the city of Plautus (Latin writer). Have a gelato in one of the lovely squares of this little town.
Day 12: Wednesday

Go to Bertinoro the motherland of Sangiovese di Romagna. Go to Enoteca Museo Ca' de Be' to drink a glass of wine and taste the Piadina, the typical bread of Romagna.
Day 13: Thursday

Visit Forlì to see the museums, historical centre and shop in Corso della Repubblica! In the afternoon Wine taste at La Pandofa Wine Estate if in Fiumana di Predappio you have booked in advance.
Day 14: Friday

Last day for catching some of the sights you've missed, or for shopping and relaxing.
Day 15: Saturday

Reflect on all you've done and save the rest for next time. Arrivederci!
More information from Doorways Ltd: