Doorways Ltd - vacations and travel
Villa Molinazzo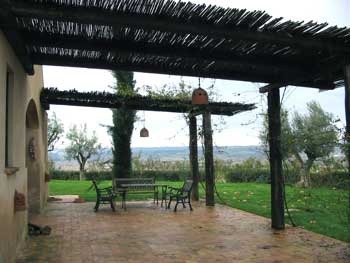 from $10,944* per property
15 Days
Year-round
Luxury accommodations

7 bedrooms, 7 bathrooms
Operator:

Doorways Ltd

Comfortably sleeps 14
Near orvieto, in umbria
Rest & Rejuvenation trips
Located near Orvieto, in an area still somewhat undiscovered by tourists, Villa Molinazzo is conveniently situated within daytrip distance of Montelpulciano, Pienza, Montalcino, and all of the enchanting hill towns of southern Tuscany, as well as all of Umbria. Popular destinations include Todi, Spoleto, Assisi and Perugia, but it is also possible to wander away from the beaten tourist track to explore treasures like Civita di Bagnoregio, in Lazio, or the spectacular gardens of Villa Lante, near Viterbo. On days when you don't want to drive, you can take a train to Rome in about an hour. The closest towns are Montecchio and Guardea.
Villa Molinazzo is a luxuriously restored stone farmhouse. The excellent taste of its owners is reflected throughout the house in a wonderful balance of antique furniture combined with modern conveniences, including wireless ADSL for accessing the Internet. The main house can be rented alone for 10 persons or less. A separate guest house can accommodate larger groups but will not be rented independently when the main house is occupied.
An entry hall leads to the main living room of the villa, with a fireplace and large picture window offering a panoramic view of the surrounding countryside. French doors lead to a covered portico which serves as an outdoor living room. A dining room has another fireplace and a large table that can seat up to sixteen guests comfortably. The well-equipped country kitchen has French doors leading to the garden and a guest half-bath adjoins.
The master bedroom suite is also located on this level and features a sitting room with sofa and TV, a dressing room, a bath (showever over tub, and a spacious bedroom with matrimonial bed.
Upstairs there are four additional bedrooms with joinable twin beds. All of the bedrooms in Villa Molinazzo are air-conditioned and have delightful views. Each has its own en suite bath; one bathroom has a shower over tub, and the other three have American-style shower stalls. Although the master bedroom is perhaps a bit more important feeling than the others, all of the bedrooms are lovely and comfortable, making Villa Molinazzo a wonderful choice for couples traveling together as well as for families.
The guest house, located just 30 feet from the main house, is connected by a charming pergola. Inside there are two bedrooms, one with a divisible matrimonial bed and the other with twins. There is also a laundry room with two washing machines. The laundry is accessible from the outside when the guest house itself is not rented. Outside, a BBQ, swimming pool (6 x 12 meters), and tennis court will invite you to take time off from touring to relax at home. Housekeeping is provided daily, with additional services available upon request.
Locations visited/nearby
Northern Lazio , Orvieto , Southern Tuscany , Umbria, Italy, Europe
Comments from Facebook
Special information
May accommodate certain types of disabilities. Contact the operator for more information.
Itinerary
TWO WEEKS IN UMBRIA
Day 1: Saturday
Benvenuti! Welcome to your Italian home! Unpack, unwind, and get settled. Explore your local village to find the tourist office, grocery shops, restaurants, and the nearest coffee bar.
Day 2: Sunday
Visit the picturesque hill town of Todi, or, if you have kids, consider a trip to the zoological park at Cittą della Domenica, in Perugia, or the Monster Park in Bomarzo.
Day 3: Monday
Two towns known for excellent wine: Montelpulciano, known for its Vino Nobile, and Montalcino, famous for its Brunello, which can be sampled by the glass at the enoteca in the fortress before you splurge for the bottle. Stop to visit the Sant' Antimo Abbey on the way out of town.
Day 4: Tuesday
Perugia: Tour the Perugino factory where Italy's favorite candy, the Baci, is made. One of Europe's most celebrated jazz festivals is held in July, while October is time for Eurochocolate. Continue to Torgiano to visit the Museum of Wines and enjoy a midday meal at Tres Vaselle (see our Restaurant Guide). Or visit Deruta to shop for ceramics.
Day 5: Wednesday
Day trip to Urbino to see the painter Raffaello's house, and the frescoes of Piero della Francesca in the Ducal Palace. Wear comfortable shoes - Urbino is hilly!
Day 6: Thursday
Lake Trasimeno: Take a drive around the lake, stopping wherever you like. Take a boat trip to one of the islands, or visit the Etruscan town of Cittą della Pieve to see the Via della Baciadonna, said to be the narrowest street in Italy. Sample the "torta al testo," a typical Umbrian dish, at Trattoria Da Maria (Da Faliero), in Magione.
Day 7: Friday
Explore Orvieto, visiting the Etruscan tombs, St. Patrick's Well, and the Cathedral, as well as its many shops and restaurants. One of our favorites, Antica Trattoria dell' Orso (see Restaurant Guide), has the best farro soup in Italy.
Day 8: Saturday
Assisi: Visit the Basilica of San Francesco (Saint Francis) and stroll through Assisi to the Basilica of Santa Chiara (Saint Clare). Continue on to Spello, but if you are there in June for the "infiorate," when the streets are filled with wonderful works of art all made from flower petals, you will want to go on Sunday. Get an early start to avoid the crowds.
Day 9: Sunday
Relax. Take a walk in the countryside surrounding your villa. Enjoy some pastries from a local pastry shop. This is an Italian habit - to buy pastries every Sunday to eat after lunch!
Day 10: Monday
Rome: Hop the train to Rome to see the major sites and the Vatican. When you're ready for a break, we highly recommend the coffee water ice with whipped cream at La Tazza D'Oro, near the Pantheon, as well as Caffé Greco, the oldest café in Italy, located on the Via Condotti, across the Spanish steps; pricey but worth it!
Day 11: Tuesday
Umbertide, Gubbio, & Cittą di Castello: Look for the "doors of the dead," an interesting architectural feature of Gubbio.
Day 12: Wednesday
Norcia, famous for truffles and birthplace of St. Benedict, and Cascia, sanctuary of Santa Rita, Saint of the Lost Causes.
Day 13: Thursday
Spoleto, known for its international music festival - dei Due Mondi - the Festival of Two Worlds. Visit Carsulae to explore the Roman ruins, or stop in Terni to see the Marmore waterfalls, which are open until 10 pm in the summer. Very romantic!
Day 14: Friday
Spend the day relaxing, packing, and doing your last minute shopping.
Day 15: Saturday
Reflect on all you've done and seen and save the rest for next time. Arrivederci!
More information from Doorways Ltd: