Doorways Ltd - vacations and travel
Villa Lentisco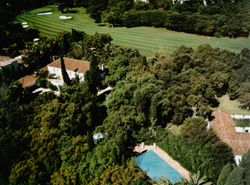 from $7,508* per property
15 Days
February-September
Boutique accommodations

7 bedrooms, 7 bathrooms
Operator:

Doorways Ltd

Comfortably sleeps 12
Spain
Rest & Rejuvenation trips
It is not without reason that Spain's breathtaking Costa del Sol has earned itself a secondary nickname: the Costa del Golf! Golfers from around the world fly in to take full advantage of the Costa's three hundred days a year of sunshine. An exclusive resort at the western end of this fabled stretch of coastline, Sotogrande has become one of the most prestigious golfing destinations in Europe. Among the luxury villas of Sotogrande is the Villa Lentisco, a truly exceptional residence directly overlooking the sixth fairway. Guests enjoy "front-row" seats for the game during the day, and the opportunity to stroll the idyllic grounds after the sun goes down and all the clubs have been put away. Woods surround much of the house, ensuring a sense of privacy. Beaches and excellent seafood restaurants are found just a kilometer and a half away at Marina at Sotogrande.
It will come as no surprise to Villa Lentisco's guests that this beautiful residence has been featured in many international design and garden magazines. The surrounding landscape has been designed in part by the noted British garden designer Russell Page, whose designs are also seen at Leeds Castle in Kent, England, the Frick Gallery in New York, and many locations in France and Italy as well as in Spain. An expansive pencross (golf green quality) lawn covers a separate area of the grounds, while yet another area-of oak forest-has been left untouched. A gorgeous pool is set amid the garden's lush greenery and partnered by a unique pool house incorporating translucent shells into its design.
Entering the villa itself, one discovers spacious, light-flooded rooms, exquisitely decorated in an inspired mélange of classic Spanish style with elements from the Orient and North America. An enormous, airy living room features a fireplace at one end and a cozy library at the other. There is an elegant dining room and an immaculate, fully-equipped kitchen opening onto a delightful patio.
Villa Lentisco has seven wonderful bedrooms — five with two twin beds and two with French beds (larger than a twin; smaller than a double) —each with its own patio area and its own bathroom with tub and shower. (One of the twin rooms is furnished with a piano; another has a fireplace.) Patios and ample terraces spill out from the villa's every side, ever recalling guests to the natural beauty of the surroundings. Villa Lentisco is centrally heated and is provided with satellite TV, wireless Internet access and fax line.
Children are welcome, but because of the valuable antiques and artwork, the owner must be notified of the children's ages in advance, and extra care and supervision is necessary.
Locations visited/nearby
Italica , Roman city , Carmona , Alhambra , Generalife Palace , Cordoba , Caseres , Seville, Spain
Comments from Facebook
Special information
May accommodate certain types of disabilities. Contact the operator for more information.
Itinerary
TWO WEEKS IN ANDALUCIA
Day 1 Saturday
Visit Italica, an ancient Roman city. The birthpace of Hadrian still has well preserved ruins. Continue on to Carmona, a walled city conquered by Romans, and Arabs. The narrow streets are full of religious buildings and splendid palaces. Enjoy a meal in one of these palaces, Casa de Carmona (Plaza de Lasso, Tel. 954 144 151)
Day 2 Sunday
Take a boat ride to Huelva. Relax on the beach. Try the gazpacho. Andalucia Is credited for this creation.
Day 3 Monday

Drive to Jerez e la Frontera, or to Sanlucar de Barrameda, the second most important sherry town. Sherry has been produced there for over 3,000 years! The city is also known for its Andalusian horses. The Royal Andalusian School of Equestrian Art performs shows regularly. Be sure and get tickets.
Day 4 Tuesday

Stop in Guadix, on the way to Granada. This town dates back to Phoenician and Roman times and almost half of the inhabitants of this large town live underground. On to Granada, a World Heritage Site and home to the famous Alhambra, a magnificent Arab palace that is the most important medieval monument in Europe. Stroll through the gardens of Generalife Palace. Take a walking tour, which includes the royal chapel and Cathedral.
Day 5 Wednesday
Explore the "White Villages" – Ronda, known for its famous gorge and bullring, and Arcos de la Frontera should not be missed. Caseres is a postcard-perfect city; be sure and have a meal at Restaurant La Terraza. These towns are perched on high hills. Houses are whitewashed, creating a distinctive panorama. Stop into an olive grove and buy fresh olive oil. Don't miss Ubrique, famous for its leather factories. The outlets create for Burberry and Mulberry.
Day 6 Thursday

Cordoba was for a long time the capital of the Islamic world in the west. Visit the Mezquita-Catedral, the mosque-cathedral. Stop into the Patio de los Naranjos. Explore the Jewish Quarter. Spend time in the Great Mosque, one of the great treasures of Islamic art in Spain. Buy gold and silver here, as this is Spain's leading city for jewelry-making.
Day 7 Friday

Drive to Jimena de la Frontera to visit the ceramic factory and enormous flower nursery. Continue to Benaojan through orange groves and cork oak forests. Be sure to try one of their famous chorizos. Spend the afternoon exploring a famous prehistoric cave; Cueva del Gato and Cueva de la Pilata are two in the area.
Day 8 Saturday
Free day to revisit your favorite places or to relax. Go horseback riding, play golf, hike or rent a bike for the day. Have tapas and gazpacho.
Day 9 Sunday

In summer, Bullfighting Fairs are found throughout Andalucia. Malaga has the famous La Malagueta bullring.

Day 10 Monday

Drive to Sierra de Saracena , home to the finest hams in the world .Take a tour and sample the special hams. Have lunch in Aracena, with the finest local produce, including fresh cheese, ham, mushrooms, pork from the Iberian pig, wild asparagus, artichokes etc.
Day 11 Tuesday
Spend a day at the beach. La Herradura is a fishing village with beaches not yet discovered by tourists. Or discover Playa de Los Muertos on the Costa de Almeria.
Day 12 Wednesday
Andalusia is the world's largest producer of olive oil.The white village of Zahara de la Sierra is home to an olive oil mill dating from 1755. Drive through the province of Jaen to see many different olive mills. Be sure to stop and taste some of the varieties. After an interesting guided tasting move on to one of the oldest wineries in Spain, founded in 1729, to see firsthand the entire process which produces one of the best sweet wines in the world, Pedro Ximenez, king of the Montilla - Moriles Protected Denomination of Origin.
Day 13 Thursday
Wander through the narrow streets of Seville (see Daytrip Ideas for Seville). The city's varied religious historical sites make this fascinating city special. See the minaret of La Giralda, the cathedral (one of the largest in Christendom), and the Alcázar Palace. Part of its treasure includes Casa de Pilatos, Torre del Oro, the Town Hall, Archive of the Indies (where the historical records of the American continent are kept), and the Fine Arts Museum (the second largest picture gallery in Spain). The Fería de Abril is a spectacular week of colourfully costumed residents on equally decorated horses. Be sure to book a year in advance!
Day 14 Friday
Continue exploring Seville and enjoy the tapas and sangria.
Day 15 Saturday

Reflect on all you have seen and done! Buen viaje!
More information from Doorways Ltd: