Doorways Ltd - vacations and travel
Sant Bartomeu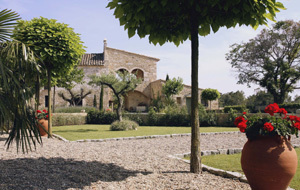 from $8,720* per property
15 Days
Year-round
Luxury accommodations

6 bedrooms, 6 bathrooms
Operator:

Doorways Ltd

Comfortably sleeps 12
Spanish
Rest & Rejuvenation trips
Sant Bartomeu is set on over four acres of rolling countryside, with panoramic views of Mount Rocacobar and the Pyrenees in the distance. The setting is secluded yet has superb access — just six minutes from Banyoles and twenty minutes from medieval Girona, where you will find excellent shopping, culture and Catalan cuisine. There are also several good local restaurants. Girona airport is 25 minutes away; Barcelona is an hour; Perpignan and its airport across the French border is slightly less. Within thirty minutes, you can reach the beautiful beaches of the Costa Brava, walk in the volcanic park and natural reserves of Garrotxa, or visit the beautiful fortified town of Besalu and the Dali Museum in Figueres.
Sant Bartomeu, originally a fortified masia (field house), was given to a distinguished nobleman who returned from the Crusades with one of the thorns from Christ's coronet. After his death, a small group of Benedictine monks founded the priory and ermita (chapel), and here the thorn was kept as a relic. Often moved and hidden for safe keeping during turbulent times, the thorn can be seen today at the nearby church of St. Sadurni in the village of Vilavenut. The Benedictines continued to use the priory for centuries, until it fell into disrepair. When the current owners found the villa in 2001, the ermita was used for storing hay and the rectory was a total ruin.
Sant Bartomeu has been restored in harmony with its original architecture, using traditional materials and incorporating modern facilities to provide the highest standards of easy living and comfort. The main house offers four en-suite bedrooms. One bedroom has twin beds and also a bunk bed. The master bedroom has a bath, surrounded in stone, and a view overlooking the garden. Across the courtyard are two more en-suite bedrooms, both with air conditioning and spacious terraces with magnificent views. A large open kitchen is well equipped for culinary adventures, and a small kitchen garden produces a selection of vegetables, fresh herbs, and flowers for the house. For those who prefer not to cook, the services of a chef can be provided. Dine in style in the 'Ermita,' the wonderful capilla, where the owners have incorporated modern with ancient to create a minimal but very atmospheric ambience. After dinner, you can play a game of snooker (3/4 size table) or enjoy an after dinner coffee on the tower while watching the sun set over the mountains. Internet connection is available, but telephones are not provided except by special arrangement. All of the bedrooms have fans and the courtyard rooms are air-conditioned.
Within the garden is a 12-meter swimming pool with Jacuzzi jets in one part of the pool (unheated). There is a large area for outdoor table tennis and a golf practice-driving tee. Mountain bikes are available for exploring the beautiful countryside. Two splendid 18-hole golf courses — Golf Girona and Torre Mirona (with its superb spa) — are within 15 minutes' drive of Sant Bartomeu.
Locations visited/nearby
Barcelona , Girona , Figueres , Costa Brava , Banyoles , Perpignan in France, Spain, Europe
Comments from Facebook
Special information
This is a custom departure, meaning this accommodation is offered on dates that you arrange privately with the provider. Additionally, you need to form your own private group for this accommodation. The itinerary and price here is just a sample. Contact the provider for detailed pricing, minimum group size, and scheduling information. For most providers, the larger the group you are traveling with, the lower the per-person cost will be.
May accommodate certain types of disabilities. Contact the operator for more information.
Itinerary
TWO WEEKS IN CATALONIA
Day 1: Saturday

Welcome to your Spanish home! Unpack, unwind and get settled. Explore your local village to find grocery shops, restaurants and the nearest coffee shop.
Day 2: Sunday
Visit the Sunday morning Market at Palafrugell. Enjoy the atmosphere with a glass of wine and fish lunch. Continue to Bisbal d'Emporda to shop for pottery. Relax on the exclusive and sandy beach at nearby St Marti d'Empuries.
Day 3: Monday
Dali Triangle: Figueres, Portlligat-Cadaques, and Pubol. Start in the fishing village of Cadaques and see the beautiful Church of Santa Maria, then continue to Portlligat to visit the Dali Museum- House. This must be arranged beforehand. In Figueres, don't miss Teatre-Museu Dali, Spain's second most visited museum. If you have children, visit the Museu del Joguet with its collection of antique toys. Head south to Pubol to see the castle Dali bought and restored for his wife.
Day 4: Tuesday
Visit Girona …wind through the narrow medieval streets. The Cathedral has a rare 11th century tapestry of the Creation. Explore the Cloisters. Spend time in the museum. Visit the Arab baths. Explore the Jewish Quarter and Museum.
Day 5: Wednesday
Rent bikes in Banyoles, site of 1992 Olympic crew championships. Stop for lunch at Gil's 972 57 28 52. Must book ahead of time.
Day 6: Thursday
St Pere de Rodes Monastery, spectacular views out to the sea. Founded in 8th century by Benedictines. Example of Romanesque art. Lunch La GuaGua in Platja de Canyelles (just past Roses).
Day 7: Friday
Visit vineyards: Miguel Torres, Codorniu, Freixenet or Jean Leon . Eat in a tapas bar.
Day 8 Saturday
Drive to France for lunch. Hunt for treasures in the market at Ceret. Spend afternoon in Collioure, where Matisse and other artists painted.
Day 9 Sunday
Visit the Botanical Gardens at Cap Roig. Walk amongst all kinds of exotic Mediterranean flora at where you get magnificent panoramic views of the coastline that stretches from Calella to the cliffs of Cap Roig.Have dinner and watch the famous Sardana dance down at the beachfront Sunday evening.
Day 10 Monday
In direction of Olot take an early morning balloon ride. Visit the Valley of St Aniol d'Aguja. This has spectacular gorges and waterfalls. Olot is a know as the "city of volcanoes" Have lunch at Mas Les Cols. Spend afternoon in Garrotxa Volcanic Nature Reserve.
Day 11 Tuesday
Explore the ruins of Pla de Palol, south of Palamos.. Relax on the beach in La Fosca, a fine sand beach. Walk along the coast starting in S'Agaro. On the way home stop for tapas in Corsa.
Day 12 Wednesday
Take a boat trip with Paco Boats in Tamariu. Visit the cave "Cova d'en Gispert"
Tapas on the beach.
Day 13 Thursday
Empuries has spectacular Greek and Roman ruins. Try the fresh anchovies at L'Escala, a local specialty. Climb up to the Castle of Mongri at Torroella de Mongri. Breathtaking views. Stop for tapas in old quarter of Begur- evening visit to the castle.
Or consider going to France to Ceret and Cllioure, towns where Matisse and other artists painted.
Day 14 Friday
Take a tour of Besalu, filled with Jewish history. The fortified bridge dates to 11th century. Serinya has pre-historic caves which are in amazing condition.
Day 15
Reflect on all you have done!
More information from Doorways Ltd: