Cycle Greece - vacations and travel
Captivating Crete
"This is the funnest vacation I've ever been on! "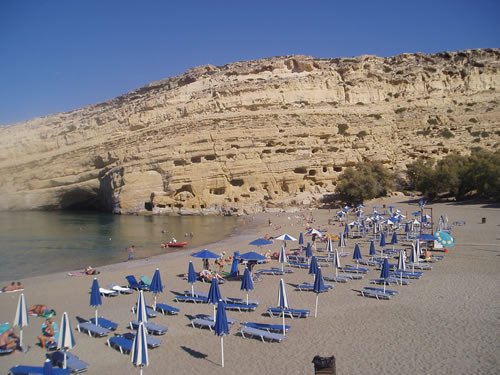 from €2,100* per person
8 Days
May, June, October
Boutique accommodations

Exertion level: 5

Operator:

Cycle Greece

16 people max
Athens, greece
Active & Adventure trips
Minoans ruins are the focal point of the Captivating Crete tour. For 8 days we combine truly joyous rural cycling with exploration of a new Minoan site practically every day. As the first civilization on European soil, the Minoans left exceptional frescos, red ochre palace columns and mysterious written discs.

The last 4 days are a hiker's heaven. We descend the incomparable Samaria Gorge and then follow a coastal footpath hugging the Libyan Sea. We stay in villages accessible only by foot or water.

Locations visited/nearby
Crete , Greece , Minoan , ruins , cycling , bicycling , biking , hiking , walking , swimming , island , mediterranean , samaria gorge , guided , guides , vehicle , support , active , Aegean, Greece
2 testimonials about this trip
Reviewer:

Pia G.

located in

Albuquerque

,

New Mexico

This is the funnest vacation I've ever been on!

5

Reviewer:

Monica M.

located in

Ontario

We have very fond memories of our trip -- it was truly fabulous, and I'm very disappointed to be back sitting at a desk for most of the day!

5
0 testimonials about the provider, Cycle Greece:
Comments from Facebook
Itinerary
Day 1: Arhanes
Arhanes village south of Herakleion (Crete's capital) has been occupied by residents since the Minoan era. The terrain and many customs remain almost the same from the ancient days. After a welcome raki toast, we walk to Fourni, an ancient Minoan cemetery. Short warm up ride in the afternoon. Evening dinner in a renovated olive oil factory.
Day 2: Arhanes
We tour Knossos, the most famous of all the Minoan palaces, as well as the Archaeology Museum in Herakleion with its exquisite Minoan frescos. In the afternoon we cycle a rolling hills loop that takes in the museum to Nikos Kazantzakis, author of Zorba the Greek, and Greece's most famous novelist.
Day 3: Zaros
En route we stop at Vathypetro, a Minoan villa dating back to 1600 BC. Our ride from Arhanes 1245 feet (380 meters) ascends to the cheerful mountain village of Zaros 1394 feet high (425 meters). Zaros is known for its bottled mineral water, fresh trout and the E4 (European) hiking route. We will hike into the mouth of a lovely gorge.
Day 4: Rethymno
Back country roads, lots of climbing, breathtaking scenery characterize today's ride which culminates in Spili, 1358 feet high (414 meters), a lovely mountain village of cobblestone streets and verdant shade trees. The pride of the town is a white stone Venetian fountain with mountain spring water gushing from the mouths of 19 lion heads lined up in a row. The city that is Crete's best kept secret, Rethymno, awaits us.
Day 5: Rethymno
The Venetian flavor of Rethymno's old city will charm you with its ancient features, a wall surrounding the city, an old water fountain and the huge Fortezza commandeering a strategic promontory. We cycle to Melidoni Cave, a place cherished by Cretans for its tragic history where hundreds took refuge inside but were murdered by the occupying Turkish forces.
Day 6: Hania
Old Hania is one of Greece's most enchanting cities. Architectural vestiges of the prior conquerors, Venetians and Turks, include the Mosque of the Janissaries on the harbor to the 17th century Venetian homes lining colorful Zambeliou Street (the old Jewish Quarter). Buy souvenirs in Hania from gold jewelry to handcrafted Cretan knives.
Day 7: Hania
A stupendous ride up the Therissos Gorge to a height of 1850 feet. Therissos is famed for giving birth to Cretan revolutionaries and it is where the charismatic statesman Eleftherios Venizelos (for whom Athens Airport is named) situated his headquarters when he declared Crete to be united with mainland Greece.
Day 8: Omalos or departures
8 Day participants can either depart or bike to Omalos in the afternoon with the 12 Day participants and return to Hania in early evening with the support van.
4 Day Libyan Sea Coast Hiking Add-On
Cost and Inclusions
Day 8: Omalos 12 Day participants cycle to Omalos climbing from sea level up to alpine-like terrain. The ascent is gradual, someimes imperceptible and only takes three hours. Omalos is the jumping off point for hikers descending the Samaria Gorge.
Day 9: Soughia
A steep wooden staircase takes us to the beginning of the astounding Samaria Gorge, said to be Europe's longest gorge. A descent through this national park may well be the highlight of your trip. Wildlife unseen elsewhere, cold fresh water mountain springs, narrow cliff walls 3 meters (10 feet) wide in places and the abandoned Samaria village are a few of the marvels that make this 18 km (11 miles) ravine Crete's most beloved hiking trail.
Day 10: Agia Roumeli
There were over 200 Asclepion healing centers spread throughout Ancient Greece, and one is located at Lissos, the destination of today's hike. The area also has a fresh spring and seemingly dozens of Roman tombs from 60 AD. We hug the Libyan Sea coastal path to reach Agia Roumeli, a town accessible only by foot or sea. We are deep in Sfakia territory, Crete's most rebellious region against the Turks, the center of resistance during foreign domination, and the most culturally engrossing.
Day 11: Loutro
We hike from Agia Roumeli to Loutro -- two towns accessible only by foot or boat -- which takes roughly 4 hours, casually walking along the shiny Libyan Sea coastal path. At Agia Pavlos we stop to swim, get a bite to eat, jump off the big boulder into the sea, and inspect the pastel pink Byzantine church. We hike up to Anapoli and Aradena Gorge. As a carfree village on the sea, Loutro is very quiet and serene. We have our farewell dinner at a seaside taverna.
Day 12: Departure
We hike up to Anapoli and Aradena Gorge. As a carfree village on the sea, Loutro is very quiet and serene. We have our farewell dinner at a seaside taverna
More information from Cycle Greece: