Backroads - vacations and travel
Alaska Biking: The Vast Alaskan Wilderness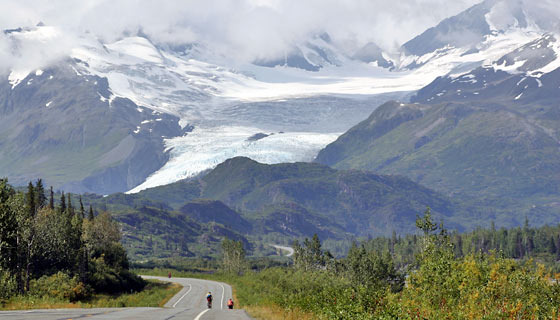 from $2,598* per person
6 Days
June-August
Boutique accommodations

Exertion level: 6

Operator:

Backroads

12 people max
Anchorage international airport, anchorage, alaska, united states
Active & Adventure trips
It's the raw immensity of the landscape. As far west as you can go. Youngest state, oldest place. The last frontier: not just a cliché but something you feel in your body. Super-natural things happen in Alaska. Grizzlies roam. Glaciers calve. Moose forage. You ride past rivers named Matanuska, circle volcanoes called Wrangell, stroll through famous towns like Valdez. Follow the trail of fur traders, copper miners, oil diggers and naturalists. One acre for every person. Things get put in perspective.

A true biking adventure in a remote section of Alaska experienced by few travelers
Ride in the shadow of Wrangell-St. Elias National Park's 16,000-foot peaks
Prince William Sound by ferry - watch for seals and bald eagles!
Pedal beside the mighty Matanuska Glacier and the river of the same name
Feel the immensity of Alaska's interior

Locations visited/nearby
Alaska, United States
Comments from Facebook
Itinerary
Day 1 A true biking adventure in remote Alaska, where few travelers venture. Get your legs moving with a beautiful ride from Palmer up Hatcher Pass, and savor expansive views of the Cook Inlet and soaring Chugach Mountains.

Day 2 Feel the immensity of Alaska's interior. Pedal over rolling hills and beside the icy Matanuska River, fed by the mighty Matanuska Glacier. Your home-cooked dinner is served with vistas of untouched wilderness.

Days 3-4 Ride in the shadow of Wrangell-St. Elias National Park's 16,000-foot peaks, nicknamed "the mountain kingdom of North America". Gear up for a big day of biking along scenic Glenn Highway, passing spruce forests, alpine meadows and possibly a moose! In the rugged and remote Copper River Valley, a challenging route past glaciers, rivers and woods is yours for the taking. Climb Thompson Pass and up to Worthington Glacier before an incredible descent past thundering waterfalls and into Valdez.

Days 5-6 Prince William Sound by ferry - watch for seals, bald eagles, orcas and puffins. Hear rumbling? The famous bore tide may roll in as you pedal along Turnagain Arm Keep your eyes peeled for native beluga whales from breathtaking Bird Point.

More information from Backroads: