Backroads - vacations and travel
Alaska Walking Hiking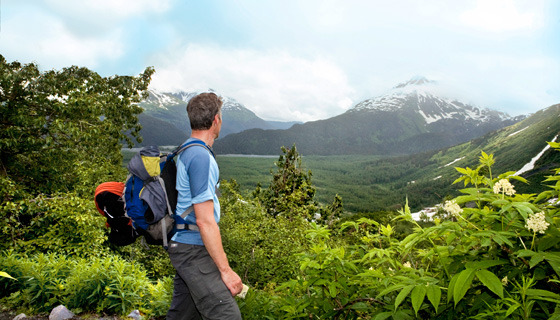 from $2,898* per person
6 Days
June-August
Boutique accommodations

Exertion level: 4

Operator:

Backroads

20 people max
Homerairport, ak, united states
Active & Adventure trips
It feels like the end of the earth... or the beginning of it. Two legs take you to places that few humans have seen. Glaciers sheer down mountainsides to waters brimming with sea life. Poets fish - and fishers write poetry - in the coastal town of Homer. You marvel as Kachemak Bay shows you all its weather, or at the rushing waterfalls and endless wildflower fields on your hike to Crow Pass. Your sense of the wilderness will never be the same after this.

The hike of a lifetime along Exit Glacier to staggering views of Resurrection River Valley and Harding Icefield
Boat across Kachemak Bay, then trek to amazing Grewingk Glacier
Coastal towns of Homer and Seward
Watch for black bears, mountain goats and salmon swimming upstream
The alpine splendor of Carter and Crescent Lakes


Locations visited/nearby
Alaska, United States
Comments from Facebook
Itinerary
Days 1-2 Homer, one of Alaska's most scenic towns: see for yourself why it was nicknamed "The End of the Road" Hike along bluffs overlooking town and the dramatic Kachemak Bay Trek to amazing Grewingk Glacier, where you may spot caribou and Dall sheep Care to meet some water-loving locals? Sea otters, porpoises, loons and bald eagles may say hello.

Days 3-4 Enjoy the abundant wildflowers on a steep but rewarding hike to stunning Carter & Crescent Lakes The picturesque town of Seward invites a wander Enjoy the spectacular views of Resurrection River Valley Hike to Harding Icefield, which spans more than 900 square miles and conceals an entire mountain beneath the sheets of ice.

Days 5-6 In Girdwood, hike along a portion of this historic Iditarod Trail Keep your eyes out for moose, bears and marmots on your hike up to Crow Pass explore the temperate, coastal forest of the Cook Inlet en route to the dramatic Winner Creek Gorge.

More information from Backroads: