Backroads - vacations and travel
Alaska Family Multisport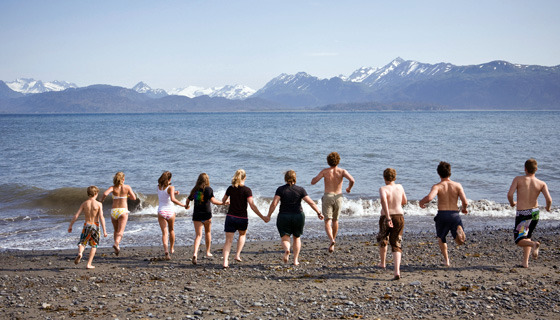 from $2,698* per person
6 Days
June-August
Boutique accommodations

Exertion level: 4

Operator:

Backroads

24 people max
Anchorage international airport, anchorage, alaska, united states
Family & Friends trips
Once upon a time, there was an outdoor-loving family seeking an action-packed vacation. A clever bunch, they decided on Alaska. And no sooner did they arrive and witness the dramatic peaks of the Alaska Range, they knew they'd chosen wisely. The kids hiked to the face of Exit Glacier; parents ascended to the Harding Icefield. They all raced through the woods on a thrilling dogsled ride, spotted moose and eagles during a river float trip, and watched salmon swimming upstream. And to this day, they all agree: it was the best family vacation ever.

Mushing! An exhilarating dog sled ride through the forest
Bike to Homer, one of Alaska's most beautiful towns
Hike right up to the face of a glacier
A float trip on the Kenai River
The chance to spot moose, eagles, dall sheep and even salmon swimming upstream


Locations visited/nearby
Alaska, United States
Comments from Facebook
Itinerary
Day 1 Alaska's dramatic landscapes on a single astonishing peninsula Bike paths lead you out of Anchorage and onto the gently rolling Tony Knowles Coastal Trail - keep your eyes open for moose! Journey south to the Kenai Peninsula, a wonderland of rugged mountains, glaciers, fjords and lakes.
Day 2 In Kenai Fjords National Park, kids hike to the face of Exit Glacier while adults embark on a once-in-a-lifetime trek with spectacular views of the vast Harding Icefield Meet some of the famed Iditarod race's canine participants and experience the excitement of racing on comfortable wheeled dogsleds.
Day 3 Watch salmon defy gravity as they leap up a waterfall on the Russian River Got your camera ready? During a leisurely float trip on the glacial waters of the Kenai River, you stand a good chance of seeing a variety of waterfowl, eagles and larger creatures including moose and dall sheep.
Day 4 Homer, one of Alaska's most beautifully situated towns Take in spectacular views of Cook Inlet and the volcanoes of the Alaska Range during a picnic lunch A scenic bike ride leads to a viewpoint overlooking Homer, Grewingk Glacier and Homer Spit, a narrow finger of land in beautiful Kachemak Bay Stop at a local winery specializing in non-grape fruit wines, and featuring a circular swing for the kids.
Days 5-6 Circumnavigate Yukon Island by kayak, watching for bald eagles, harbor seals, porpoises and sea otters After our naturalist-led hike through fields of wildflowers, we sit down to a bounteous picnic at the Carl Wynn Nature Center, set on the bluff above Homer.
More information from Backroads: