Backroads - vacations and travel
Alaska Multisport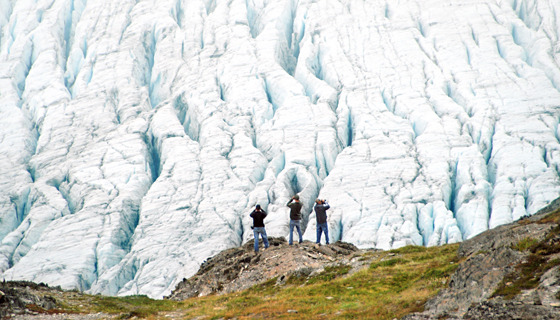 from $2,598* per person
6 Days
June-August
Boutique accommodations

Exertion level: 4

Operator:

Backroads

24 people max
Anchorage international airport, anchorage, alaska, united states
Active & Adventure trips
From land to water to ice. Alaska was made for multisport. You need all the tools you can get - a bike, a kayak, your hiking boots - to understand and experience the incredible terrain. Journey to an extraordinary ice field on the hike of a lifetime. Bike into the interior on one of the area's few roads. Kayak along the coast amid a gorgeous jumble of volcanoes and glaciers. Move through the landscape quietly, and "the locals" may show their faces: eagles, moose, sea otters, bears. Even if they don't, you know they're there, and somehow that's enough.

Alaska's dramatic landscapes in one astonishing peninsula
Hike Harding Icefield Trail, a spectacular route alongside Exit Glacier
Homer, one of Alaska's most beautiful towns
Circumnavigate Yukon Island by kayak
Watch for salmon swimming their annual migration upstream


Locations visited/nearby
Alaska, United States
Comments from Facebook
Itinerary
Day 1 Alaska's dramatic landscapes in one astonishing peninsula Bike paths lead you out of Anchorage and onto the gently rolling Tony Knowles Coastal Trail - keep your eyes open for moose! Journey south to the Kenai Peninsula, a wonderland of rugged mountains, glaciers, fjords and lakes.

Days 2-3 Hike the spectacular Harding Icefield Trail alongside Exit Glacier in Kenai Fjords National Park Got your camera ready? Unrivaled vistas of vast Harding Icefield and the Resurrection River Valley await Hike the beautiful Ptarmigan Lake Trail through Sitka spruce forest and past crystal-clear Ptarmigan Creek, where red sockeye salmon spawn in summer.

Day 4 Bike to Homer, one of Alaska's most beautiful towns Take in spectacular views of the Cook Inlet, the volcanoes of the Alaska Range, the Grewingk Glacier and the Homer Spit, a narrow finger of land in picturesque Kachemak Bay Fruit wines made from local berries are yours to taste at the Bear Creek Winery Perhaps spot harbor seals and sea lions from our waterfront hotel.

Days 5-6 Circumnavigate Yukon Island by kayak, watching for bald eagles, harbor seals, porpoises and sea otters After our naturalist-led hike through fields of wildflowers, we sit down to a bounteous picnic at the Carl Wynn Nature Center, set on the bluff above Homer.

More information from Backroads: