Backroads - vacations and travel
Piedmont Biking: A Food & Wine Lover's Paradise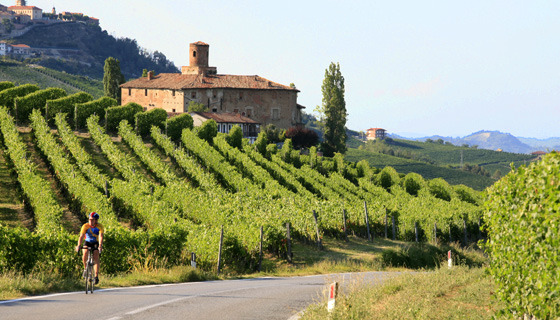 from $3,998* per person
6 Days
May, June, September, October
Luxury accommodations

Exertion level: 5

Operator:

Backroads

26 people max
Turin, italy
Active & Adventure trips
Humbled in the shadows of the Alps. Eased by the slow pace of the Po River. Intrigued by the French influence. Grounded in its regal past. You're in Piedmont. It's a place of richness. The wines. The flavors. The truffles. The backdrops. Every turn a new view. Every meal a delight. Every stay, decadent. You may have never thought to come to Piedmont with all that Italy has to show you. But when you're this close to the Alps, your experience can't get much higher.

A sophisticated culinary landscape famous for its hazelnuts, cheeses, truffles and wines
Spin your wheels to the historic wine towns of Barolo
Rich homemade pasta - even more satisfying when created with your own hands
Experience the historic charm and five-star luxury of Relais San Maurizio
Locations visited/nearby
Piedmont Biking: Discover a Food and Wine Lover's Paradise in Northern Italy Europe Italy Piedmont, Italy
Comments from Facebook
Itinerary


Day 1 The gourmet paradise of the Langhe, known for its cheeses, hazelnuts, truffles and wines
Pedal through Nebbiolo vineyards, where the world-famous Barbera, Barolo and Barbaresco wines get their start
Toma del lait brusc, Murianengo and other local cheeses melt in your mouth at a special tasting.
Days 2-3 Spin through the five towns of Barolo, each crowned by a lovely castle
Explore 1000-year-old La Morra, with splendid vistas of the Langhe landscape
Got a nose for truffles? Find out when an expert and his canine assistant join us to sniff out the delicacy
Enjoy a private tasting of Alba's grand vintages amid a sea of vines
Linger over dinner in Bra, home of the Slow Food movement.
Day 4 Dive into eggs, flour and centuries-old traditions during a pasta-making class
Our friends at Ca' d'Gal agriturismo (country retreat and working farm) share their delicious acclaimed moscat
Days 5-6 Superb Michelin-starred Piedmontese cuisine at Relais San Maurizio
Ride to San Martino Alfieri's privately owned, 17th-century castle for a wine tasting and cantina tour
Spin along the Tanaro River on a tranquil undulating bike route
Inviting enoteche (wine cellars) abound in the famous viticulture towns of Barbaresco and Neive - why not pull over for a sip?
More information from Backroads: