Backroads - vacations and travel
Brittany & Normandy Biking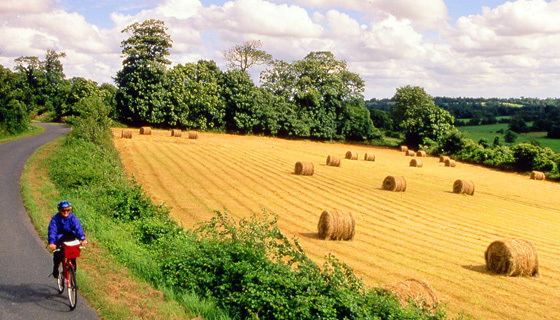 from $3,198* per person
6 Days
June-September
Boutique accommodations

Exertion level: 5

Operator:

Backroads

24 people max
St-malo airport, france
Active & Adventure trips
Broad beaches from which William the Conqueror set sail in 1066, and where the Allies landed nearly 900 years later. The mystical abbey of Mont-St-Michel, its battlements and golden spire soaring from the sea. The bunkers and bomb craters at Pointe du Hoc. Such iconic settings will undoubtedly stir your emotions, while the sheer beauty - and bounty - of your surroundings will spark your joie de vivre. Lush orchards and crashing surf. Windswept plateaus and storybook villages. Rounds of pungent Camembert, bottles of locally brewed apple cider, just-churned Isigny butter and delectable seafood. Brittany and Normandy are a rare blend of history and natural splendor. And bound to make an impression on you.

A journey through two of France's most intriguing regions
Bike rolling country roads along must-see beaches
The magical island monastery and cathedral of Mont-St-Michel
World War II battle sights and memorials
A private tour of the American Military Cemetery with a local historian


Locations visited/nearby
France, Europe
Comments from Facebook
Itinerary
Day 1 Journey through two of France's most intriguing regions, starting in Brittany Enjoy a typical Breton lunch before pedaling along the famed Côte d'Émeraude (Emerald Coast), lined with enchanting fishing villages and striking sandstone cliffs.

Day 2 Rolling country roads and must-see beaches Stunning coastal views highlight your ride from Cancale to St-Malo Sweet or savory? A stop in a crêperie is a must Á votre santé! Taste a Kir Breton (apple cider and cassis), an authentic local aperitif A guided walk reveals Dinan, a fortified medieval port town with half-timbered houses and narrow cobblestone streets.

Day 3 The magical island monastery and cathedral of Mont-St-Michel, an iconic European pilgrimage site Head into Normandy's Calvados département, known for its cider and cheeses After lunch at a private 16th-century château atop Norman cliffs, pedal to Pointe du Hoc.

Day 4 Bike to D-Day landmarks and memorials Join a local historian for an exclusive tour of Omaha Beach and the American Military Cemetery Past and present collide in the beautifully preserved town of Bayeux, home to the impressive 11th-century Bayeux Tapestry.

Days 5-6 Outstanding regional cuisine - seafood lovers rejoice! Savor breathtaking vistas of hallowed beaches and rugged shoreline as you ride to Mulberry Harbor at Arromanches At the award-winning Caen Memorial, a "Museum for Peace," view thought-provoking displays that blend history with hope for the future.

More information from Backroads: