Backroads - vacations and travel
Brittany & Normandy Family Biking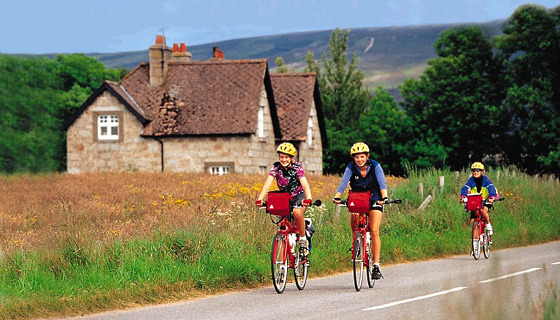 from $3,198* per person
6 Days
June-August
Boutique accommodations

Exertion level: 5

Operator:

Backroads

24 people max
St-malo airport, france
Family & Friends trips
The stories are epic. Action-packed. Exciting. Sprung from a quiet corner of France. So unassuming. Yet the scene of some of history's most heroic acts. Think Vikings. William the Conqueror. Faithful pilgrims. Allies landing. These stories really happened. And you'll know it. When you stand on windswept beaches by abandoned gun posts. Gaze at the spire of Mont-St-Michel's cathedral. You may be speechless. But not the kids. Biking. Horseback riding. Glass blowing. Clearly "action-packed" is not a thing of the past.

Discover the rich history and culture of two of France's most intriguing regions
Bike rolling country roads along must-see beaches
Awe-inspiring architecture of Mont-St-Michel
World War II battle sights and memorials
Kids explore beautiful Normandy countryside on horseback


Locations visited/nearby
France, Europe
Comments from Facebook
Itinerary
Day 1 Journey through two of France's most intriguing regions, starting in Brittany Enjoy a typical Breton lunch before biking along the famed Emerald Coast, lined with enchanting fishing villages and striking sandstone cliffs Kids are sure to love the tasty local apple cider.
Day 2 Rolling country roads along must-see beaches Vistas of La Rance Estuary highlight your ride from the coast to Dinan Pass through picturesque villages such as St-Suliac Sweet or savory? A stop in a crêperie is a must Meander through medieval fortified Dinan, and discover what's behind those half-timbered houses and narrow cobblestone streets Youngsters give glass blowing a try.
Day 3 The magical island monastery and cathedral of Mont-St-Michel, an iconic European pilgrimage site Head into Normandy's Calvados département, known for its cider and cheeses Kids saddle up for the popular pastime: horseback riding Join a local historian for a private tour of Omaha Beach and the American Military Cemetery.
Days 4-6 Visit D-Day landmarks and memorials, including the award-winning Caen Memorial, a "Museum for Peace" Past and present collide in the beautifully preserved town of Bayeux Don't miss the 11th-century Bayeux Tapestry, a 230-foot-long embroidered "storybook" depicting the Norman invasion of England Savor views of isolated beaches and rugged shoreline as you pedal to the coast.
More information from Backroads: