Backroads - vacations and travel
Dalmatian Coast Biking: Biking From Split to Dubrovnik Via Croatia's Island Paradise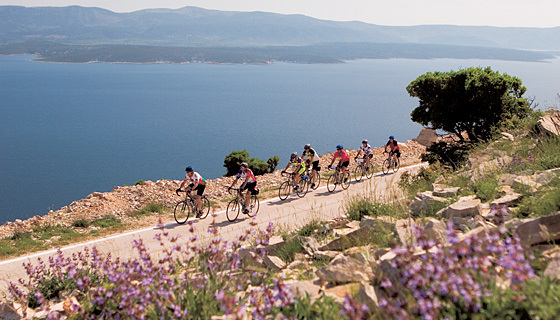 from $3,998* per person
6 Days
May-October
Luxury accommodations

Exertion level: 6

Operator:

Backroads

24 people max
Split airport, croatia
Active & Adventure trips
245 days of sunshine a year. Sapphire waters. Fresh squid. Whitewashed limestone villages. Ride in the morning, taking in the views of the Adriatic on the islands of Hvar, Brac and Korcula, then be a part of the view as you boat between islands. And end the day with a swim. Everyone should experience this. It's as relaxing as the Caribbean, as historic as Venice. Nowhere near as crowded as the French Riviera. People have traveled here for more than 140 years. And yet it still feels like, as the Croatians say, "The Mediterranean as it once was."

Explore the reborn Dalmatian Coast by bike, with breathtaking sapphire sea views
Island-hop along the sun-drenched Adriatic and swim in hidden coves
Dubrovnik, an architectural masterpiece with turrets, spires and tiled roofs
Gain insight into Croatia's fascinating history and culture
The freshest seafood and local cuisine


Locations visited/nearby
Dalmatian Coast Biking: Delightful Dubrovnik , the Croatian Islands & Split Europe Croatia Croatia Dalmatian Coast, Croatia, Europe
Comments from Facebook
Special information
You need to form your own private group for this trip. It will be scheduled for a date you arrange with the provider. The itinerary here is just a sample.
Offers some solo-only/singles departures.
Itinerary
Day 1 Explore the dazzling Dalmatian Coast by bike Our first stop is Brac Island, renowned since Greek times for its white marble Pedal past picturesque stone walls shaded by cypress, olive and orange trees from the seaside village of Milna to Pucisca.
Days 2-3 Island-hop on the sun-drenched Adriatic and swim in sapphire coves After a beautiful coastal spin, tackle a series of climbs to reach Brac's oldest village Head to Hvar, a chic isle where average annual "sun fall" is 2,724 hours Our friends Mate and Michaela invite us over for a home-cooked meal made with ingredients from their garden Bike amid jagged limestone cliffs and undulating rosemary and lavender fields Vinko and Darinka's family has been making wine and grappa for generations; let's join them for a taste! Ready to cool off? Take the plunge in refreshing waters off quiet beaches The Hvar Town harbor sets off brilliant sunsets.
Days 4-5 Gain insight into Croatia's history and culture A hilly route leads you around Korcula Island, lush with vineyards, olive groves and forests Explore elegant Korcula Town, a fortified medieval village and former Venetian settlement - it's a reputed birthplace of Marco Polo Savor lovely ocean vistas and quaint villages on a final spin.
Day 6 Dubrovnik, an architectural masterpiece with turrets, spires and tiled roofs Take in views of this World Heritage site during a guided walk atop the magnificent city walls.
More information from Backroads: