Backroads - vacations and travel
Czech Republic & Austria Family Biking: Bohemian Knights & Danube Castles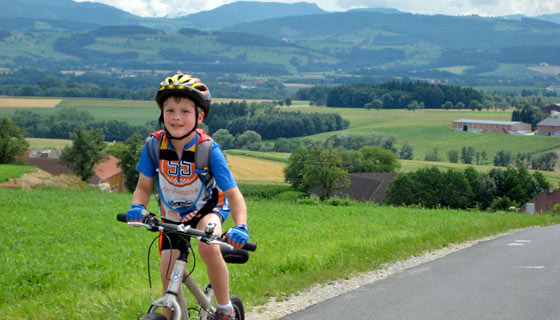 from $2,698* per person
6 Days
June, August
Boutique accommodations

Exertion level: 5

Operator:

Backroads

24 people max
Airport near prague, czech republic
Family & Friends trips
Open up and dive in! To the pages of a Bohemian storybook adventure. Complete with spires, turrets and onion-shaped domes. Medieval castles, sword fighting, Schuhplattler dancers and goulash. Opening scene: Prague. Captivating. Emerging. It's just the start. Bike rides through gentle countryside. The chance in magical ?eský Krumlov to stump Czech Professor Nechlebová, a walking encyclopedia. Kids get a taste of the Renaissance watching falconry at Schloss Rosenburg castle and wield Iron Age-style tools in Mitterkirchen. Pedal by the Danube. Taste Wachau Valley wine and grape juice. Final scene: Vienna. Intriguing. Let's get started!

Discover two intriguing countries and cultures in one trip
?eský Krumlov, a 13th-century Bohemian town with storybook castles and charming squares
Crisscross the Danube River amid timeless villages and onion-domed churches
A private, theatrical sword-fighting display entrances both kids and adults
Dig into hearty Czech and Austrian specialties at local family-friendly restaurants


Locations visited/nearby
Austria, Czech Republic, Europe
Comments from Facebook
Itinerary
Day 1 En garde! A theatrical sword-fighting display, courtesy of the Brothers of the Rose, entrances kids and adults alike From beautiful Lake Lipno, bike through Bohemia's rolling pastures, evergreen forest and quiet villages to the World Heritage site of ?eský Krumlov, a charming 13th-century town with twisting lanes and red-tile roofs.
Day 2 Adults dive into Czech history with Helena, our local friend and historian, at an informal Q&A and walking tour of ?eský Krumlov Spin into the countryside, passing lush meadows and timeless homesteads sporting traditional folk architecture.
Day 3 Two intriguing countries and cultures in one trip Arriving in Austria, pedal rolling green hills through the famous Mostviertel district, known for its distinctive most (hard apple cider) Kids visit the Mitterkirchen open-air museum, where a re-created Celtic village offers a glimpse into the past, then test their aim at nine-pin bowling Dinner is served with a rousing performance by Schuhplattler dancers.
Day 4 Crisscross the fabled Danube River as you ride along the Donauradweg, the well-loved Danube bike path Impressive World Heritage-site Melk Abbey, towering on a bluff above the river, comes into view en route to the charming town of Dürnstein.
Days 5-6 Austria's picture-perfect villages with onion-shaped church steeples Bike through the Kamptal region, stopping for a sample - wine for adults and grape juice for kids Grown-ups keep pedaling while the younger set heads to a Renaissance castle for a fun and fascinating falconry demonstration Which sounds best? Spinning to the archaeological site of Willendorf, walking among vineyards and fruit orchards, or just relaxing at the hotel.
More information from Backroads: