Backroads - vacations and travel
Ireland Family Biking: A Pot O' Gold for Families in Counties Cork & Kerry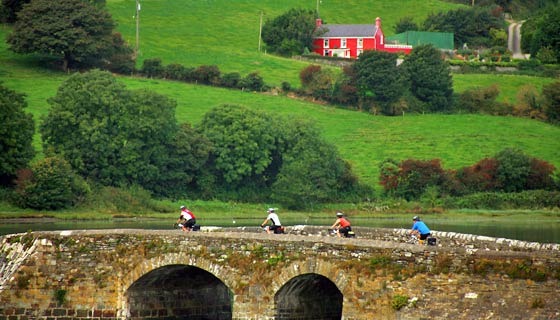 from $3,998* per person
6 Days
July, August
Luxury accommodations

Exertion level: 5

Operator:

Backroads

24 people max
Cork airport, ireland
Family & Friends trips
Finding bliss on a family vacation is easy. All it takes is getting rid of the non-essentials. No e-mail. No video games. No gadgets that begin with the letter "i." Then hightail it to a beautiful place. Like Ireland. Out here, on two wheels, itís easy to feel connected to your surroundings - and to each other. Gaze at the clouds. Listen to birdsong. Feel the wind on your face. Visit quaint villages like Ballylickey and Gougane Barra. And share a giggle as you pronounce their names. There's an ancient fortress for all to explore, whiskey tasting for adults and sheep shearing for kids. Ease, simplicity and a family vacation that suits you to a T.

Spin through the classic Irish landscape: green hills, small farms, quaint cottages and woolly sheep
A private whiskey tasting for adults
Soak up fascinating history and lively village culture
The hospitality of the acclaimed Park Hotel Kenmare
An evening of storytelling with a well-known Irish seanachie


Locations visited/nearby
Ireland, Europe
Comments from Facebook
Itinerary
Day 1 Spin through the classic Irish landscape: green hills, small farms, quaint cottages and woolly sheep Arriving in Gougane Barra, a town surrounded by lush forest and mountains, spot the 300-year-old church set on a tiny island Villages painted in cheery colors line country roads to Ballylickey Retreat to a nearby pub for some local flavor.
Day 2 The hospitality of the acclaimed Park Hotel Kenmare Bike past streams and waterfalls in scenic Glengarriff State Forest Reserve en route to a unique sculpture garden A gradual five-mile climb leads to magnificent Caha Pass, complete with tunnels and sweeping views of Kenmare Bay Get a feel for traditional Irish life at Molly Gallivan's historic cottage and farm.
Day 3 A private whiskey tasting with expert John Moriarty for adults, while youngsters indulge in fish n' chips Pedal by pristine lakes, stately cliffs and glacier-carved mountains on the sparsely populated Beara Peninsula A lively sheep-shearing demonstration inspires kids to give it a whirl The younger set learns about "soloing" during a game of Gaelic football, giving grown-ups the chance to browse Kenmare's boutiques, discover an impressive prehistoric stone circle or simply relax at the hotel - spa time, anyone?
Day 4 Soak up fascinating history and lively village culture Gorgeous cycling routes wind through Moll's Gap and the Gap of Dunloe, a narrow pass cutting between the Purple Mountains and MacGillycuddy's Reeks.
Days 5-6 An evening with a well-known Irish storyteller Wind past ancient churches, cemeteries and working farms to beautiful Caragh Lake The incredible scenery just does not quit! Feast your eyes on spectacular ice-scraped Glencar Valley Relish the joyous energy of Killarney, full of pubs and shops Make your way to 15th-century Ross Castle by bike or horse-drawn cart for a fun and interesting tour.
More information from Backroads: