Backroads - vacations and travel
Spain Biking: From Barcelona to the Pyrénées & Costa Brava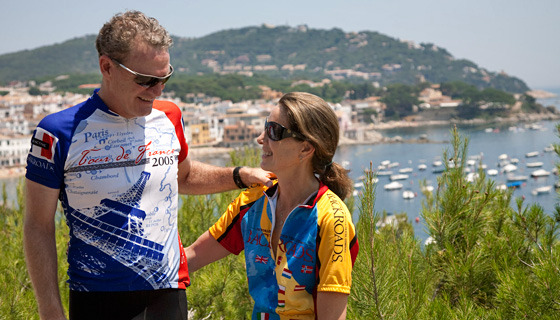 from $3,998* per person
6 Days
May-October
Luxury accommodations

Exertion level: 5

Operator:

Backroads

26 people max
Barcelona, spain
Active & Adventure trips
Barcelona lures you with its irrepressible éclat. This city deserves its own adventure, but for you it's the start of an unforgettable trip through the heart of Catalonia. Soon you're swept into the Pyrénées. You'll straddle the border to France and ride roads the pro cyclists use to train for that famous French race. You'll wonder how they just speed pass these views. Descend and the air warms, the sun strengthens and the aroma of the coast fills the air. You'll wind up in Costa Brava at Salvador Dalí's castle - a fitting end to this journey through one of Europe's most enticing regions.
Kick off the journey in vibrant Barcelona
Ride scenic routes in the Pyrénées foothills
Costa Brava bike paths, where the Mediterranean laps against miles of white-sand beaches
Highly acclaimed Catalan fusion cuisine and fresh seafood
Admire the artistic genius of Salvador Dalí
Locations visited/nearby
Spain
Comments from Facebook
Itinerary
Day 1 Kick things off in Barcelona, Catalonia's effervescent capital
Head north to the mountains and pedal past alpine villages, herds of cows and farmers tending their crops
Sample cava, Spain's beloved version of bubbly.
Day 2 Scenic routes in the Pyrénées foothills lead into France and onto the famed Saint James Trail, a pilgrimage route used since the Middle Ages
Gaze in awe at mighty granite peaks above rugged valleys
Cap off your day with a tasting of Catalan wines.
Day 3 Acclaimed Catalan fusion cuisine and fresh seafood
Pine and chestnut trees give way to oaks and olive groves en route to the coast
Stretch your legs in St-Laurent-de-Cerdans, a village renowned for its ebullient Catalan textiles.
Day 4 Salvador Dalí's artistic genius shines at the medieval Gala Dalí Castle he restored for his wife
Spin to the beautiful Baix Empordà, the "region of coves," stopping to explore hamlets with cobbled town squares, Baroque-style churches and ancient fortresses.
Days 5-6 Bike along the coves of the Costa Brava, where the Mediterranean laps against white-sand beaches, and villages cling to forested hills above hidden bays
Lounge by the surf
An explosion of color and fragrance awaits at the Cap Roig Botanical Gardens, perched on a promontory and offering glorious sea views.
More information from Backroads: