Backroads - vacations and travel
Cinque Terre & Tuscany Walking & Hiking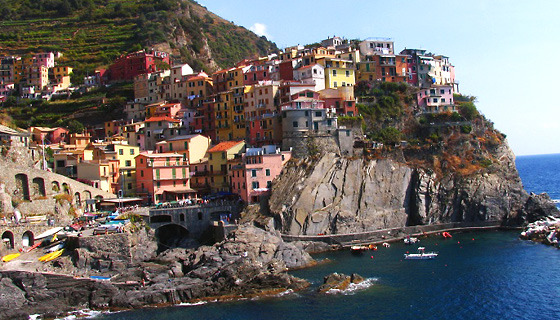 from $2,998* per person
6 Days
April-October
Boutique accommodations

Exertion level: 5

Operator:

Backroads

24 people max
Airport near la spezia, italy
Active & Adventure trips
How do you prepare for this adventure? First you walk, and practice stopping suddenly. So that you'll be ready for the spontaneous views - colorful villages clinging to cliffs with waves crashing below. The scenery will arrest you mid-step, so be ready. Then pick the most delectable Chianti you can find. It won't match the Classico you'll sip in Panzano but it's good practice. Finally get your fill of just-off-the-boat fresh seafood, hearty pork and beef, friendly people, rows of cypress, warm sunlight, patch-work hills and the blue Mediterranean. And you've got a good start.

Two distinct and beloved regions of Italy in one amazing trip
Hike the Cinque Terre's spectacular coastline, with brightly colored cliffisde villages
Outstanding seafood by the Mediterranean and simple hearty fare in Chianti
Stroll through archetypal Tuscan villages, vineyards and cypress-flanked lanes
Taste crisp Ligurian white wines and full-bodied Tuscan reds


Locations visited/nearby
Italy, Europe
Comments from Facebook
Special information
You need to form your own private group for this trip. It will be scheduled for a date you arrange with the provider. The itinerary here is just a sample.
Offers some solo-only/singles departures.
Itinerary
Days 1-2 Two distinct regions of Italy in one amazing trip Hike through the dramatic landscape to Portovenere, taking in sweeping vistas of the Golfo della Spezia Boat to Palmaria Island for a feast of fresh seafood Sip crisp Ligurian white wines at a fun and informative tasting Explore the Cinque Terre's spectacular coastline, a World Heritage site, by foot, boat and train Well-groomed paths lined by ancient stone walls lead from stunning Riomaggiore through cliffside Manarola, quiet Corniglia, colorful Vernazza to inviting Monterosso al Mare
Days 3-4 Stroll through quintessential Tuscan villages, vineyards and cypress-flanked lanes Pass trompe l'oeil-adorned villas en route to pretty Portofino, playground of the rich and famous A walk along Portofino's postcard-perfect waterfront is a must before heading inland to Chianti Explore historic Greve in Chianti, shop for local delicacies and taste the region's best wines at a renowned enoteca.
Days 5-6 Savor full-bodied Tuscan reds and Chianti's simple hearty fare Bold balsamic vinegars dance across your tongue in ancient ridgetop Radda, of Chianti Classico fame Visit Volpaia, a medieval village-turned-winery Soak up grand pastoral panoramas from the strada bianca, surrounded by vineyards.
More information from Backroads: