Backroads - vacations and travel
Dolomites Family Multisport: Northern Italy's Awesome Alpine Playground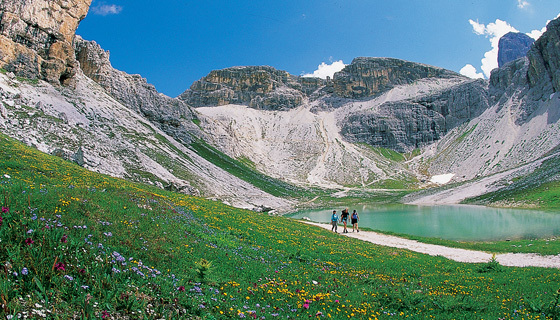 from $3,998* per person
6 Days
June, July
Luxury accommodations

Exertion level: 4

Operator:

Backroads

24 people max
Venice airport, italy
Family & Friends trips
Ready, set, go! It's amazing, the activities you'll pack in during these six sensational days. You'll be biking old railway paths. Taking chairlifts and gondola rides among Italy's most dramatic peaks and spires. Getting a mountain goat's view of limestone massifs, deep valleys and alpine lakes. Exploring World War I trenches carved into the hillsides. Enjoying a hearty lunch at a traditional hiker's hut. Rock climbing lessons for kids and wine tastings for grown-ups. It's pure family fun in an incredible alpine playground called the Dolomites.

Italy and Austria come together in a multicultural mosaic
Explore hidden valleys and majestic mountains
Ride a chairlift to Rifugio Scoiattoli for dramatic views of the Cinque Torri
Strudel-making with a local chef
Learn rock-climbing basics with an expert mountaineer


Locations visited/nearby
Italy, Europe
Comments from Facebook
Itinerary
Day 1 Michelin-starred cuisine at Tivoli - a delectable way to kick off the trip! Mountain bike along the twists and turns of an old railway path to Cortina d'Ampezzo, a posh town surrounded by stunning peaks and filled with shops and cafés.
Day 2 Ride a chairlift to Rifugio Scoiattoli for dramatic views of the Cinque Torri, a group of famous stone pinnacles Want to dig into the past? Our guided walk reveals World War I bunkers and trenches, and an open-air museum near Passo di Falzarego Kids get the hang of rock climbing with an expert mountaineer.
Day 3 Italy and Austria come together in a multicultural mosaic Pedal through Val Badia's scenic Ladin villages, conifer forests and flower-carpeted fields Glaciers and lofty rock towers - talk about remarkable scenery! Youngsters take an exhilarating zip-line ride in Colfosco before their fun-filled pizza feast.
Day 4 Explore hidden valleys and majestic mountains, arriving on the pristine Alpe di Siusi plateau by gondola Alpine gentians and poppies color your riverside bike route Try grilled Taleggio cheese, sausage with mushrooms and polenta and other local specialties.
Days 5-6 Strudel-making with a local chef for the younger set Hike to a rifugio where ancient folk traditions thrive Gaze at beautiful Fiè allo Sciliar with its onion-shaped church steeple.
More information from Backroads: