Backroads - vacations and travel
Costa Rica Family Multisport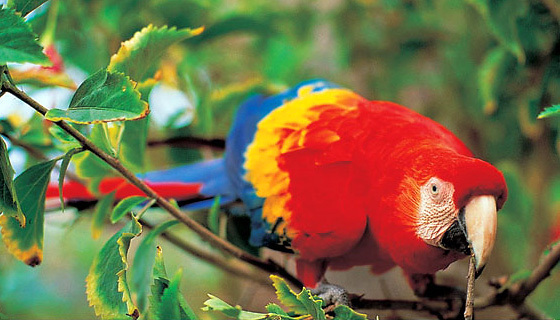 from $2,598* per person
6 Days
March, December
Boutique accommodations

Exertion level: 4

Operator:

Backroads

24 people max
San jose airport, alajuela, costa rica
Family & Friends trips
With over a quarter of its land protected in parks and preserves, Costa Rica is paradise for anyone who loves wildlife and outdoor adventure. Howler monkeys scamper through the trees, and keel-billed toucans color the sky against a natural backdrop of an active volcano, a magnificent lake, flowing rivers and lush greenery. Jungle hikes, mountain biking and a kayaking adventure expose you to the region's incredible biodiversity, from the Los Angeles Cloud Forest to Arenal Volcano National Park and the Pacific coast. Your family is sure to have fun, relax and learn the true meaning of pura vida!

Regional experts who intimately know the country's incredible flora and fauna
View one of the world's most active volcanoes while hiking, biking and soaking in hot springs
Manuel Antonio National Park's wealth of wildlife - monkeys, lizards, sloths, kingfishers and more
Kayak across a bay to a beautiful remote beach
Befriend furry and feathery critters at a wildlife rescue center


Locations visited/nearby
Costa Rica, Central America
Comments from Facebook
Itinerary
Day 1 Hike through the Los Angeles Cloud Forest, where an interpretive walk showcases a spectacular array of plants and animals Jump-start the day with a tour (and tasting!) at a coffee plantation Kids get to milk cows and visit a hummingbird sanctuary.
Days 2-3 Hot springs soaking and volcano gazing Befriend furry and feathery characters at a wildlife rescue center Bike rolling roads flanked by plantations of papaya, sugarcane and yucca to La Fortuna, nestled near the foot of rumbling Arenal, one of the world's most active volcanoes Explore the lush rain forest around beautiful Lake Arenal by bike, then cruise on the water The afternoon is yours to "fly" on a zip-line, horseback ride, hike or simply relax by the pool.
Day 4 Kids check out snakes, frogs and butterflies at a serpentarium while adults trek across a lava field in Arenal Volcano National Park Our private charter plane whisks us to the white-sand beaches of Quepos Look for fast-moving basilisk lizards, blue morpho butterflies and endangered squirrel monkeys on our walk in La Foresta Reserve.
Days 5-6 A sea-kayaking excursion on calm crystalline waters leads to a secluded beach On a naturalist-led walk through Manuel Antonio National Park, witness white-faced monkeys swinging in the branches and prehistoric-looking iguanas slithering up tree trunks While away the afternoon soaking up the sun or splashing in the waves of the Pacific.
More information from Backroads: