Backroads - vacations and travel
Bhutan Multisport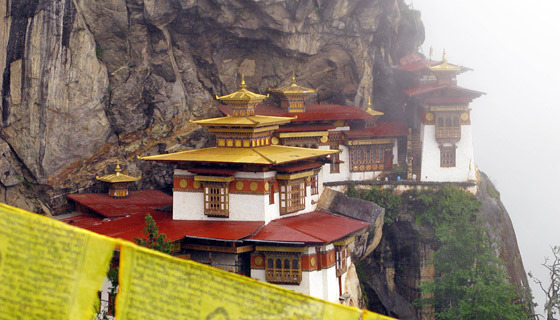 from $5,998* per person
8 Days
March, April, September, November
Luxury accommodations

Exertion level: 5

Operator:

Backroads

24 people max
Bangkok international airport bangkok thailand
Active & Adventure trips
Nothing can prepare you for Bhutan. Itís like nowhere else youíve been. It has a magic about it that's indescribable. The quiet smiles. The natural rhythms of life. The temples that seem to challenge the Himalayas. The mystery of Buddhism. The crisp air. The striking mountains always looming, protecting. Itís a people rooted in history and yet changing with the times. And yet itís not Shangri-La. Itís more real than that. Itís a country balancing the modern with the ancient. Itís what youíve pictured and what you couldnít have imagined. Letís tread gently and leave it just as we found it.

Trip Highlights

Immersion into an ancient landscape where life's daily rituals remain sacred
Namgay, our local guide and longtime friend, opens doors normally closed to foreign travelers
Bike through Bhutan's culturally and scenically rich valleys - you'll be one of the few!
Hike to secluded Buddhist temples and monasteries, including the famed Tiger's Nest
Exchange ideas with Buddhist monks and receive a blessing


Locations visited/nearby
Bhutan, Asia
Comments from Facebook
Itinerary
Day 1 Namgay, former National Assembly member, our guide and longtime friend, opens doors normally closed to foreigners Ride above Paro Dzong, a massive monastic fortress built to commemorate a 1644 victory over the Tibetans, then see what lies within Peruse handicrafts in Paro's tiny, traditional mercantile shops.

Days 2-3 Bike through Bhutan's culturally and scenically rich valleys - you'll be one of the few! Dochu La pass dazzles with panoramas of snowcapped Himalayan peaks Ethereal villages and rice paddies enliven your ride to Punakha Valley Engage with monks in between their meditations Hike to Chorten Nebu, a remote 14th-century temple accessible only by foot and seldom visited by international travelers.

Days 4-5 Immersion into an ancient landscape where life's daily rituals remain sacred Raft down Punakha's Mochu river on our way to the exquisite riverside Punakha Dzong, Bhutan's 300-year-old lofty winter capital Feast your eyes on vibrant Bhutanese painting, sculpture and textile arts in Thimphu, the capital city Curious about Buddhism and how it defines life here? Our historian will enlighten you Tackle the steep but rewarding walk from Dodina village to Cheri Goemba Monastery.

Days 6-8 Hike to secluded Buddhist monasteries and temples, including the famed Tiger's Nest Climb an ancient path to the Taktshang teahouse, situated at 9,200 feet and offering superb views of the valley and otherworldly Taktshang Monastery.

More information from Backroads: