Backroads - vacations and travel
Canadian Rockies Walking & Hiking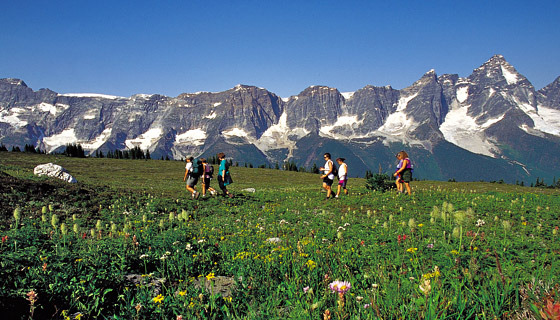 from $3,198* per person
6 Days
July-September
Luxury accommodations

Exertion level: 5

Operator:

Backroads

24 people max
Banff airport, banff, ab, canada
Active & Adventure trips
How long does a trip last? Not in duration. In memories. In the stories youíll tell friends. In the spare minutes when you think back to that hike to Yoho Lakeówhen you looked in awe across to Takakkaw Falls and your leader quietly mentioned itís the second highest in Canada and youíre amazed that there could be a higher one. Then you think of the enormity of Plain of Six Glaciers. The intense blues of Moraine Lake. And the sun cutting over Lake Louise, across the jagged mountains that you didnít catch the names of. And in those brief seconds before you go back to real life, youíll realize your Canadian Rockies hiking adventure still isnít over.

World-class hiking in three phenomenal national parks
Walk through evergreen forests and flowering pastures to behold sensational glaciers
Impossibly blue Lake Louise
Commune with mountain goats, pikas and hoary marmots
The Post Hotel, blending old-world charm with modern sophistication


Locations visited/nearby
Canada, North America
Comments from Facebook
Itinerary
Day 1 World-class hiking in three phenomenal national parks In Kootenay, cross a vast wildfire burn area, discovering new-growth forest with pink fireweed juxtaposed against yellow columbine Venture into a hanging valley for an up-close look at incredible Stanley Glacier.

Day 2 Walk through evergreen forests and blooming meadows to behold sensational Wapta Icefields and Yoho Glacier Standing before Canadaís second-highest waterfall, it all makes sense: Takakkaw is Cree for "it is wonderful."

Day 3 Commune with mountain goats, pikas and hoary marmots Trek to beautiful Emerald Basin, a natural amphitheater of rock and ice adorned with cascading water.

Day 4 The elegant Post Hotel, blending old-world charm with modern sophistication Climb to one of Banff National Parkís most stunning alpine pastures, alive with wildflowers and whistles of wildlife Hunting great photo ops? Take aim at Crowfoot Glacier and Helen Lake.

Days 5-6 Impossibly blue Lake Louise Switchbacks lead to breathtaking Larch Valley and marvelous views of the ten Wenkchemna Peaks Savor the Post Hotelís exquisite cuisine - and perhaps some pampering at the spa! Hike the classic route from world-renowned Lake Louise to the historic Plain of Six Glaciers Teahouse.

More information from Backroads: