Backroads - vacations and travel
Patagonia Walking & Hiking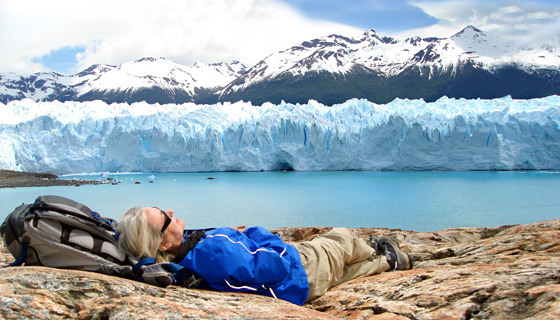 from $4,998* per person
8 Days
December
Luxury accommodations

Exertion level: 5

Operator:

Backroads

20 people max
El calafate, argentina
Active & Adventure trips
That whole "time flies" theory just doesn't work in Patagonia. Imagine slowly ambling along a small ferry through a tremendous fjord on Lago Argentina heading toward Upsala Glacier. Time is moving so slowly but you can't possibly take in the scenery fast enough. The Andes are so windswept they almost look like petrified ocean waves, white caps and all. The lake is bouncing a clear blue sky back up at you. Framing everything perfectly. It's like time freezes in Patagonia even though you're having fun.

Hike in the shadow of the Fitz Roy's jagged granite spires
Unforgettable boat rides among icebergs and fjords
Sip maté, the local beverage, with Patagonian cowboys
Ice-trek on Perito Moreno Glacier
Empanada-making with a local chef

Locations visited/nearby
Argentina, South America, Patagonia
Comments from Facebook
Itinerary
Days 1-3 Hike below Mount Fitz Roy's jagged granite spires to gorgeous Laguna de los Tres, formed by a plunging glacier A walk through sand dunes reveals spectacular views of Lake Viedma, exotic flowers and perhaps an armadillo Marvel at the sight of ancient forests and otherworldly surroundings.

Days 4-5 Ice-trek on Perito Moreno Glacier - crampons and our expert guide give you the edge Learn to make authentic Argentine empanadas from a local expert El Calafate shops tempt with handicrafts and homemade ice cream Explore the World Heritage site of Los Glaciares National Park, a frozen landscape of crevasses and breath-takingly blue ice Malbec, pinot noir, torrontés and more - discover delectable Patagonian vintages at a wine tasting.

Day 6 Unforgettable boat rides among icebergs and fjords - get ready for a close encounter with famous Upsala Glacier Watch for soaring condors along Cristina Bay before ascending through lenga forests to a stunning panorama of lakes, mountains and glaciers Sip maté, the local beverage, like Patagonian cowboys.

Days 7-8 Try on gaucho life with a guided horseback ride across the pampas A rocky trail leads to Fossil Canyon, featuring startlingly colored stones and ammonite fossils believed to be millions of years old.

More information from Backroads: