Backroads - vacations and travel
Maine Biking: In Acadia National Park & Along Penobscot Bay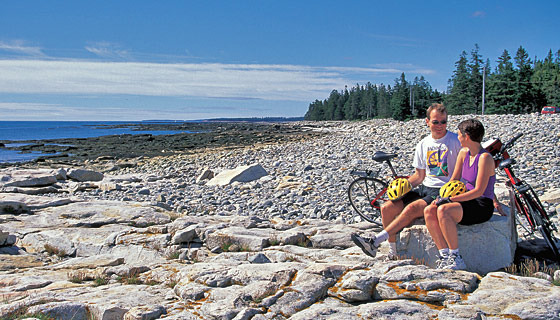 from $2,798* per person
6 Days
July-September
Luxury accommodations

Exertion level: 5

Operator:

Backroads

24 people max
Portland airport, maine, united states
Active & Adventure trips
Maineís beauty lies in its rawness. Fresh tart blueberries growing wild on the side of the road. Hills rising from the rocky shores of Camden. Winding roads built centuries ago that hug the shore connecting village to village. Morning mist on Penobscot Bay. But in between the ruggedness lies the real beauty of Maine. Even a delicacy like Maine lobster still involves shells and claws. Itís raw. Itís true. Itís Maine.

Discover the understated beauty of Maine's coastline
Pedal under towering firs and past pristine crashing surf at Acadia National Park
Paddle and cruise on Penobscot Bay spotting cormorants, loons and bald eagles
Seaside Camden, brimming with galleries, museums and shops

Locations visited/nearby
Maine, United States
Comments from Facebook
Itinerary
Days 1-2 Pedal under towering firs and past pristine crashing surf at Acadia National Park The arched bridges and quiet roads of Acadiaís carriage road system, a gift from philanthropist John D. Rockefeller, Jr., make for lovely riding Ascend Cadillac Mountain, the highest point in the park and reputedly the first U.S. location to see the rising sun.
Day 3 Discover the understated beauty of Maine's coastline As you bike on Deer Isle, a true example of "downeast" Maine, check out its enormous pink granite boulders The island's numerous galleries featuring artworks of paint, wood and metal may tempt you off your bike.
Day 4 Kayak on Penobscot Bay, spotting cormorants, loons and bald eagles amid the archipelagoís 60-plus islands After a lobster lunch, enjoy a leisurely afternoon wine tasting, biking or shopping in the charming town of Camden.
Days 5-6 Camden, brimming with galleries, museums and shops, and often called Maineís prettiest seaside village Ride to Rockland, where you can visit the Farnsworth Museum, known for its collection of Wyeth family paintings Enjoy a farewell dinner at our innís elegant French restaurant Lake Megunticook and the rolling countryside surrounding Camden invite a last scenic spin.
More information from Backroads: