Backroads - vacations and travel
Martha's Vineyard & Nantucket Biking: Atlantic Islands & Beachside Villages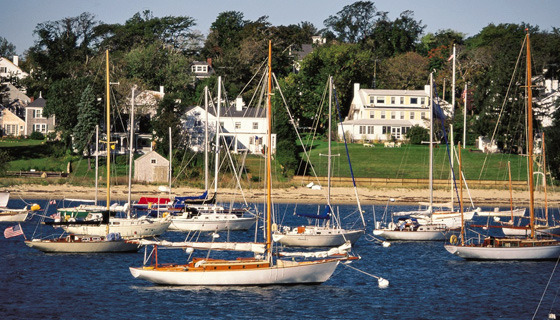 from $2,698* per person
5 Days
June, September
Luxury accommodations

Exertion level: 4

Operator:

Backroads

24 people max
Nantucket memorial airport, nantucket, ma, united states
Culinary & Wine Travel trips
It'll be early on. You'll round a corner on one of the beach roads, maybe in 'Sconset or Aquinnah. And it will hit you. The quiet. The open Atlantic pulsing on the shore. Sea birds above and a beach breeze rustling the dunes. It gives you that "I'm never going back" feeling where you imagine selling all your possessions and buying a lobster boat. It's okay, the feeling passes eventually. But you'll have five days to enjoy it.

Gentle, tranquil rides past scenic beaches and cranberry bogs
Fresh seafood and gracious island hospitality
Tackle hills to the red-clay cliffs of Aquinnah, with a 200-year-old lighthouse
Edgartown's Colonial roots and art galleries
Learn maritime history at the Nantucket Shipwreck & Lifesaving Museum


Locations visited/nearby
Massachusetts, United States
Comments from Facebook
Itinerary
Days 1-2 Downshift into easygoing island life on Nantucket A gentle ride to Cisco Beach leads past beautiful 18th- and 19th-century sea captains' homes and lighthouses Circle the island on two wheels - gardens, cranberry bogs, harbors and dunes enliven your route The Nantucket Shipwreck and Lifesaving Museum chronicles the area's maritime heritage Up for a stroll along the Atlantic? Siasconset and Surfside beaches beckon with pristine stretches of sand.

Day 3 Edgartown's Colonial roots and art galleries Soak up the rich history of Nantucket Town on a walking tour A private boat transports us to Martha's Vineyard, simply called "The Vineyard" by locals Stroll through historic Oak Bluffs, a chic stop for shoppers Pedal a bike path to Edgartown, known for spectacular Greek Revival, Federal and Victorian architecture.

Day 4 The red-clay cliffs of Aquinnah, with a 200-year-old lighthouse Spin inland through forests and open meadows, past houses sporting every shade of gray Fond of art? Galleries tempt you off your bike with watercolors, photography and sculptures by local and world-renowned artists Explore the Cape Poge lighthouse - its first keeper in 1801 was appointed by Thomas Jefferson.

Day 5 Exhilarating ocean views and breezes Ride to Vineyard Haven for lunch at the ever-popular Black Dog Tavern Ferry across Nantucket Sound to Woods Hole.

More information from Backroads: