Backroads - vacations and travel
Glacier Family Multisport: Biking, Hiking & Rafting in Glacier and Waterton Lakes National Parks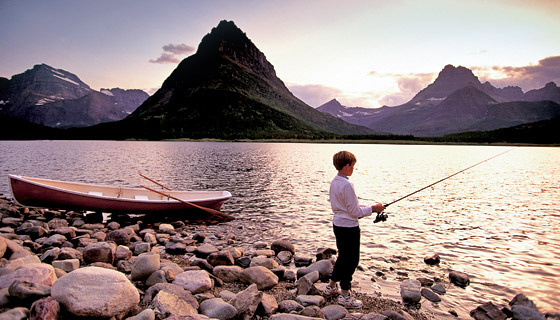 from $2,698* per person
6 Days
July, August
Comfort accommodations

Exertion level: 4

Operator:

Backroads

24 people max
Whitefish airport, montana, united states
Family & Friends trips
Things feel different here. Vast. Limitless. Pure. I feel different here. Humbled before those immense mountains. Under that endless sky. But also strong. Alive. Inspired. Can't remember the last time I felt so clear-headed - must be the fresh air and exercise - or when we had so much fun together. Look at the kids smile. As they saddle up with cowboys. Swoosh over river rapids. And spot a real live mountain goat. This place redefines "alpine beauty." Puts things into perspective. How deeply one can breathe. How many wildflowers a meadow can hold. How cozy a lodge can feel. How happy a family can be.

Discover Glacier-Waterton International Peace Park, a joint World Heritage site shared by the United States and Canada
Incredible biking and hiking amid alpine streams, towering mountains and wildflower-strewn meadows
Kids ride horses and have a cookout at a historic ranch
Splash in the chilly invigorating waters of mountain lakes
Rafting down the Flathead River - an exciting end to an incredible trip


Locations visited/nearby
Glacier Multisport Deluxe Camping: Bike , Hike & Raft in Glacier and Waterton Lakes North America United States Montana, Montana, United States, North America
Comments from Facebook
Itinerary
Day 1 Astonishing alpine scenery that just won't quit Pedal a scenic route along the shore of Lake McDonald, formed by retreating glaciers ten thousand years ago Get an eyeful of the surrounding valley from McGee Meadow Overlook.
Day 2 Travel along the famed Going-to-the-Sun Road: you'll hardly believe the views Plunging waterfalls, vast virgin woodland, snowcapped peaks and glacier-carved valleys greet you at every turn Hike through a shady forest of spruce and fir before descending into St. Mary Valley Can the stunning turquoise color of glacier-fed St. Mary Lake be for real?
Days 3-4 Welcome to Canada! While the younger crowd enjoys a day of special kids-only activities - including horseback riding and a cookout lunch - adults pedal north through ranchland and U-shaped valleys to stunning Waterton Lakes National Park Activity options abound: take a boat cruise, explore the trails by foot or on horseback, or just relax at the hotel.
Day 5 Chances to spot mountain goats, pikas, white-crowned sparrows and more Enjoy spectacular views of the sweeping prairies and plains of Montana as you pedal a roller-coaster route along the eastern border of Glacier into Two Medicine Valley Feeling brave? Perhaps you'll opt for a swim in the chilly waters of Two Medicine Lake. Raft down the Middle Fork of the Flathead River with expert guides who provide a unique perspective on the flora and fauna along the way.
More information from Backroads: