Backroads - vacations and travel
Glacier Walking & Hiking: Glacier & Waterton Lakes National Parks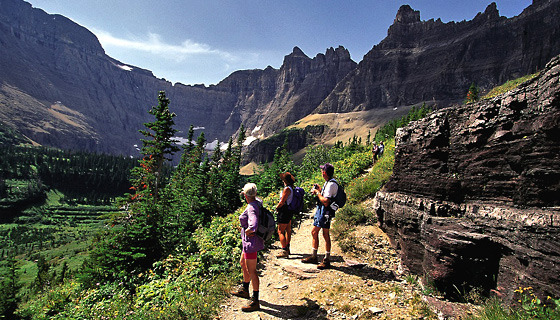 from $2,698* per person
6 Days
June-September
Boutique accommodations

Exertion level: 5

Operator:

Backroads

24 people max
Whitefish airport, montana, united states
Active & Adventure trips
It's amazing to consider. Intense pressure from glaciers carved out the beauty in this region - but "pressure" is the last thing you'll feel. Catch sight of a bighorn sheep perched on the edge of a bluff. Get in a morning walk through a forest full of red cedar and fir. Journey on Going-to-the-Sun Road and soak up some of the finest views in northwest Montana. That road is 50 miles of superlative scenery. There are 62 species of mammals here, from diminutive pygmy shrews to majestic mountain goats, grizzly bears and elk, more than 260 species of birds, 780 miles of trails and 10,000 years of natural history. You've got six days and one incredible story to tell.

Two national parks, two countries, one phenomenal trip
Fantastic hiking in a spellbinding tableau of glacier-carved valleys, broad lakes and majestic peaks
The stunning Going-to-the-Sun Road
Spot bighorn sheep, mule deer and maybe even a grizzly
Panoramic views from the Many Glacier Hotel


Locations visited/nearby
Montana, United States, North America
Comments from Facebook
Itinerary
Day 1 Fantastic hiking in a spellbinding tableau of glacier-carved valleys, broad lakes and majestic peaks Follow the Trail of the Cedars through a dense forest to turquoise Avalanche Lake Part of the Polar Bear Club? Go for a swim if you dare!

Day 2 Stunning Going-to-the-Sun Road, "the most beautiful 50 miles in the world" Marvelous geologic features, including Haystack Butte, embellish the landscape as you hike on the Highline Trail Take in gorgeous panoramic views from Logan Pass, the Continental Divide and the grand Many Glacier Hotel.

Days 3-4 Two national parks, two countries In Canada's Waterton Lakes National Park, follow Carthew-Alderson Trail through numerous botanical zones Feel like being active or ready to relax? It's up to you! Options include a boat excursion to the northern gateway of Glacier National Park, walking to Kootenai Lake, shopping in Waterton Townsite, or traditional afternoon tea at the Prince of Wales Hotel.

Days 5-6 Spot bighorn sheep, mule deer and maybe even a grizzly Icebergs? In lakes? In the summertime? Hike to a lake cold enough to harbor icebergs well into the warmer months After a scenic boat cruise across Two Medicine Lake, trace the narrow trail to Twin Falls.

More information from Backroads: